Yemen's Ousted President Hadi Asks Houthis To Leave Sana'a After Fleeing To Aden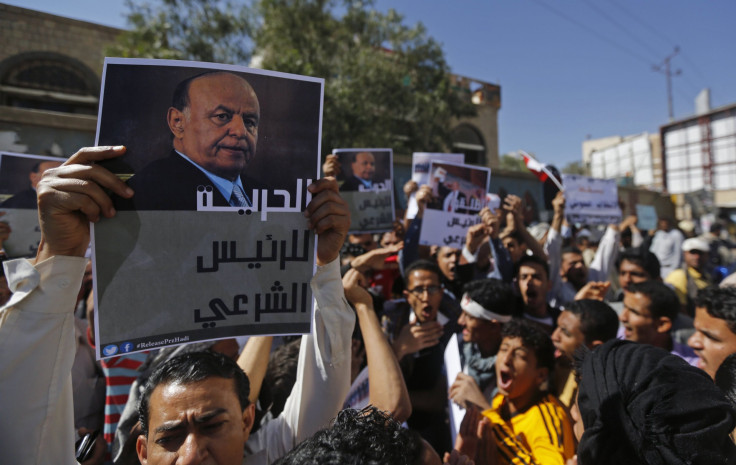 Yemen's President Abd-Rabbu Mansour Hadi has asked the Houthi Islamist militia to leave Sana'a after he fled the capital to the main southern province of Aden.
In his first statement following weeks-long house arrest, Hadi said "all measures and appointments made since 21 September (when the Islamist military took control of Sana'a) are null and illegitimate".
The statement, signed by the "president of the republic", insisted his resignation, which was forced by the Houthis, stands rescinded.
Hadi is reported to have held talks with security officials in Aden and is likely to urge the country's parliament to convene in the southern province. Security has been beefed up in Aden.
Hadi submitted his resignation to the parliament after his official presidential palace was stormed by the rebels but it was never ratified by the assembly, leaving his exact status uncertain.
He called on international bodies to respect the political process in Yemen and reject the "coup" staged by the Houthis.
"President Hadi escaped from his residence after the Houthis arrested him and oppressed him and his family. He is the constitutional president of Yemen, and he has the constitutional capacity to withdraw his resignation," an adviser, who did not wish to be identified, told the CNN.
The Houthis, the Zaidi offshoot of Shiite Islam, besieged the capital last month forcing the president to resign. The Houthis make up nearly 30 percent of Yemen's 26 million population, and have been the de facto rulers of Yemen since the 2014 coup.
The Houthis tightened their grip on Sana'a in September last year after fierce clashes with troops, and control large parts of the capital. They later put the Western-backed president under house arrest.
The international community fears that the prolonged political instability in Yemen will enable the al-Qaeda in the Arabian Peninsula (AQAP), the most powerful and active arm of al-Qaeda, to strengthen its base.
© Copyright IBTimes 2022. All rights reserved.
FOLLOW MORE IBT NEWS ON THE BELOW CHANNELS