Yu Darvish To Make Rangers Debut: 5 Things To Know About Japanese Phenom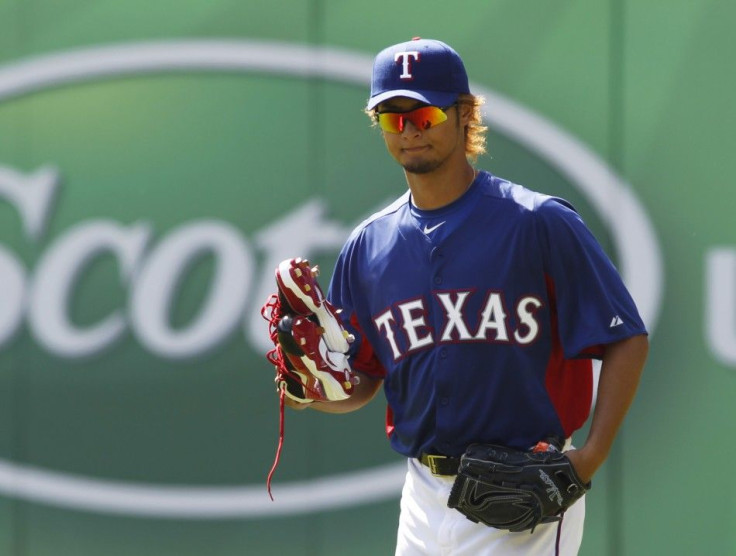 Japanese phenom Yu Darvish of the Texas Rangers is set to make his Major League Baseball debut tonight against the Seattle Mariners.
Darvish, 25, became Rangers property after the franchise bid $51.7 million to the Hokkaido Nippon Ham Fighters - Darvish's Japanese team - for the rights to exclusively negotiate with the right-hander. The Rangers then agreed with Darvish on a six-year, $60 million contract, making the Japanese hurler one of the more expensive signings of the offseason.
Darvish told the Dallas Morning News that he's good to go for his MLB debut despite his mechanics not being up to par.
Even now, after spring training, my delivery doesn't feel 100 percent, Darvish said through interpreter Joe Furukawa, the paper reported. There really is no way to describe how you feel during the middle of the season compared to right now. But I've done all the preparation and I'm ready to go. I'm ready for battle.
Here are five things to know about Yu Darvish:
1. Elite in Japan
Darvish is considered to be one of the top pitchers coming out of Japan with a lifetime ERA of 1.99 and a 93-38 record. Red Sox manager Bobby Valentine, who managed against Darvish in Japan, said Yu has the potential to be one of the game's top five pitchers, according to USA Today.
2. Heritage
Darvish's mother is Japanese and his father is Iranian. His father's full last name is Darvishsefad.
3. Bad boy
Darvish had a bad-boy image during his time in Japan. In 2005, he was caught smoking in a pachinko parlor in Japan during spring training. The Ham Fighters placed him on probation and forced him to do community service due to the incident.
4. Marriage
Darvish was married to Japanese actress Saeko after it was revealed he got her pregnant, according to Japan Today. They divorced this year and have two children.
5. Previous MLB interest
During his high school days, Darvish was highly sought after by Major League clubs, including the Los Angeles Angels, Los Angeles Dodgers, New York Mets and the Atlanta Braves, according to baseballguru.com. But Darvish opted to play in the Japanese league.
© Copyright IBTimes 2023. All rights reserved.