10 Donors Including Sheldon Adelson Account For One Third Of Super PAC Spending: Report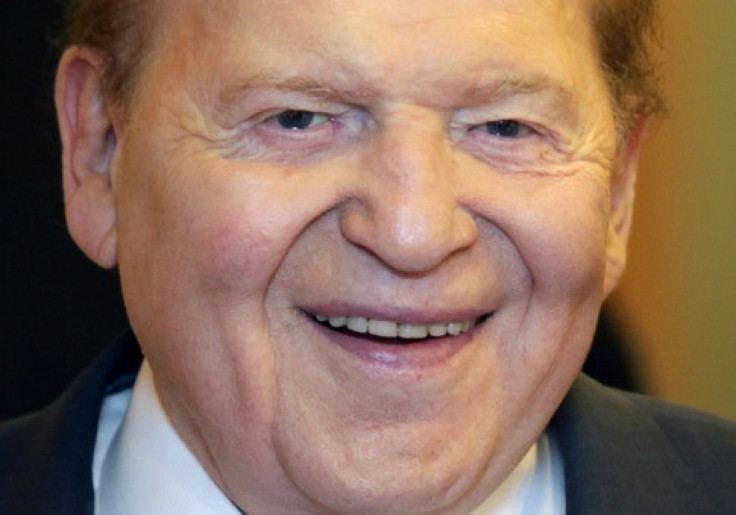 More than a third of the $200 million poured into Super PACs this election cycle has flowed from a mere 10 donors, with billionaire casino magnate Sheldon Adelson easily contributing the most of several wealthy Republican backers, according to an analysis by the Center for Public Integrity.
The report underscores concerns that Super Political Action Committees have allowed affluent individuals to disproportionately influence the outcome of elections. Super PACs, created by a 2010 Supreme Court ruling, can accept unlimited amounts of donations. While the fundraising entities are technically prohibited from coordinating with presidential campaigns, every prominent presidential candidate had an allied Super PAC that lent its support by buying political advertisements.
Of the leading 10 donors identified in the report, three are organizations: the Cooperative of American Physicians, the National Education Association -- the nation's largest teachers' union and a political powerbroker that has already backed President Barack Obama -- and the the AFL-CIO, a leading labor union that will likewise be a top Obama supporter.
Rounding out the top 10 contributors were seven individual donors, four of them billionaires. The seven individuals and three organizations together accounted for about $68 million, more than a third of the nearly $202 million that Super PACs have attracted during the 2012 election cycle.
Leading the list by far was Adelson, the billionaire casino mogul and ardent Israel supporter who was instrumental in keeping alive the presidential aspirations of former Speaker of the House Newt Gingrich. Adelson and his family combined for some $26.5 million, almost all of it to the pro-Gingrich Winning Our Future Super PAC. Gingrich announced he was suspending his campaign on Tuesday, but Winning Our Future had helped him withstand a barrage of attack ads launched by Mitt Romney and his supporting Super PAC.
After Adelson came the Texas billionaire Harold Simmons, who spread out $16.7 million between six different Super PACs. The majority of that went to American Crossroads, a group devoted to helping Republican candidates that was co-founded by former top Bush strategist Karl Rove. American Crossroads and its affiliate Crossroads GPS have pulled in nearly $100 million this cycle.
Well-known Republican financier Bob Kerry came in third. The Texan homebuilder split $6.7 million mostly between American Crossroads and the pro-Romney Restore Our Future Super PAC.
The other four top contributors were Peter Thiel, a co-founder of PayPal who gave $2.7 million to Super PACs backing Ron Paul; Louisana energy executive William Dore and Wyoming-based investor Foster Friess, who sent a combined $4.5 million to the pro-Rick Santorum Super PAC; and A. Jerrold Perenchio, the majority of whose $2.6 million went to American Crossroads.
© Copyright IBTimes 2023. All rights reserved.