10 Things To Know About San Antonio Mayor Julian Castro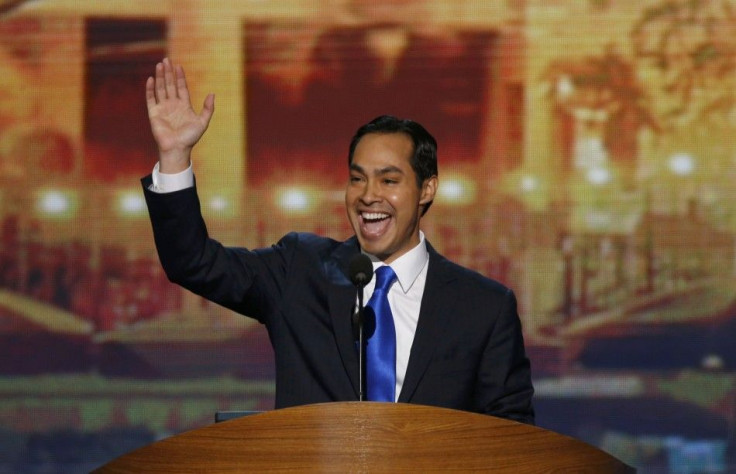 1. At 37, he's the youngest mayor of a Top 50 American city. Castro was elected mayor of San Antonio, Texas, in 2009 at age 32, and was re-elected in 2011 with over 82 percent of the vote
2. His mother is famous in the Chicano community. Castro is the son of Maria "Rosie" Castro, a Chicano political activist who helped establish the Chicano political party La Raza Unida in the 1970s. in 1971, at the age of 23, Rosie Castro unsuccessfully ran for the San Antonio City Council.
3. He has an identical twin. Castro's brother -- who is one minute younger -- is Joaquin Castro, a Texas state representative who is currently running for the U.S.House of Representatives.
4. He was raised to be politically active. Both Castro brothers were raised with the expectation that they would do great things, as a 2010 New York Times Magazine profile of Julian explains. The brothers, who skipped their sophomore year of high school, were raised accompanying their mother to political events and worked on campaigns as teenagers. Both attended Stanford University and then Harvard Law School before moving back to Texas to launch their political careers.
5. People already expect him to be the first Hispanic president. Given his age and meteoric career in Texas -- as a Democrat! -- people have been name-dropping Castro as the nation's first Hispanic president since 2010. Back then, Castro indicated that a presidential run isn't out of the question, but not anytime soon.
"It's way too early to be thinking about that," he told the New York Times in 2010. Castro has said he will run for reelection as San Antonio's mayor in 2012 and 2015.
6. He ran for office before leaving law school. Castro decided to run for the San Antonio City Council during his last year at Harvard Law, and even held his first fundraiser in Cambridge, Massachusetts.
7. The "Twin-Gate Scandal." The Castro brothers caused a minor scandal during Julian's unsuccessful 2005 mayoral run after his opponents claimed he intentionally had Joaquin fill in for him at a campaign event. The twins argue the confusion was unintentional, and occurred after spectators at the annual San Antonio river parade mistook Joaquin for Julian on a barge for city council members (Joaquin was then a member of the Texas House of Representatives).
8. He doesn't speak fluent Spanish. Despite being raised in the heart of the Chicano community, Castro does not actually speak fluent Spanish. In 2010, the mayor's mother Rosie Castro said her son had a Spanish tutor.
9. He had an awkward first meeting with President Barack Obama. According to the New York Times, when President Obama spotted the youthful Castro for the first time at the White House to attend a national jobs and economic growth forum the president joked, "I thought he was an intern. This guy's a mayor?" After Castro reintroduced himself as the mayor of San Antonio, the president reportedly laughed and assured him that he knew who he was.
10. He has bipartisan appeal. While Texas is a solid red State and is expected to remain so in the near future, political operatives expect that if any Democrat can take back the governor's mansion, it will be Castro.
The mayor, who has stayed away from attack politics even during his Tuesday night keynote address at the Democratic National Convention, supports the North American Free Trade Agreement, advocates an energy policy that includes fossil fuels, and has maintained a balanced budget in San Antonio. He is also a practicing Roman Catholic, although he has publicly supported same-sex marriage and women's reproductive rights.
Even Republicans who know Castro seem to be on his side. Jay Webber, a Republican assemblyman from New Jersey who was also one of Castro's classmates at Harvard Law, told USA Today on Wednesday he is "rooting for Julian -- just not (for) his candidate."
© Copyright IBTimes 2023. All rights reserved.