12 Killed in Koran Burning Protests Across Afghanistan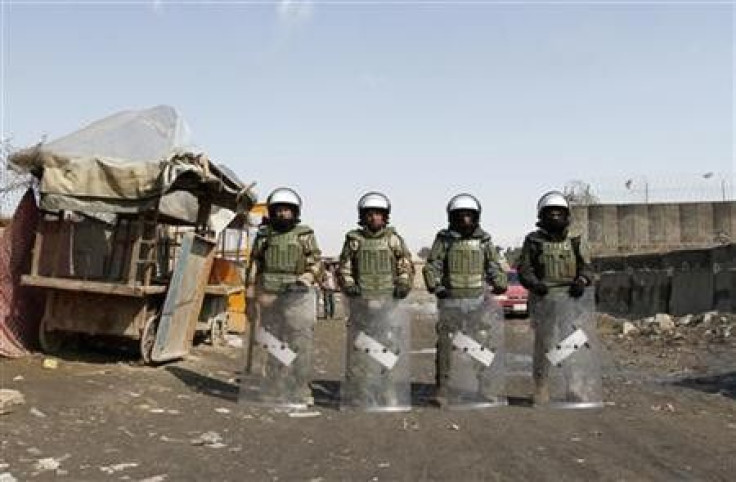 For the fourth day in a row, Kabul, Afghanistan was embroiled by protests over the Koran burning incident earlier this week. On Friday, hundreds of demonstrators marched on Hamid Karzai's Presidential Palace, while police and protestors clashed in the city.
Twelve people were killed on Friday in the bloodiest day yet in protests that have raged across Afghanistan over the desecration of copies of the Muslim holy book at a NATO military base with riot police and soldiers on high alert braced for more violence, Reuters reported Friday.
At least one protester was wounded by police gunfire in Kabul, Reuters reported, and a four people were killed in the western province of Herat.
The NATO base on the outskirts of Kabul where soldiers reportedly burned a number of copies of the Islamic holy book on Monday was put on high alert, as were riot police and Afghan government soldiers.
Afghan anti-raid policemen stand guard (Reuters)
In what has become a regular scene in the capital city, police fired into the air to try to disperse the crowd of men throwing stones and chanting Death to America! and Long live Islam! after they left the city's Blue Mosque following Friday prayers.
Friday is a holy day and the official weekly holiday in Afghanistan and mosques in the capital drew large crowds, with police in pick-up trucks posted on nearby streets.
Crowds of about 700 protesters also gathered in the eastern city of Jalalabad and the volatile southeastern province of Ghazni, where people chanted We will defend the Koran!, Reuters witnesses said.
U.S. President Barack Obama sent a letter to Karzai apologizing for the unintentional burning of the Korans at Nato's main Bagram air base, north of Kabul, after Afghan laborers found charred copies while collecting rubbish.
Muslims consider the Koran to be the literal word of God and treat each copy with deep reverence. Desecration is considered one of the worst forms of blasphemy.
Afghanistan wants NATO to put those responsible on public trial.
These apologies are fake. The world should know that America is against Islam, Iranian cleric Ahmad Khatami said in a speech broadcast live on state radio.
It [the Koran burning] was not a mistake. It was an intentional move, done on purpose.
In central Kabul, elite anti-riot officers in protective jackets and helmets secured intersections after complaints that security force numbers had been insufficient to deal with the protests in which 11 people, including two US soldiers, have been killed.
Although peaceful demonstrations are the right of people, we strongly urge our countrymen to fully avoid turning them into violent ones, Interior Ministry spokesman Sediq Sediqqi told Reuters.
Most Westerners have been confined to their heavily fortified compounds, including the sprawling US embassy complex and other diplomatic missions.
The Taliban urged Afghan security forces to turn their guns on the foreign infidel invaders and repeatedly urged Afghans to kill, beat and capture NATO soldiers.
Protests also spread to Pakistan on Friday.
(*Reuters contributed to this story)
© Copyright IBTimes 2023. All rights reserved.