14 Facts You Need To Know About The Oregon Ducks vs Ohio State Buckeyes National Championship Football Matchup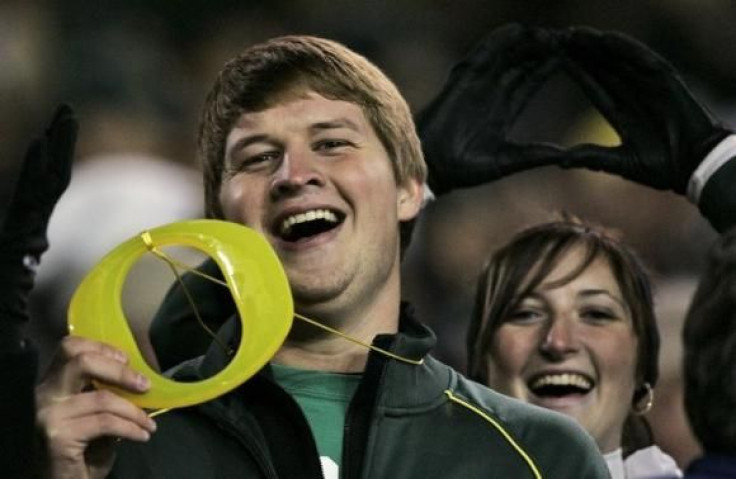 College football's national champion will be crowned on Monday night, when the Oregon Ducks face the Ohio State Buckeyes at AT&T Stadium in Arlington, Texas. Both programs enter the title game after very impressive wins on New Year's Day.
Casual fans and die-hard fans may want to brush up on this intriguing matchup. There is plenty to know about the upcoming game, so here are 14 facts viewers should be aware of before the opening kickoff.
Oregon is favored. Most Las Vegas odds makers have the Ducks favored to win by six points. They had previously been favored by as much as 7.5 points.
This is the first year of the College Football Playoff. The top four teams earned a chance to play in the national championship after meeting in a semifinal-playoff game on Jan. 1. Prior to the College Football Playoff format, the national champion was decided by the Bowl Championship Series.
In CFP rankings, Oregon is ranked No. 2, and Ohio State is ranked No. 4. The Ducks defeated No. 3 Florida State to reach the championship, while the Buckeyes defeated No. 1 Alabama. In the Associated Press rankings, Oregon was No. 3 and Ohio State was No. 5 at the end of the regular season. USA Today ranked Oregon No. 3 and Ohio State No. 4.
Two similar offenses go head-to-head. Oregon and Ohio State both run up-tempo spread offenses. The big difference might be that the Ducks start their offensive plays very early in the play clock. There should be a lot of scoring with an over/under of 74 points.
Marcus Mariota is a Heisman Trophy winner. Oregon's quarterback posted fantastic numbers this season, throwing 40 touchdown passes and just three interceptions. He is also a threat to run, rushing for over 50 yards in seven games. Mariota will likely be playing in his final collegiate game, as the junior is expected to forgo his senior and enter the 2015 NFL Draft.
Cardale Jones is a third-string quarterback. Ohio State started the season with J.T. Barrett replacing Braxton Miller, but after Barrett went down, Jones stepped in. Jones has thrown six touchdown passes and just one interception this season and has led the Buckeyes to high-scoring wins over Wisconsin and Alabama.
Quality defensive players could determine the outcome. While offense will be the main storyline of the game, which team makes the big stops should be crucial to the final score. Oregon will be without star cornerback Ifo Ekpre-Olomu, but the Ducks still have safety Erick Dargan, who has six interceptions, and defensive end DeForest Buckner, who had 13 tackles for losses. Ohio State is led by All-American defensive end Joey Bosa, who has been excellent at containing opposing rushers. The Buckeyes have a secondary that are quite skilled at intercepting passes with Vonn Bell (6 interceptions), Doran Grant (4 interceptions), and Tyvis Powell (four interceptions).
Both teams win by a lot. Ohio State has defeated their 13 opponents by an average margin of 25.69 points, while Oregon has defeated their 13 opponents by a 27.69-point margin.
Both teams have lost one game this season. Oregon lost to Arizona, 31-24, on Oct. 2. Ohio State lost to Virginia Tech, 35-21, on Sept. 6.
Both teams beat Michigan State. The Spartans, who finished No. 7 in the AP poll, are a common opponent for both teams. Oregon defeated Michigan State in Eugene on Sept. 6, 46-27. Ohio State defeated Michigan State on Nov. 8 in East Lansing, 49-37. The Spartans won all of their other games.
Ohio State is 8-0 all-time against Oregon. Ohio State and Oregon last played against each other in the 2010 Rose Bowl, when the Buckeyes won, 26-17.
Urban Meyer is seeking his third national championship. Before joining Ohio State prior to the 2012 season, Meyer coached the Florida Gators to two national championships. Oregon head coach Mark Helfrich has a 24-3 record in two seasons.
Oregon is seeking their first national championship. The Ducks have had 10 seasons of 10 or more wins over the past 15 years, but have never won a national championship.
Ohio State's mascot is Brutus Buckeye, Oregon's mascot is The Oregon Duck. Oregon's mascot is based on Disney's Donald Duck, while Brutus is dressed as a student with the head of a buckeye nut.
© Copyright IBTimes 2023. All rights reserved.