143 Children Killed In Ukraine Since Russian Invasion, Reports Say
KEY POINTS
The UN said more than 3.8 million people have fled Ukraine since Russia's invasion
UNICEF said 4.3 million children had been forced to leave their homes
The bombing and shelling reportedly damaged 733 educational institutions
A total of 143 children have been killed and 216 injured during full-scale hostilities in Ukraine since Russia started its invasion on Feb. 24, according to reports.
"Children suffered the most in Kyiv - 67, Kharkiv - 49, Donetsk - 53, Chernihiv - 38, Mykolaiv - 30, Luhansk - 27, Zaporizhia - 21, Kherson region - 24, Kyiv city - 16, Zhytomyr - 15 and Sumy - 14 regions," Ukraine's Prosecutor General's Office (PGO) said, according to Interfax Ukraine.
Verkhovna Rada Human Rights Commissioner Liudmyla Denisova also presented the number of fatalities among children in a statement published on Telegram, Ukrinform reports.
"As of 08:00 on March 28, 2022, according to the single register of pre-trial investigations and other sources that need to be verified, 143 children have been killed and 216 children have been injured since the Russian invasion of Ukraine began," the statement said.
"These data are not final, since there is no opportunity to inspect the places of shelling in the areas of active hostilities and in the temporarily occupied territories," the PGO said.
The bombing and shelling in Ukraine have reportedly damaged 733 educational institutions, of which, 74 are completely destroyed, reports said. The worst hit cities include Donetsk, Kharkiv, Mykolaiv, Sumy, Kyiv, Kherson, Chernihiv regions and the city of Kyiv.
The United Nations said Sunday more than 3.8 million people have fled Ukraine since Russia's invasion began a month ago. Around 90 percent of them are women and children, it added.
The UN children's agency, UNICEF, said Thursday 4.3 million children -- more than half of Ukraine's estimated 7.5-million child population -- had been forced to leave their homes.
Ukrainian and Russian negotiators were set to begin peace talks in Istanbul, Turkey, on Monday. Turkish President Tayyip Erdogan and his Russian counterpart, Vladimir Putin, agreed in a telephone call Sunday for Istanbul to host the talks. However, a senior Ukrainian official said he did not expect any major breakthrough.
"I don't think there will be any breakthrough on the main issues," interior ministry adviser Vadym Denysenko said Monday.
In a 90-minute video message on Sunday, Ukrainian President Volodymyr Zelensky said the invasion had caused the destruction of Russian-speaking cities in Ukraine. He also said his government was "carefully" considering a Russian demand for Ukrainian neutrality.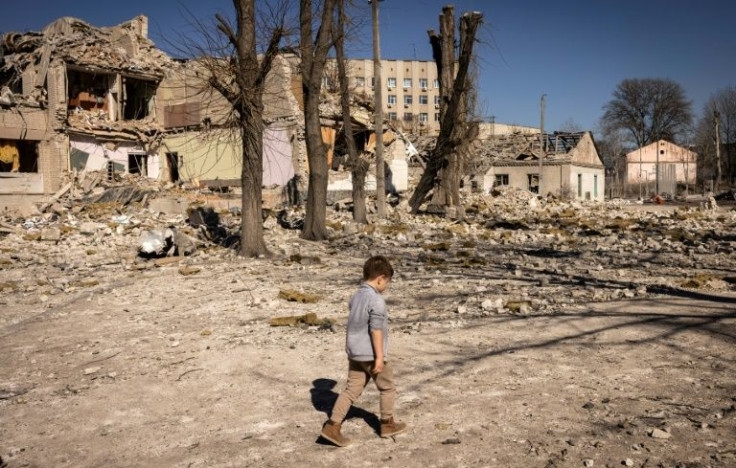 © Copyright IBTimes 2023. All rights reserved.