2 Days From Brazil World Cup, Another Strike Threat, Water Shortages, And Poor Pitches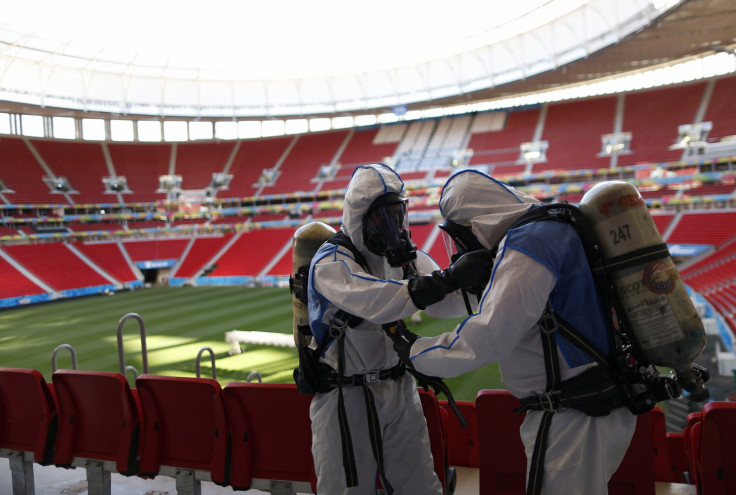 Subway workers who paralyzed the biggest city in Brazil ahead of the World Cup by going on strike have suspended their action, but said they may resume striking on Friday. That's one day after the biggest sporting event in the world opens, in São Paulo itself, with the Brazil vs Croatia match.
Geraldo Alckmin, governor of São Paulo state, said that transit workers would be guilty of "enormous opportunism (if they went on) strike as the cup opened … I hope there won't be groups that want chaos for the sake of chaos," the newspaper Folha de São Paulo reported.
The threat of another damaging subway halt adds to worry about the condition of the playing field in several stadiums, part of a string of organizational snafus including unfinished airports' links.
Citing a report by world soccer governing body FIFA, Folha de São Paulo said that the stadiums in the cities of Curitiba, Cuiabá, Natal, Porto Alegre, Brasilia and Manaus -- six out of 12 World Cup venues -- have problems with the quality of the grass on the pitch. This shouldn't be a serious issue in the first part of the monthlong tournament, but may raise the risk of injury as the cup progresses, FIFA said.
Among the reasons for the poor quality of the grass is the lack in some cases of artificial illumination, to aid growth during nighttime hours. For example, the illumination was bought too late for the Curitiba stadium and wasn't used enough.
Another worry comes from the state of Brazil's water and sanitation systems. According to a nationwide poll, 32 percent of Brazilians had at least one interruption in their water supply in the last month. A similar poll for the city of São Paulo conducted last month said that 35 percent of its 20 million inhabitants had a similar problem in the previous month. The study found that 25 percent of people who responded to the former poll also reported that they had experienced a power interruption over the same period.
In São Paulo, transit workers voted in an assembly on Tuesday to suspend their strike after five days, but only for 48 hours -- just enough to let kickoff day on Thursday happen undisturbed. They're demanding a 12.2 percent pay raise; a local court has ruled they will get 8.7 percent, above the official annual inflation rate. The court also ruled on Sunday that the strike was illegal, but the workers continued their action. Some of them clashed with police in downtown São Paulo.
© Copyright IBTimes 2022. All rights reserved.
FOLLOW MORE IBT NEWS ON THE BELOW CHANNELS