2 Dead, Child Wounded Amid Reports Of Explosions On Bridge Connecting Crimea To Russia's Mainland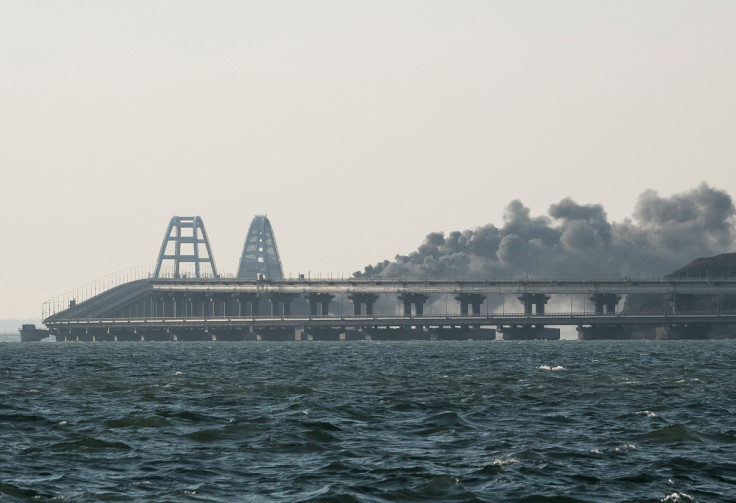 KEY POINTS
Traffic came to a halt Monday following an incident that officials referred to as an "emergency"
Local residents reportedly heard the sound of explosions before dawn
The bridge is crucial in transporting food, fuel and weapons to Russian troops battling in Ukraine
Two people were killed and their child injured in what Russian officials are calling an "emergency" on the bridge between Crimea and Russia's mainland.
While the incident has not been called an attack, local residents reportedly heard the sound of explosions before dawn. Traffic on the bridge came to a halt Monday.
"Traffic was stopped on the Crimean bridge. An emergency occurred in the area of ​​​​the 145th support from the [Russia side of the bridge]," Sergey Aksyonov, the head of the Russian administration in Crimea, wrote on Telegram, as quoted by BBC.
"Measures are being taken to restore the situation. I ask residents and guests of the peninsula to refrain from traveling through the Crimean bridge and, for security reasons, choose an alternative land route through new regions," Aksyonov added.
A couple died in the "emergency" incident and their daughter was injured, Vyacheslav Gladkov, governor of the western Russian region of Belgorod, said on Telegram.
"We all saw with you on a video on the Internet a damaged car with Belgorod numbers. What information is available at the moment: a girl was injured," Gladkov reportedly said. "The hardest thing is that her parents died, dad and mum."
The Russian-built bridge, which stretches over the Kerch Strait, is a key bridge that connects Russia with Crimea — the disputed territory Moscow annexed from Ukraine in 2014.
The bridge was opened in 2018 and has enabled road and rail travel between Russia and the occupied Crimean peninsula. It serves as an important supply route and is crucial in transporting food, fuel and weapons to Russian troops battling in Ukraine.
Explosions caused by a truck bomb led to the partial closure of the 12-mile-long bridge in October last year. It was reopened in February following repairs.
Months before the October explosion, Kyiv released statements that suggested the bridge would be attacked. However, Ukrainian officials did not claim responsibility after the explosions took place, and the cause and circumstances around it still remain unclear.
© Copyright IBTimes 2023. All rights reserved.