2 Ukrainian Fighter Jets Shot Down In East Of Country, Ukraine Defense Ministry Says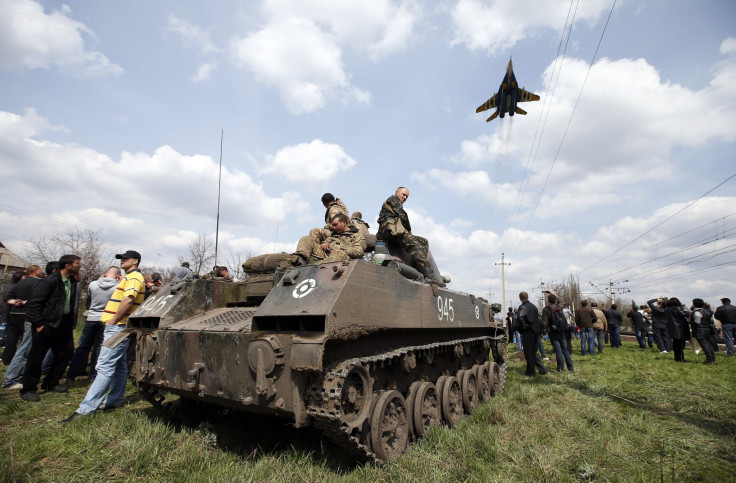 Update (8:30 a.m. ET): Pro-Russian rebels used rockets to shoot down two Ukrainian fighter jets on Wednesday, just 16 miles from the MH17 crash site, a Ukrainian military spokesman told Agence France-Presse. "Today in the south of the Lugansk region close to the village of Dmytrivka, pro-Russian fighters shot two Su-25 jets from a missile system," spokesman Vladislav Seleznev said.
The pilots used evasive action but were unable to avoid the rockets, he added.
Meanwhile, Igor Strelkov, leader of pro-Russian rebel forces in the Ukrainian city of Donetsk, has reportedly claimed responsibility for the downing of one of the two fighter jets, Reuters reported.
-
Two Ukrainian military fighter jets were shot down in the east of the country, Ukraine's Defense Ministry said on Wednesday.
The aircraft, both Sukhoi-25 fighters, went down in a region called Savur Mogila at 1:30 p.m. local time, the Associated Press reports. Ukrainian Defense Ministry spokesman Oleksiy Dmitrashkovsky said both planes had as many as two men aboard.
An air defense system shot down the fighter jets as they performed a task near the Ukraine-Russia border, CNN reports. The perpetrators haven't been identified, but the attack occurred in an area where pro-Russian rebels are known to be active.
The pilots of the fighter jets reportedly ejected from the aircraft, Ukrainian officials said. Their condition is unknown.
The incident occurred six days after Malaysia Airlines Flight MH17 crashed in Ukraine near the city of Donetsk, killing all 298 people on board. The plane was purportedly shot down by pro-Russian rebels.
This is a breaking story that will be updated as more information becomes available.
© Copyright IBTimes 2023. All rights reserved.