2012 Year In Review: China's Big Year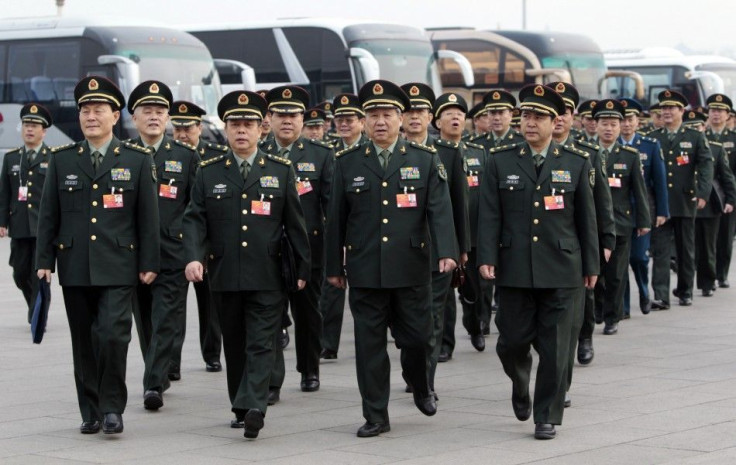 What a year it has been for China. As the nation solidifies into its role as a global superpower, 2012 was marked by historic events that spanned the political and economic arenas.
Here are the top five stories that came out of China this year:
1. China's military development:
This year China stepped up its game as a military player with new fighter jets and an aircraft carrier, while also taking a more hawkish approach to political disputes with neighboring nations.
China celebrated the successful flight of a the new Shenyang J-15 fighter aircraft -- also called the Flying Shark -- which was completely designed and manufactured in China and is equipped with domestically produced weapons and radar technology as well.
The Shenyang J-15 fighter jet was used in the first landing on China's first aircraft carrier, the Liaoning, allowing China to join the exclusive club of nations with aircraft carriers currently in use.
China's government also asserted its authority and challenged Japan over a disputed collection of islands in the South China Sea., Diaoyu to China and Senkaku to the Japanese.
The two nations have loudly claimed their stake in the disputed territories, but China openly provoked Japan when Chinese ships entered the surrounding waters in early October. As the two governments engaged in diplomatic talks to avoid any serious confrontations, Chinese naval military presence was spotted yet again near the islands for the second time in the same month.
2. A swift change and a cleaning of house:
According to the Chinese zodiac, 2012 was the year of the water dragon. Such events, which occur every 60 years, are supposedly known as years of transition.
As it happened, China's 18th National Party Congress meeting occurred this year, marking the beginning of a leadership transition from Hu Jintaoto China's next president, Xi Jinping.
Chinese officials increased security surrounding the huge political event in Beijing, monitoring social media to ensure that no disturbances would break out on the streets or in cyberspace.
Despite the expected criticisms from reformists, the meeting went on without a hitch and the transition of power to Xi is well on its way, despite a series of political scandals that plagued the government earlier in the year.
The scandal of Bo Xilai, once a rising political star, party boss of Chongqing, and a favorite to earn a seat as one of the seven people in the Politburo Standing Committee, made international headlines. One deputy under Bo's leadership in Chongqing fled to the U.S. Consulate, where he detailed years of corruption and crimes.
In what sounded more like a Hollywood political thriller, Bo was accused of several counts of corruption and abuse of power, while his wife, Gu Kailai, was accused and eventually found guilty of the murder of a British businessman, Neil Heywood. Rumors of an extramarital affair between Gu Kailai and Heywood, and links to the UK secret service, spread through the media. Gu is currently serving a suspended death sentence in Hefei, China.
Other disgraced politicians who have since been stripped of their duties include Li Dejin, Cai Bin, and Lei Zhengfu. Li and Cai were found to have taken bribes in the forms of watches and other expensive accessories, and in Cai's case, several houses. Lei, now the former Communist Party chief in Beibei district, found himself in the middle of a sex-tape scandal with a woman who was not his wife.
3. China reaches for the moon:
This summer, China launched its fourth manned space mission aboard the Shenzhou-9. The three astronauts spent several days conducting various operations. China's ambitious space program has been making leaps in recent history, as it became only the third nation – after the U.S. and Russia – to accomplish manned dockings in orbit.
The Shenzhou-9 successfully docked the orbiting space laboratory, the Tiangong-1.
China's space program already has high hopes for 2013. The nation's Chang-e III lunar rover is planned to land on the moon, securing China's age of space discovery and development.
In another sign of continued progress, this year's successful Shenzhou-9 mission included China's first female astronaut, Liu Yang.
4. Netizens raise their voice:
Even though China's social media age has come later than in some other nations, particularly those in the West, the nation's Internet population is millions strong and they have found their voice against the often-oppressive Beijing government.
China's biggest social media platform is Weibo, which is similar to Twitter, except Weibo has exceeded 400 million users, while Twitter users number about half of that figure.
Though still heavily regulated by self-censorship and government-imposed restrictions on sensitive stories, China's population has changed the rules and scope of how public debate is conducted.
According to NTD TV, more Chinese netizens are turning to Weibo rather than CCTV, the nation's state-run media, for their news, signifying a desire to step away from propaganda-laced reports.
This year, Weibo served as the unofficial mouthpiece for the people, allowing public commentary on such controversial topics as Bo Xilai scandal, the growing wealth divide between the rich and poor, and most recently the continued school stabbings. But Weibo is also used to praise auspicious events, like the first successful landing of a jet on an aircraft carrier.
For better or worse, China's netizens are being heard.
5. China slows down, or does it?
China has decided to set this upcoming year's growth target at 7.5 percent for the second year in a row, indicating the nation seeks to reach sustainable economic growth, which ultimately means slower growth than it has experienced in recent history.
Just before the year came to an end, China's top seven officials, the Politburo Standing Committee, came together in Beijing for the Central Economic Work Conference, where they shifted China's growth focus toward achieving political and social stability.
The new Politburo has made it clear that it intends to adjust the structure of China's economy to promote the much talked about reforms to benefit the livelihoods of China's growing population of discontented citizens.
In the third quarter of 2012, China's economic growth slipped to 7.4 percent, slowing for the seventh quarter in a row and marked the nation's weakest economic performance since 1999.
Though many may see China's 7.5 percent target as a sign of the nation lagging compared to prior years, China's economy is still growing rapidly compared to the struggling economy of the U.S., which is eking out a 2 percent annual gain.
© Copyright IBTimes 2022. All rights reserved.
FOLLOW MORE IBT NEWS ON THE BELOW CHANNELS