China 'Selected Seven' Announced: Reformists Or Not At The Top?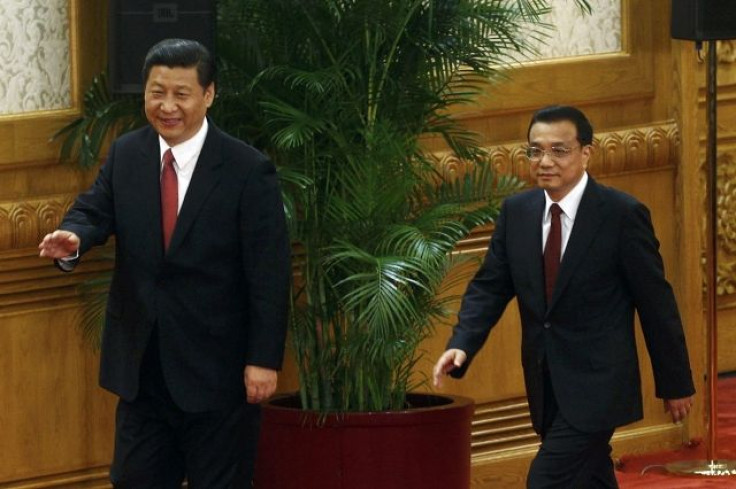 After several months of speculation, the new members of China's top leading body, the Chinese Communist Party's Politburo Standing Committee, have been announced, led by the newly appointed Xi Jinping.
The 'Selected Seven' announced on Thursday were not a surprise for the most part, considering the list of those who were widely expected to get picked for the top spots was released weeks earlier.
Aside from Xi Jinping, the group features Li Keqiang, the expected new prime minister once official power transition occurs in March 2013; and Zhang Dejiang, Yu Zhengsheng, Liu Yunshan, Wang Qishan, and Zhang Gaoli. One candidate that was rumored to be considered for one of the seven top spots, Li Yuanchao, who has extensive experience in the bureaucratic side of the Party's leadership organization, was overlooked.
Perhaps the only surprising revelation that was made during the announcement was that Xi Jinping was also appointed the new General Secretary of the Party, and Chairman of the Central Military Commission, both positions that Hu Jintao held.
Reports released yesterday implicated that Hu would step down from not just his presidency, but all the political positions he held, a historically unusual move. Typically, former presidents keep military positions during their successors' leadership, like Jiang Zemin, who has been very involved in China's political decisions even after his retirement in 2005. Hu's decision to retire from all his positions also ensured that other, older politicians from pervious administrations also retired, supposedly allowing completely new leadership and political and social reform to happen more easily.
Foreign media and diplomats eagerly watched the announcement, tweeting their reactions to China's new de facto president, Xi Jinping.
Jim Scuitto, Chief of Staff and Senior Advisor at the U.S. Embassy in Beijing, pointed out that Xi's speech was different.
"In first speech as China's newly appointed president, #XiJinping looked realized and confident, not wedded to notes and avoiding usual references to past leaders," Scuitto tweeted.
Xi's omission of past leadership, like Hu, Jiang, Mao Zedong or Deng Xiaoping, is unusual, but perhaps a sign of focusing on moving China forward, toward much sought-after reform, rather than looking back.
However, Eric Fish, Editor of the Economic Observer in Beijing, thinks that amomg the seven members, reformists seem to still be a minority.
"I'd only put two of the new members in the firmly liberal (by CCP standards) camp: Li Keqiang and Wang Qishan," he tweeted soon after the announcement.
China's reaction on its version of Twitter, Sina Weibo, also shows what users believe was dashed hopes for reform. Tea Leaf Nation, a blog that monitors local social media to decipher China, reported much disappointment from Weibo users.
One user saw the fact that the new PSC did not feature two reformist-leaning proteges of Hu Jintao as a sign that China was stuck in conservative ways. "The two reformers [Li Yuanchao and Wang Yang] both lost out, and the conservatives from Jiang Zemin's clique won a decisive victory. Disappointed!"
"A total defeat for reformists," another user agreed.
Though Hu Jintao has cleared the way for a clean power transition, some experts believe that Xi's conservative team will prevent any real reform from occurring.
"Domination by the so-called Princeling faction (to which Xi belongs) or the 'Shanghai gang' would lead the Standing Committee to oppose major changes in China's economic and political system and leave Xi with a lame duck government," said Brent Berger, China specialist for the Stockholm International Peace Research Institute.
Even with a governing body with conservative tendencies, some reforms, particularly economic and social, will still be necessary to not only continue China's development as a global power, but also to keep Chinese citizens happy.
© Copyright IBTimes 2023. All rights reserved.
FOLLOW MORE IBT NEWS ON THE BELOW CHANNELS