2012 Year In Review: Malala Yousafzai, The Real Person Of The Year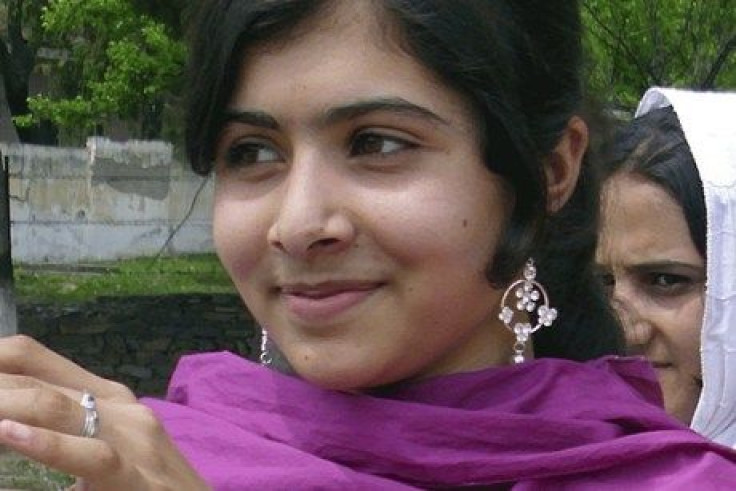 In a calendar year that featured continuing unspeakable bloodshed in Syria, a polarizing and contentious presidential election in the U.S., a devastating hurricane in New York-New Jersey, massacres in America, crippling economic crises in Europe, violent upheavals in Africa, the remnants of the 'Arab Spring' revolution, and many other atrocities and life-changing events, the most compelling and important person was a beautiful, little, dark-haired, dark-eyed Pashtun girl from remote, rural Pakistan who simply wanted to go to school.
As the whole world knows by now, the 15-year-old Malala Yousafzai was shot in the head by a Taliban gunman – for "promoting secularism" -- in the town of Mingora in Pakistan's Swat Valley in early October. She survived the attack and is now recuperating in a hospital 6,000 miles away in Birmingham, England.
In less than two months, Malala has become the most famous teenager on earth, a symbol of women's rights, feted by celebrities and the powerful and even nominated for next year's Nobel Peace Prize.
However, Malala is no shallow, empty-headed, media-created idol – she is a real flesh-and-blood young woman who has already challenged the fearsome Taliban militants who still threaten her life. Reportedly, she wants to return to Pakistan, where her life would be in constant danger. Such courage would be rare among marines, much less a young girl.
Malala began writing an anonymous blog for BBC when she was only 11 years old, criticizing the Taliban for their repressive activities in her native Swat Valley and advocating for women's education in Pakistan. Her father, Ziauddin, is himself an education activist who has also been targeted by militants.
Indeed, during the Taliban's brutal occupation of Swat, they destroyed hundreds of girls schools, though the Pakistani army drove them out of the region a few years ago.
"I have a new dream," she once said. "I must be a politician to save this country. There are so many crises in our country. I want to remove these crises."
How many little girls have uttered something so mature, selfless and elegant as that?
She also possesses extraordinary courage – years before a Taliban assassin tried to kill her, militants had been threatening her life. In response to these threats, Malala calmly responded: "I think of it often and imagine the scene clearly. Even if they come to kill me, I will tell them what they are trying to do is wrong, that education is our basic right."
The shooting of Malala, already a celebrity of sorts within Pakistan and the Pakistani Diaspora in Britain, Europe and North America, made her a global figure and an inspiration to millions around the world.
Political leaders across the planet have lauded her and some have even nominated her for the Nobel Peace Prize. She has already been bestowed with innumerable other prizes and awards from around the world (both before and after her shooting).
Cynics will argue that Malala has received an excessive amount of attention and praise, given that hundreds of other Pakistani children and teenagers have been killed in recent years by U.S. military drones, while millions of other unnamed, anonymous females in the country suffer from a litany of other social ills, including rape, murder, honor killing, etc.
I would agree with that assessment… to a degree. However, I would hasten to add that Malala did not ask for any of this attention, nor did she expect to become globally famous as the result of a murder attempt.
Others would also complain that her martyrdom is heightened by her good looks… again, this is something beyond her control.
The larger theme with Malala, and the topic she is most concerned about, has to do with illiteracy in Pakistan.
According to statistics from the Federal Education Ministry of Pakistan the country's overall literacy rate is only 46 percent – for women, it's just 26 percent. This means that three out of four Pakistani females cannot read or write (presumably, most of them have never set foot inside a classroom). In neighboring India, the overall literacy rate is about 74 percent.
In Pakistan, moreover, of 163,000 primary schools spread across the country, less than one-fourth cater to girls.
Out of a total of 14,000 lower secondary schools and 10,000 higher secondary schools, only 5,000 and 3,000, respectively, are reserved for girls.
Among higher education, there are only about 250 girls colleges, and just two medical colleges for women.
These numbers are far lower in rural areas, as in Swat where Malala lived. The female literacy rates in the Northwest Frontier Province and Baluchistan – areas with heavy militant activity – is believed to be just 3 percent and 8 percent, respectively.
"One of the most deplorable aspects is that in some places, particularly northern tribal areas, the education of girls is strictly prohibited on religious grounds," wrote journalist Aamir Latif.
"This is a gross misinterpretation of Islam, the dominant religion in Pakistan (96 percent of the population), which like all religions urges men and women to acquire education."
Part of the problem is widespread poverty, which forces millions of Pakistani children to go to work to help support their families.
According to UNICEF, 17.6 percent of Pakistani children of both genders work, particularly as domestic servants, and do not attend school at all.
In this context, Malala is one of the lucky ones, since she is highly educated and has already enjoyed opportunities far beyond the dreams of most of her peers.
For some voices in the west, Malala has emerged not only as a symbol of freedom, education and bravery, but also as a refreshing alternative to what many western girls are like.
Sinead Moriarty, the Irish novelist, wrote a stirring column in the Irish Independent newspaper about Malala that contrasted her sweet, pure, unselfish lifestyle with the behavior of spoiled, lazy, uncaring youths in the West.
Moriarty suggested that Western youth – particularly women – should try to pattern themselves after Malala, rather than the other way around.
"Perhaps we need to take down the posters of Cheryl Cole and Rihanna from our teenagers' bedrooms and replace them with posters of Malala Yousafzai," Moriarty wrote.
"Our children's role models now fall into two categories -- sports stars or pop stars (with the occasional WAG thrown in)… They watch talentless wannabes on reality TV, selling their souls to the devil for fame."
Moriarty added: "Ask [western] teenagers what they want to be when they grow up and the majority will say 'famous.' Nobody seems to remember all the people who won the 'X Factor' and are now back working in their local fish shop."
Moriarty further pointed out that – counter-intuitively – young women in the West have actually slipped backward.
"In this post-feminist world, [western] girls have become commodities. Where are the young women who want to shatter glass ceilings?," she asked.
"Where are the girls who want to change the world, not the size of their breasts? Where are the teenagers who want to grow up and rule the world, not the tabloids? Nowadays teenage girls look at footballers' wives and think, 'I want that'. I want to live in a big house, drive a flashy car and shop in designer boutiques."
Malala is not a president, prime minister, general, corporate chief executive, nor an entertainment celebrity – but this lovely young girl arguably has influenced and inspired more people around the world than any other luminary this year – and hopefully she will continue to inspire for many more years to come.
© Copyright IBTimes 2023. All rights reserved.