2013 Immigration Reform: House Dems Ready To Make Concessions Like Senate, Says Gutierrez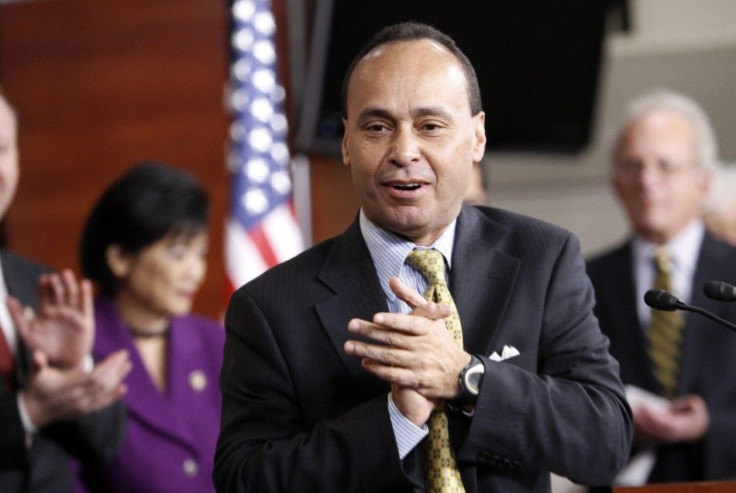 House Democrats are ready to make concessions like the ones their Senate counterparts made in order to get a 2013 immigration bill out of the lower chamber, Rep. Luis Gutierrez, D-Ill., said Monday at an event in Chantilly, Va.
The Senate passed its comprehensive immigration reform bill 68-32 in June after two Republicans brokered what they called an "overkill" border surge bill that pumps tens of billions into improving border security and militarizing the Mexican border with more drones.
Speaking on a panel in Virginia's 10th District, now represented by Republican Frank Wolf and where Democrats are making a push based on immigration, Gutierrez said immigration reform is neither a Democratic nor Republican issue.
"Who says that's a Democratic proposal?" Gutierrez said of the Senate-passed measure, in remarks broadcast by C-Span. "That's not a Democratic proposal. That's the result of Democrats and Republicans sitting down at a table to have comprehensive immigration reform."
"And we're ready to make the same kinds of concessions in the House of Representatives," he continued. "We understand that we're in the minority [in the House] and you, the Republicans, should understand that you lost the referendum on immigration reform on Nov. 6. Let's sit down at the table -- people like Paul Ryan and Luis Gutierrez and others -- and let's find an American solution -- not a Republican solution, not Democratic solution, an American solution -- to our tragedy of our broken immigration system here in this country."
Gutierrez said that even though the Senate bill puts an additional 20,000 personnel on the ground at the southern border, he would vote for it because immigrants risk their lives daily trying to cross the border to return to their families.
The Chicago congressman and Hispanic caucus leader also said immigration reform will not benefit only the undocumented. He said communities will be safer, especially for women and children, when the law seeks out and prosecutes people who take advantage of them in their illegal state.
Gutierrez also took a swipe at the SAFE Act, a proposal by Rep. Trey Gowdy, R-S.C., to allow local law enforcement officers to enforce federal immigration laws. Critics have said such laws foster distrust between the immigrant community and law enforcement, which makes crime-fighting harder.
"You have to separate law enforcement from immigration policy," Gutierrez said. "The police are there to protect the people and they have to protect the women and the families. It's fine and dandy to talk about safety, but we have to understand just how safety really has a corrosive effect.
"The most important instrument that the police have is the people and the cooperation of the people. And when you pass immigration law that criminalizes all immigrants and makes them fear the police, you make all of us less safe and you make us all a nation where we perpetrate injustice upon people here who have been submitted to crimes and criminals."
From Chantilly, Gutierrez will head to Harrisonburg, where he will participate in a town hall event on immigration reform organized by Virginia Organizing.
Maria Pena, an immigrant activist and volunteer at Virginia Organizing, said Gutierrez has been the voice of Hispanics who cannot speak for themselves.
"It's been a long, long journey for the Hispanic community in order to get conscience in our government to have immigration reform for the 11 million people living here in the United States," Pena said, referring to the estimated number of undocumented immigrants living in the U.S. "We don't want to live in fear. ... This is our last hope that this year the Congress is going to have some common sense and pass a law."
© Copyright IBTimes 2023. All rights reserved.