2015 Detroit Auto Show: Ford Flexes Muscle With 2016 Ford Mustang Shelby GT 350R, F-150 Raptor, GT Supercar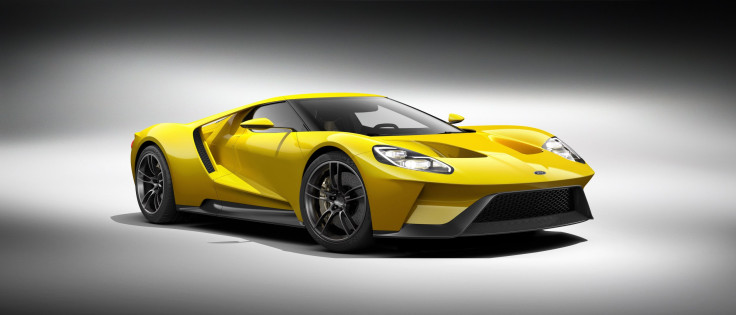 Automakers haven't had this kind of swagger in years. With a U.S. auto market in full postrecession recovery, carmakers have moved beyond lauding rational, fuel-sipping driving options to flex some muscle.
On Monday, Ford Motor Co. did just that by announcing a trio of vehicles in its performance plays, including the GT supercar that the company will roll out late next year.
"This is a return to more passion projects instead of doing more pragmatic vehicles like compacts," said Jessica Caldwell, senior auto analyst at Kelley Blue Book. "Showing off a halo sports car in 2009 would not have been well received."
Ford President and CEO Mark Fields described the GT as "the ultimate Ford performance vehicle" during his presentation at the packed Joe Louis Arena in downtown Detroit during the 2015 North American International Auto Show. The car underscores the power potential of Ford's more efficient EcoBoost engines and is aimed at allaying concerns that EcoBoost engines are weaker. In the GT, they certainly are not: The GT's V6 EcoBoost power plant puts out more than 600 horsepower.
Ford's return to exotic sports cars is expected in 2016 on the 50th anniversary of the company's historic victory at the 1966 24 Hours of Le Mans when three GT40 Mk. IIs finished first, second and third in the race. Ford has said it will participate at next year's 24 Hours of Le Mans race with a variant of this street-legal GT supercar.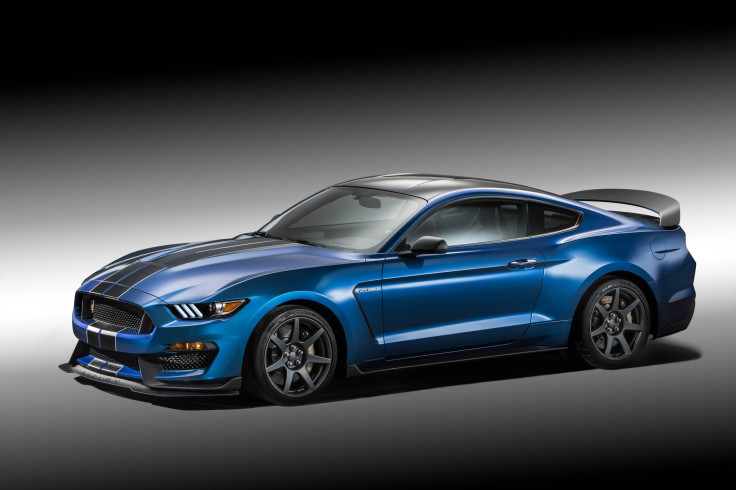 Ford also presented the 2016 Ford Mustang Shelby GT 350R – the closest thing to a professional racing version of the Mustang that can legally be driven on public roads.
"The new GT 350R is lighter, with a highly refined suspension," Raj Nair, Ford's chief technical officer, said during his presentation. The 5.0-liter flat-plane crank V8 pushes out more than 500 horsepower in this no-compromises, no-frills beast. To save on weight, the GT 350R has carbon fiber wheels and lacks basic features like air conditioning and backup camera systems.
The third expression of might to come from Ford on Monday was the 2016 F-150 Raptor, the performance off-road version of America's best-selling vehicle. Billed as Ford's toughest and smartest truck, the Raptor gets the aluminum body of its siblings, along with a 3.5-liter EcoBoost engine that produces more horsepower than the current 6.2-liter V8.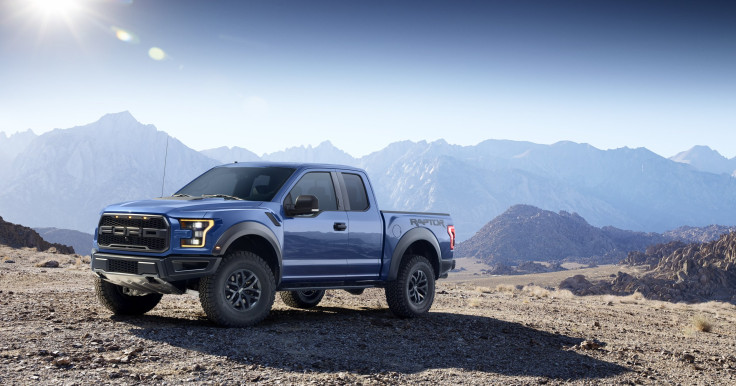 Ford manages to squeeze more power from a smaller engine in part because if its 10-speed transmission system. The truck is more efficient because it can select just the right gear for the power it needs at any given time. The Raptor's Fox Racing Shox have improved shock-absorbing capability, while Ford's new terrain management technology gives the new Raptor more grip and adaptability for off-road travel.

After years of promoting its line of small cars and compacts, like the Ford Focus, Fiesta and C-Max, this year Ford appears ready to show that its EcoBoost engines are up to the challenges of speed and brawn.
Watch Ford's 2015 North American International Auto Show presentation:

© Copyright IBTimes 2023. All rights reserved.