38,300 Russian Soldiers Have Died In War, Armed Forces of Ukraine Confirm
KEY POINTS
The Russian military suffered the 'heaviest losses' in Bakhmut in the past day
A top U.K. defense official said the Russian military is struggling with low morale
Admiral Tony Radakin added that Ukraine will win the war against Russia
More than 38,000 Russian soldiers have now died as the war in Ukraine nears the end of its fifth month, according to Ukraine's armed forces.
Since the war began on Feb. 24, at least 38,300 Russian soldiers have been killed in action. The Russians suffered the heaviest military losses in Bakhmut, a city in the Donetsk province, in the past day, according to estimates from the General Staff of the Armed Forces of Ukraine (UAF).
In addition, the Ukrainian military said it also destroyed 1,684 Russian tanks, 3,879 combat armored machines, 688 unmanned aerial vehicles and 2,746 fuel tanks.
It is unclear how many casualties the Ukrainian army has suffered since the beginning of the war. The country's military has yet to issue an official death toll. However, President Volodymyr Zelensky in June said as many as 60 to 100 Ukrainian soldiers were being killed daily in Donbas.
While both armies have suffered heavy losses, western officials, including U.K. Chief of the Defense Staff Admiral Tony Radakin, believe Ukraine will win the war against Russia and regain the territories that have fallen under Russian control.
"They are absolutely clear that they plan to restore the whole of their territory in terms of Ukraine, and they see a Russia that is struggling, a Russia that we assess has lost more than 30% of its land combat effectiveness," Radakin said in an interview on BBC's Sunday Morning.
"Russia started this invasion with the ambition to take the whole of Ukraine, Russia had the ambition to take the cities in the first 30 days, Russia had the ambition to create fractures and to apply pressure to NATO, this is Russia as a challenge to the world order, Russia is failing in all of those ambitions, Russia is a more diminished nation than it was at the beginning of February," he said.
Radakin also added that the Russian military is struggling with low morale and matching the number of people with the number of equipment it has as many die in the war. This has led the Russian military to recruit prisoners with combat experience to join its invasion of Ukraine and fill the gaps left by its losses in the war.
The recruiting is reportedly being done by representatives from Russia's Federal Security Service (FSB) and the infamous Wagner Group.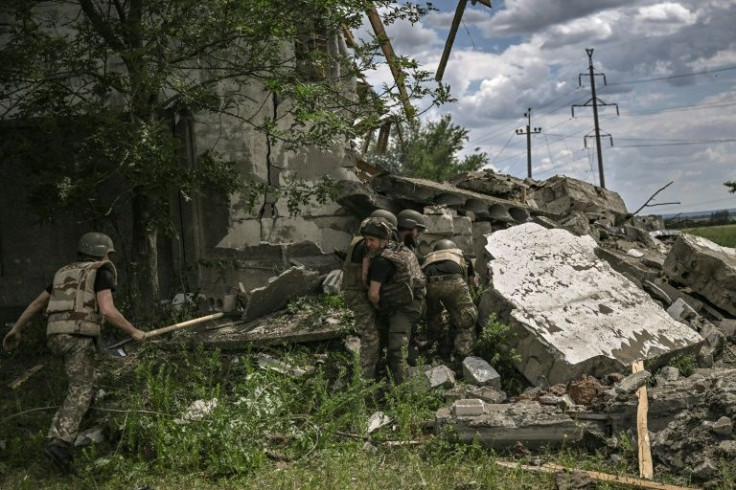 © Copyright IBTimes 2023. All rights reserved.