4 Best Quarterbacks Entering The 2015 College Football Season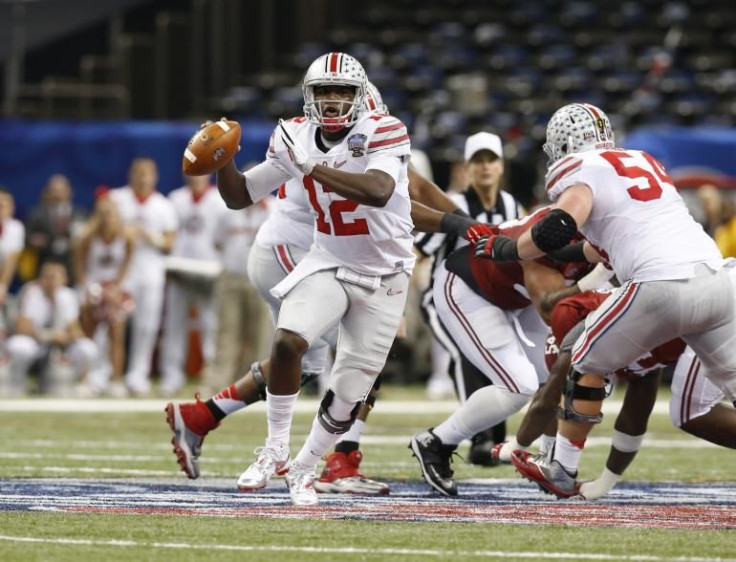 The 2015 college football season will have no shortage of talent, particularly at the quarterback position. While Oregon's Marcus Mariota, Florida State's Jameis Winston and UCLA's Brett Hundley are two months away from being drafted into the NFL, the next star quarterback is waiting in the wings.
There are some notable freshmen who are expected to be in the spotlight in the upcoming season, such as Josh Rosen (UCLA), Jake Browning (Washington), and Brady White (Arizona State). The Pac-12 trio will have the opportunity to distinguish themselves as rising stars in a conference that has produced superstar quarterbacks overs the years.
However, next season's elite quarterbacks are mostly established upperclassmen, who are coming off strong 2014 campaigns.
Here are the quarterbacks who will likely shine in the 2015 season:
Connor Cook, Michigan State
Cook really stood out in 2014, passing for 3,214 yards, 24 touchdowns and 11 interceptions. He could have perhaps been an early round draft pick had he declared for this year's draft, but instead chose to return for his senior season. Cook has a strong arm and the physical tools to play in the NFL, but will likely work on the little things like footwork and downfield accuracy this season. Next season, Cook won't have the services of star receiver Tony Lippett, as well as Keith Mumphrey, and he completed just 58 percent of his passes in 2014. But if Cook's accuracy improves, and a top passing target emerges, he could easily become a Heisman contender.
Cody Kessler, USC
Kessler put up big numbers in head coach Steve Sarkisian's pro-style offense. Kessler follows in the tradition of stellar USC quarterbacks, and will look to enhance his draft stock by leading a Trojan offense that is expected to be among the best in the nation. He threw for 3,826 yards, 39 touchdowns and just five interceptions last season, while completing 69.7 percent of his passes. Listed at 6-foot-1, Kessler is well under the prototypical NFL size. But what Kessler lacks in height he makes up for with well-timed passes and efficiency. The incoming senior should have another good year for the Trojans, especially with exciting receiving options like JuJu Smith returning.
Dak Prescott, Mississippi State
Entering his senior season, Prescott is a physical force who threw for 3,449 yards, 27 touchdowns and 11 interceptions last season for the Bulldogs. He's grown as a passer and is a dangerous runner who is a capable of bulldozing would-be tacklers. Prescott has a pretty strong arm and will look to develop into a more polished passer next year against the traditionally strong SEC defenses. Should Prescott improve on his junior season, he could find his way into the first round of the 2016 NFL Draft.
Whoever starts for Ohio State
The Buckeyes are in the enviable position of having three very qualified starters at quarterback. Cardale Jones and J.T. Barrett both performed admirably in place of Braxton Miller, as Ohio St.'s ran away with the 2015 National Championship. Miller, a two-time Big Ten Offensive Player of the Year, had re-injured his shoulder in August. With Miller out, Barrett earned the starting job, but would later suffer a fractured right ankle, which opened up an opportunity for Jones.
All three quarterbacks have a case to start next season. Miller is experienced and was considered one of the best players in the country entering the 2014 season. Barrett broke Ohio St.'s single-season offense record (3,772 yards) and the Big Ten single-season touchdown record (45 total). Jones won the National Championship for the Buckeyes and will get the first-team reps this spring as Barrett and Miller recover. Miller reportedly won't transfer, meaning head coach Urban Meyer will have an embarrassment of riches to choose from.
Miller was an electrifying player, both throwing and running, but it's unclear how effective he will be after his shoulder problems. Barrett, who just recently had screws removed from his ankle, is skilled at scrambling and completing difficult passes. Jones, on the other hand, was a more bruising runner but thrived in his three appearances to help Ohio St. overcome some tough competition on the biggest stages. Jones beat Wisconsin in the Big Ten Championship Game, and Alabama and Oregon in the playoffs, and is the only option that doesn't have physical ailments.
What seems certain is that Meyer's opening-day starter will immediately become one of the most talked about quarterbacks in the nation.
© Copyright IBTimes 2023. All rights reserved.