4 Ways China's Devalued Yuan Could Hurt The US Economy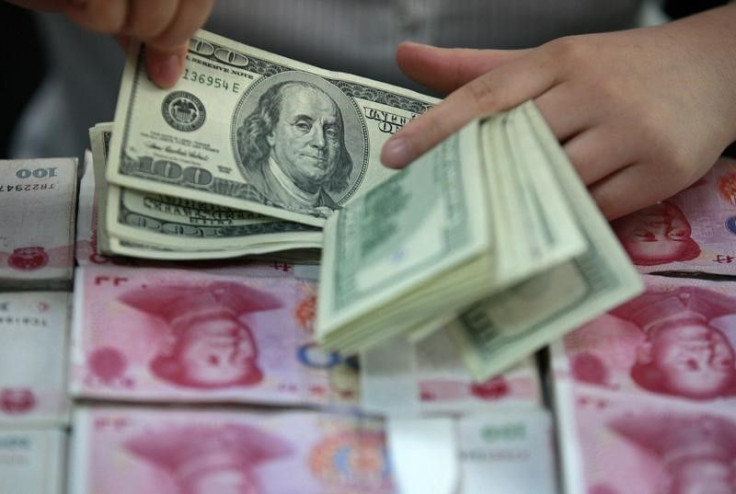 China's surprise move to depreciate the yuan this week is expected to help revive growth in the world's second-largest economy, but it may not be such a good move for the still-recovering U.S. While a stronger dollar helps American companies and consumers buy Chinese imports at lower prices, a weaker Chinese currency makes U.S. goods and services more expensive overseas.
Here are four ways a devalued yuan could affect America:
1. The move could weigh on earnings growth from U.S. multinationals. A prolonged period of dollar strength isn't exactly good news for American corporate bottom lines. The sudden devaluation of the yuan has negative effects for companies with significant operations in China, such as iPhone maker Apple Inc., which is already coping with the dollar's recent potency.
"The devaluation further increases the cost of the iPhones and iPads in the local market," Gerry Granovsky, senior vice president at Moody's, said in a note Tuesday.
Although many of Apple's products are assembled in China, the company would not immediately see cost benefits from its Chinese sourcing because most of the manufacturing and assembly arrangements are denominated in U.S. dollars, Granovsky explained.
CNY to USD Exchange Rate | FindTheData
2. A weaker yuan could reduce U.S. exports to China. By devaluing its currency, China intends to boost its exports to regain competitiveness, but economists say the move will hurt U.S. exports to China.
The devaluation will make Chinese-made goods less expensive, and imports to China more expensive. Economists say this should support growth in China, which has slowed in 2015, in large part because of a cooling real estate market.
For the U.S., however, trade already is expected to be a hindrance on growth in the second half of this year, and that drag will now be somewhat larger, Gus Faucher, senior macroeconomist at PNC Financial Services Group, said in a note.
U.S. Foreign Trade Over Time | InsideGov
3. Muted U.S. inflation could dampen the Fed's September liftoff. The yuan's devaluation may ease concerns about deflation in China, but the stronger dollar could restrain U.S. inflation during a time when the Federal Reserve would like inflation to accelerate.
A strong U.S. dollar has been a headwind for exports this year, keeping U.S. inflation below the Fed's 2 percent target for nearly 40 consecutive months. Devaluing the yuan puts more upward pressure on the greenback, which could be accelerate further when the Fed raises interest rates.
Muted inflation could dampen the prospects for the Fed to hike rates this year. "This creates uncertainty around the Fed, an uncertainty that many felt was past us," Stephen Guilfoyle, managing director of NYSE Floor Operations at Deep Value Inc., said in a note.
Effective Federal Funds Rate | FindTheData
4. A stronger dollar hurts U.S. manufacturing. A more powerful dollar also has steep downsides for the U.S. economy. Chief among them, it makes American goods sold abroad more expensive. As the dollar strengthens, U.S. exports will be less competitive, which could weigh on the manufacturing sector, accounting for around 12 percent of U.S. gross domestic product.
U.S. Trade Partners Over Time | InsideGov
© Copyright IBTimes 2023. All rights reserved.