5 Great Historical Bars: Why Spaces Like Stonewall Inn Deserve To Be Landmarked, Celebrated
Unlike many buildings that receive landmark status from New York City's Landmarks Preservation Commission, the Stonewall Inn in Greenwich Village isn't much to look at. But for Clinton Lanier, co-author of "Bucket List Bars: Historic Saloons, Pubs, and Dives of America," news on Tuesday that the bar considered the birthplace of the American gay rights movement is now a protected landmark was cause for celebration -- not only for the LGBT community, but also for the idea that the oft-overlooked space of the bar is culturally and historically significant.
"The cultural significance of bars to our country cannot be expounded on enough," Lanier, who is also an assistant professor of communications at New Mexico State University, told International Business Times. "Many cultural movements have begun in bars, and Stonewall represents a really important one. Probably all of the labor movements throughout our country in the early 20th century started in bars. That's where the working man went after work and complained about the boss or discussed how someone got killed in the factory today and so forth."
The Stonewall Rebellion, as it came to be known, was sparked on June 28, 1969, when police raided the Stonewall Inn, a Greenwich Village tavern that served gay people during a time of widespread discrimination and harassment by the police. Riots ensued, and within months, a movement promoting rights for gay people was born. By 1970, the first gay pride parades commemorated the riots in major cities.
"This ain't a pretty building, it ain't a pretty piece of architecture," said Landmarks Commissioner Michael Devonshire of the Stonewall Inn, reported Reuters. And yet, "This building represents so many things." Added commission chair Mennakshi Srinivasan,"This building is a symbol of a time when LGBT New Yorkers took a stand and vowed that they would no longer live in the shadows."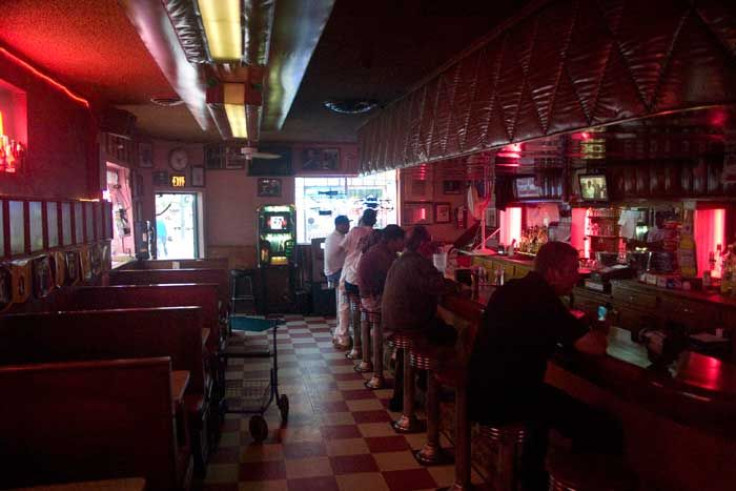 What is it about bars? Why are they such great spaces for political movements and political intrigue? For Lanier, they mix public and private space, and often function as mini-communities within a neighborhood.
"A bar is a public space where anyone can go in, but you can have a private conversation in the corner. And in the case of Stonewall at the time -- it was a neighborhood place. You'd only go if you really knew about it. In the '60s, '50s, '40s up until the '70s in the U.S., neighborhood bars dotted our country, and people within a few blocks' radius would go there. If you didn't live in those few blocks, it's not that you weren't welcome, but you might just not feel comfortable. You didn't know the bartenders or the regulars."
Bars can help form identities and alliances. Describing McSorley's Old Ale House in New York City, Lanier said you can still see pictures on the wall of club members that held their meetings there.
"That was their meeting place," he said. "Things go on in these small bars all over the country still. It creates this kind of identity. Even now, I know people who go to Old Town, but they don't go to McSorley's."
In their liminal status between public and private space, bars tell you a lot about a place that more "official" spaces might not. Lanier likes to quote Ernest Hemingway on the importance of bars: "Don't bother with churches, government buildings or city squares; if you want to know about a culture, spend a night in its bars."
Unlike many of the historic bars Lanier and co-writer Derek Hembree visited in their one-year pub-crawl across the country, the Stonewall Inn is relatively new. In fact, the current business that operates at the building on Christopher Street opened in the late 1980s and, aside from its name and location, has no connection to the bar that was there during the riots.
The White Horse Tavern in Newport, Rhode Island, is considered the oldest bar in the U.S. -- it's on the national registry and dates to the mid-17th century. The Old '76 House in Tappan, New York, was built in 1668, and was a pivotal part of the Revolutionary War as a meeting place for patriots. A former brothel and oldest tavern in New York, Bridge Café, was built in 1794. Built in 1772, The City Tavern in Philadelphia, also on the historical registry, was the favorite meeting place of many of the Founding Fathers and members of the First Continental Congress.
"The Stonewall Inn represents something of a change here because a lot of the places we went to [for "Bucket List Bars"] were historic based on their age," said Lanier. "The Stonewall Inn is not that old. It's not from the 18th century. George Washington didn't drink there. It's a little divey. It's been given this status because of its cultural significance and because of what it represents to the people of our country. That's huge for saving bars."
Saving bars -- like Lenox Lounge in Harlem, Po' Monkeys in Mississippi, Mother's in Chicago -- and preserving the stories they tell was one of the reasons Lanier and Hembree wrote "Bucket List Bars."
"That's why we wrote our book," Lanier said. "We looked around and saw these places closing. They're casualties to gentrification."
© Copyright IBTimes 2023. All rights reserved.
FOLLOW MORE IBT NEWS ON THE BELOW CHANNELS