5-Time NBA All Star Cares More About Legacy Than Winning NBA Title
A five-time NBA All Star just stated that he is more about building his own legacy than winning an NBA championship.
Washington Wizards star John Wall might have shocked his fans a bit with his recent statement. The 28-year-old NBA star spoke with The Athletic a few days ago to discuss his thoughts about the NBA today.
According to Wall, the NBA has significantly changed its ideal winning form from "three" star players to "two" star players. He even admitted that the Wizards have only two stars and he's fine with it because he is not after creating superteams.
"It seems right now, everybody's got a dynamic duo. Two stars … Now it's back to two stars. It was three stars. We had two stars. We didn't have a third one. But I'm not a guy that's trying to chase it," Wall revealed.
Wall said he would rather build his own legacy with the Wizards than bring the championship in Washington.
"I'd rather build my legacy here than to get a ring," Wall noted.
"I want a ring for the city, trust me. It's great to have an NBA championship," however, he pointed out that building a legacy will be remembered "for a long time."
"You win a ring; nobody is going to talk about that years down the road. But if you build a legacy in a place, that's going to go on for a long time."
The five-time All Star remains confident in his accomplishments and what he can still do in the future. He continued by reminding everybody about the legacy he left in Kentucky.
"I go back to Kentucky, I don't have a national championship but my resumé is bigger than anyone else that's been there since I left. Know what I mean?," Wall said.
But the most notable statement Wall has provided was his different take on winning an NBA title. As opposed to what most of his peers in the league say, Wall is not really crazy about an NBA title.
"Winning a ring is not everything. It's great. It's not everything," Wall pointed.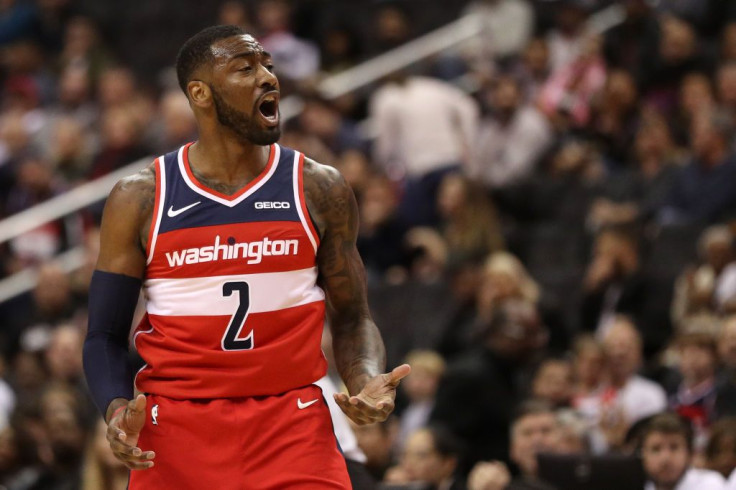 Wall, who is currently recovering from a torn Achilles, clearly isn't a fan of building superteams. Moreso, he just made it clear that he is not crazy about winning a ring soon.
In another recent interview, Wall revealed what the Wizards are planning for a season without him. As per the Wizards star, the team and his doctors suggest that he "sit out" the whole 2019-20 NBA season. But Wall admitted that he is not "willing" to.
Wall averaged 20.7 points and 8.7 assists per game in 32 games last season. The Wizards struggled without Wall and missed the playoffs, posting a 32-50 record. But in his absence, Bradley Beal managed to step up and deliver one of the best years of his young career.
© Copyright IBTimes 2023. All rights reserved.