6 Easy Tips To Maintain Good Posture While Working From Home
Working from home could be ruining most people's postures since not everyone is used to it. While it was initially believed that the offices were going to be shut only for a couple of weeks, work from home got extended due to coronavirus pandemic.
Not everyone is lucky to have or afford a home office. A vast majority have to choose between options like sofas, beds, kitchen tables, or simply use their floors to work from home. And this could have a devastating impact on people's health and postures.
Maintaining a good posture is very important while working from home. After weeks of sitting in the wrong position, you are likely to start experiencing pain in your lower and upper back. There are chances that this might lead to long-term consequences.
Why is posture important while working from home?
Not only does it lead to better productivity, but it also enhances mental alertness and reduces mental fatigue. It can help improve your breathing and boost up energy levels, says Calm Sage.
Here's how to combat poor posture while working from home:
1. Choose the right furniture and spot
Setting up an ergonomic workstation is the key to adopting the right posture. According to Bustle, a workspace setup is one of the most important aspects of maintaining good posture. This includes your laptop, seat, and desk including other accessories like keyboard and mouse place in the right position. Even though you might be stuck with minimal resources, you can still do something to correct your posture.
2. Elevate your laptop
See to that your monitor is placed at eye level, says WIRED. If you are working on a kitchen table or a dining table, try to make your own laptop stand -- one which elevates your laptop. If there is no keyboard or mouse to rely on, try angling a lever-arch file or a chopping board or pile up a few books to use as a ramp. And in case, you have no tables at home, work at a kitchen counter, or use an ironing board at standing level. You could also sit on the floor or place it on a sofa or coffee table and work.
3. Sit right
While sitting in a comfortable position is essential, ensure that your knees are bent by 90 degrees. This will help relieve extra pressure from your back. And more importantly, do not leave those arms hanging. Ensure that you support your arms either on the table or the chair's armrest. And while typing, keep your elbows bent at 90 degrees. Sit straight with your back straight, without leaning back or sloughing forward.
4. Take breaks and move around often
Not only will this help change your posture but also relieve your body after sitting for a while in the same position. Taking frequent breaks will also remind you to reset your posture when resume work, says HSS.
5. Try standing and working
This could be an ideal option for those who are looking for a change in their working posture. But ensure that your laptop screen is at an eye level and choose a hard place for the laptop. And more importantly, keep your lower back straight and refrain from slouching your shoulders.
6. If you are using the couch or bed
As attractive as it might seem, it is the unhealthiest style of working from home. Although it could be very comfortable, it is important to provide support to your back using some cushions. And make sure you don't lower your neck and back while working. While you can work from your couch or bed for a short span of time, it is not recommended for a longer duration.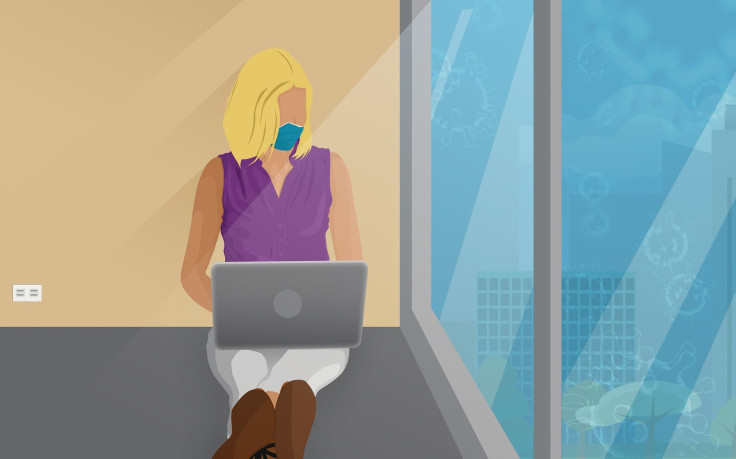 © Copyright IBTimes 2023. All rights reserved.