6-Year-Old Ukrainian Girl Says She's 'Not Afraid' But Wants The War To End
KEY POINTS
The child and her family have been sheltering in their city's cultural center
"The war is very bad," said the little girl, who hopes the conflict will end
The fifth-grader said she misses her school, classmates and teachers
A 6-year-old girl in northern Ukraine dreams of going back to school and hopes the ongoing war in her country will come to an end.
Miroslava Bogdashkina is one of the scores of Ukrainian children whose normal lives have come to a sudden halt since the conflict broke out. "The war is very bad," Miroslava said as she spoke to Anadolu Agency.
The first-grader and her family have sought shelter in the cultural center of Brovary city while their country continues to be bombed and ransacked by Russian soldiers. They have been at the center since the time Russian forces invaded Ukraine.
Miroslava was going to school until the conflict began in February. "It's been a long time since I last went to school. I miss my classmates and teachers very much," the child told the publication.
The little girl hopes to fly to Sweden so she would not have to witness the war unfold. "War is very difficult for children, it is scary, but I am not afraid," she added.
The child said she loves animals very much and reminisced about the zoo visits she went on through her school in the past. "It's very important to me that the war is over because I want to go to both school and the zoo," Miroslava told the outlet.
Miroslava's mother, Natalya, has been working as a volunteer, collecting humanitarian aid at the center and distributing them to those in need, according to Yeni Şafak.
"My elders live in a neighborhood outside the city. I haven't seen my mother for a long time and I don't know when I will see her again," Natalya told Anadolu Agency.
Natalya said she and her family will continue staying at the cultural center for a while. "We dream of ending the war. Everyone has the same dream," the mother added.
Reports revealed that around 143 children have been killed and 216 were left injured since the Russian invasion began on Feb. 24.
"Children suffered the most in Kyiv - 67, Kharkiv - 49, Donetsk - 53, Chernihiv - 38, Mykolaiv - 30, Luhansk - 27, Zaporizhia - 21, Kherson region - 24, Kyiv city - 16, Zhytomyr - 15 and Sumy - 14 regions," Ukraine's Prosecutor General's Office (PGO) was quoted saying.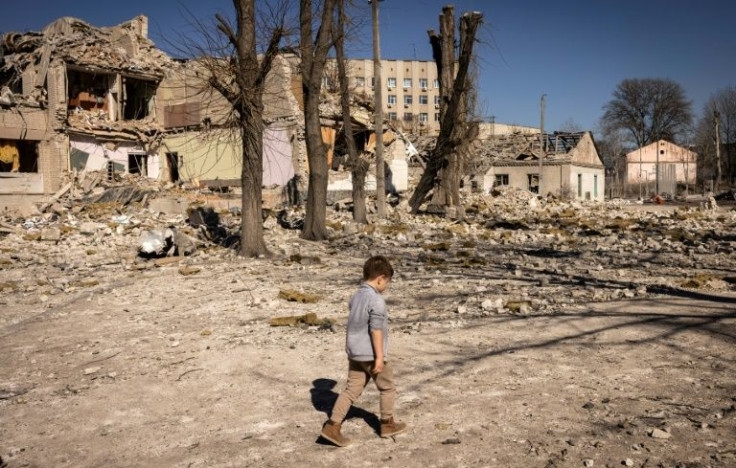 © Copyright IBTimes 2023. All rights reserved.