76ers JJ Redick Apologizes, Again, For Racial Slur: 'Very Unfortunate Mishap'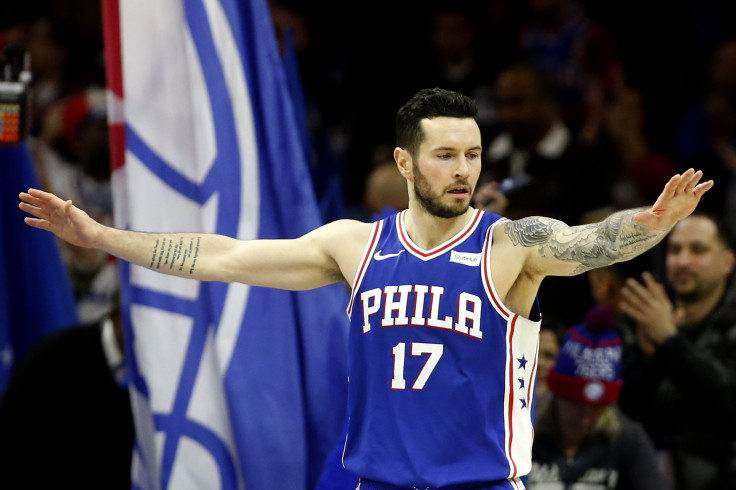 Philadelphia 76ers guard JJ Redick once again offered an apology and additional explanation of a video that appeared to feature him spewing a racial slur.
Redick came under fire after a Youtuber uploaded a video of himself reacting to footage of the 76ers guard who seemingly uttered a racial epithet used to disparage people of Chinese descent.
The footage garnered over 270,000 views as of Wednesday. The initial video, produced by Chinese media, included 30 NBA players and coaches sending Chinese New Year greetings to fans.
"I'm sorry for anyone I offended with what was a very unintentional mishap," Redick told reporters after Wednesday's practice. "As I said in my statement, I was going to say NBA Chinese fans and it didn't make sense at the last minute and I changed it to NBA fans in China."
He added: "I'm very sorry. Again, this is not a, like, Freudian slip or anything like that. That's not a word that I use, not a word that I would use in private and certainly wouldn't use it in public for a video that was being made for NBA China. I'm very sorry and hopefully we can move on and talk about some basketball."
The 33-year-old first addressed the incident in a statement released on Twitter Sunday claiming he was "tongue-tied."
Redick explained that he recorded the montage in an empty room and that if he knew what it sounded like, he would have had it edited.
Redick also claimed that he meant to say "NBA Chinese Fans" but said that "sounded weird" and instead opted to go with "NBA fans in China."
Fellow NBA player Jeremy Lin spoke in support of Redick on Twitter. Lin, a Chinese-American born in California, said he talked with Redick and believed he had no ill intent.
"Being Chinese is so important to me and I will do everything I can to work with the NBA to help continue (to) teach fans about the depth and beauty of Chinese culture and the importance of China to basketball culture," Lin wrote.
Redick traveled to China for several international games in 2007 and 2015. He signed a one-year, $23 million contract with the 76ers in July.
© Copyright IBTimes 2023. All rights reserved.