8 Spanish 'Al-Qaeda Affiliates' Recruiting For Syrian War Arrested In Spanish Port City Of Ceuta, Bordering Morocco
[UPDATE June 22, 11 a.m. EDT] In 2012, Rachid Wahbi, a 33-year-old cab driver from the Spanish North African city of Ceuta left his wife and two young children to fight for Islamic jihad in Syria. On June 1 of that year he blew himself up in a suicide attack against Syrian troops at a military camp in Idlib, 43 miles southwest of Aleppo, causing 130 casualties.
This was the most compelling detail released Saturday by Spanish authorities who offered more details into the eight men arrested in a Friday raid on a Ceuta residence, suspected of operating an Al-Qaeda-affiliated recruitment cell that channeled Sunni militant jihadists to fight in Syria. The names of the men have not been released. The Spanish Interior Ministry says the suspects are now in Madrid.
El País cited ministry spokesman Jorge Fernández Díaz saying this cell sent at least 50 militants to Syria – 12 from Ceuta and the rest from the neighboring Morocco, including Wahbi. The ministry posted a video purporting to show Wahbi speaking before his attack in which a military vehicle packed with explosives was detonated in the middle of a Syrian army camp.
Al Nusrah Front for the People of the Levant, an Al-Qaeda linked militant group fighting against the regime of President Bashar Assad, claimed credit, saying it was retaliation for a May 26-27 militanry assault on the village of Houla in which 90 people, including 32 children, were massacred by Assad pro-government forces. Al Nusrah has also targeted Alawite Shiites in a war that has taken on sectarian dimensions in the greater Shiite-Sunni schism.
"Al Nusrah described the suicide attack as a 'special martyrdom-operation' and claimed it was carried out after conducting 'reconnaissance of the camp site and studying it well,' said The Long War Journal in a post on June 13, 2012, describing the details of the attack. At the time the suicide attacker was not known. On Saturday, the Spanish Ministry appeared to have identified him.
Friday's bust highlights the breadth of the militant jihadist network that is channeling foreign fighters into Syria.
[UPDATE 2:38 p.m. EDT] The Spanish Interior Ministry posted photos of the eight suspects, which can be seen here. Names were not divulged. Authorities in Madrid have scheduled a press conference for Saturday 11:30 a.m. local time to disclose more details.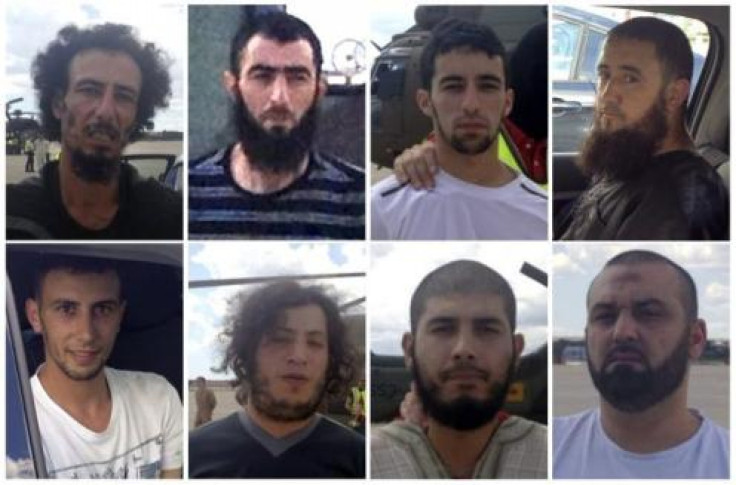 Original story begins here:
Spain said on Friday that it arrested eight Spanish nationals on suspicion of being members of an Al-Qaeda-affiliated network seeking jihadi recruits to fight in Syria.
According to a report from Spain's Interior Ministry, the network was based in the Spanish territory of Ceuta in North Africa. Ceuta is just south of the Strait of Gibraltar and is near the Moroccan city of Fnideq.
The suspects were not identified.
Authorities believe dozens of recruits, including some minors, passed through the recruitment and training networks in Ceuta and Morocco to fight for Islamic jihad in Syria. More details of the bust will be provided at a press conference in Madrid scheduled for Saturday morning.
The Spanish-Moroccan network was "responsible for sending jihadists to groups affiliated with Al-Qaeda in Syria," according to the ministry statement.
According to El País, the arrests are part of an ongoing operation that started in 2009, focusing on two of the detained suspects. The raid yielded ammunition and videos exalting Islamic jihad.
If the authorities' allegations are true, the Spanish Al-Qaeda recruitment network underscores the blurred lines of the Syrian opposition to the Bashar Al-Assad regime. The United States will begin arming outmatched Syrian rebels in its efforts to help oust Assad, but it faces the prospect of these weapons ending up in the hands of Al-Qaeda militants.
© Copyright IBTimes 2023. All rights reserved.