80,800 Russian Soldiers Have Now Died In Ukraine; 650 Eliminated On Sunday
KEY POINTS
Russia has suffered 80,860 combat losses among its personnel since it invaded Ukraine
Around 650 Russian personnel were eliminated between Saturday and Sunday alone
Russia has also lost 2,840 tanks and 278 aircraft, among other pieces of military equipment
Russia has suffered nearly 81,000 casualties since it began its invasion of Ukraine, losing 650 soldiers between Saturday and Sunday alone, according to data provided by the Ukrainian military.
Combat losses among Russian military personnel between the start of the conflict in late February and Sunday numbered 80,860, the General Staff of the Armed Forces of Ukraine said in its most recent casualty report.
Russia also lost 2,840 tanks, 5,742 armored fighting vehicles, 278 aircraft and 261 helicopters, among other pieces of military equipment, within the same period.
The Ukrainian military said Saturday that Russia had lost 80,210 personnel at the time.
Russian Defense Minister Sergei Shoigu previously said that 5,937 Russian soldiers had died in Ukraine by September.
Gen. Mark Milley, the most senior military officer in the U.S. Armed Forces, estimated that Russia's casualties already exceeded 100,000.
Ukraine "probably" has a similar number of losses, Milley said.
While Russia claimed it was able to mobilize 300,000 reservists amid reports of its losses, newly drafted conscripts with little training are allegedly being funneled to the front lines in Ukraine.
Russia completely withdrew all of its troops from the southern Ukrainian city of Kherson Friday following public outcry and criticism over its casualties.
Ukrainian forces were able to retake Kherson on the same day, liberating the city located on the west bank of the Dnieper River from its months-long Russian occupation.
While Kherson still has no power and water, there is an abundance of joy in the city, the Associated Press reported.
Kherson's residents have been celebrating on the streets while waving Ukrainian flags and embracing Ukrainian soldiers.
"The Russian Army has suffered a huge loss of life as a result of their illegal invasion and have only achieved international isolationism and humiliation. Ukraine will press on," British Defense Secretary Ben Wallace said in a statement.
Russian troops are now reportedly digging in on the eastern side of the Dnieper River in anticipation of Ukraine's next move.
Around 70% of the Kherson region is still in Russian hands.
"[T]he international community will continue to support [Ukraine], and while the withdrawal is welcome, no one is going to underestimate the continuing threat posed by the Russian Federation," Wallace said.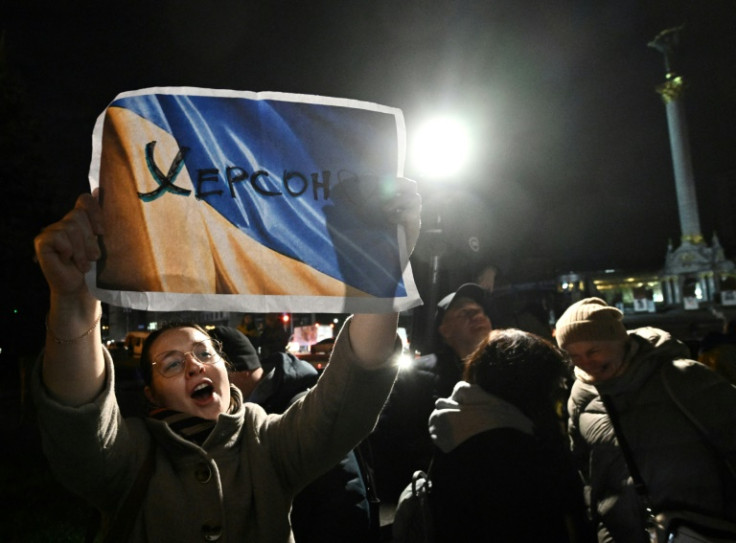 © Copyright IBTimes 2023. All rights reserved.