98 Murder Hornets Recovered From Nest Eradicated This Weekend [Video]
KEY POINTS
Washington State authorities captured a total of 98 murder hornets this past weekend
13 of them were captured alive while 85 were vacuumed from the tree
Experts say eradicating the nest is just the start of ensuring that the species doesn't spread
The Washington State Department of Agriculture (WSDA) successfully eradicated an Asian giant hornet nest this past weekend. In total, the entomologists captured 98 of the so-called "murder hornets."
After months of searching, WSDA entomologists in eye-catching protective gear were finally able to eradicate a murder hornet nest at a private property in Blaine, Washington. In a news release, the agency said that the experts collected a total of 98 worker hornets, 85 of which were vacuumed out of the nest while the 13 others were captured alive using nets.
Footage of the eradication efforts showed the vacuumed hornets inside a canister but none of them appeared to be moving.
But a later tweet shared by the WSDA revealed that all the 85 hornets that were vacuumed out of the tree turned out to be alive later in the day.
"Even being vacuumed out of bed on Saturday didn't stop these tough ladies. Post-eradication counting revealed that all of the 85 #AsianGiantHornets were still alive later in the day on Saturday," WSDA said in the tweet. "No, you can't have one. The specimens are going to research."
Despite the successful eradication of the nest, the agency does note that the work to prevent the spread of Asian giant hornets is only just beginning.
"While this is certainly a morale boost, this is only the start of our work to hopefully prevent the Asian giant hornet from gaining a foothold in the Pacific Northwest," managing entomologist Sven-Erik Spichig said in the news release. "We suspect there may be more nests in Whatcom County."
Spichig reiterated this sentiment in a virtual press conference held by the WSDA on Monday, noting the possibility that more than one queen from the original nest had been successful at developing a "fully functional nest."
Now, the agency is planning to cut the tree where the nest was discovered to see just how big the nest really was and whether it may have produced other queens. The experts will also continue to place traps through to November in case there are still other nests in the area.
"The public still has an important role to play in detecting Asian giant hornets in Washington," WSDA said in the news release. "The nest removed Saturday was found thanks to a report made by a member of the public in September. Every report of an Asian giant hornet leads the agency closer to finding a nest."
People who believe they may have spotted Asian giant hornets are urged to report it to the authorities via agr.wa.gov/hornets, emailing hornets@agr.wa.gov or by calling 1-800-443-6684.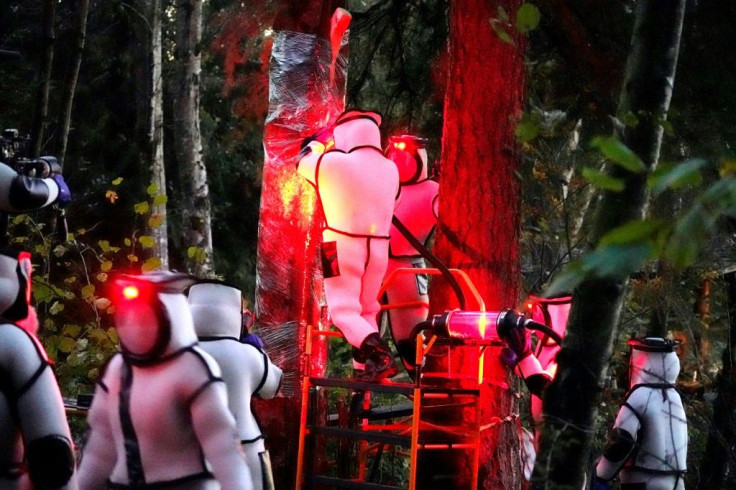 © Copyright IBTimes 2023. All rights reserved.