AAA Tipsy Tow: How To Get A Free Ride Home On New Year's Eve 2013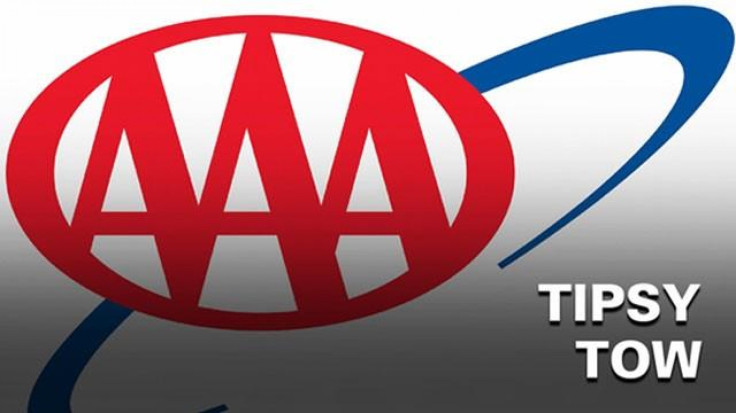 AAA is offering its annual service for New Year's Eve 2013: Tipsy Tow.
The free service provides those who've lapped up a few vinous -- or champagne flutes -- a ride home as part of an effort to encourage people who drink to refrain from driving.
The service is offered in select states courtesy of AAA between 6 p.m. on Monday, Dec. 31, 2012 and 6 a.m. on Tuesday, Jan. 1, 2013. The the ride is free for both AAA members as well as non-AAA members.
Tipsy Tow was created by AAA to combat fatalities stemming from drinking and driving, especially during the holiday season when statistics are higher for fatalities.
So how do you actually get a free ride home on New Year's Eve from AAA's Tipsy Tow?
Simply call the AAA Tipsy Tow phone number at 1-800-222-4537 (1-800-AAA-Help). The call desk will send a tow truck to your location and drive you, one additional passenger and your car home, one-way.
The fine print reminds those who wish to take advantage of Tipsy Tow that the service only caters to people within 10 miles from their pickup point to their destination, according to the company's Web site. The company also noted it will only drive motorists to their home, not another drinking establishment or destination.
The service is limited to several states including Alabama, Arizona, Hawaii, Montana, New Mexico, Nevada, California, Oklahoma, South Dakota and Virginia, New Jersey and Texas. But to be sure, check with your local AAA division.
Below is a list of locations that can use AAA Tipsy Tow, courtesy of the website. If your state does not offer the program, the National Highway Traffic Safety Administration has a list of sober ride programs in 35 states.
AAA Alabama (Statewide. Program is called "Tow-for-Life")
AAA Arizona (Statewide)
AAA Auto Club South (Statewide in Florida, Georgia, West and Middle Tennessee. Program is called "Tow-to-Go")
AAA Hawaii (Islands of Kaui, Maui, Oahu and Hawaii only)
AAA Merrimack Valley (Program is called "TOWEDD." From December 16th-January 1st.)
AAA Montana (Missoula, Bozeman, Helena and Billings)
AAA New Mexico (Statewide)
AAA Nevada (Statewide)
AAA Northern and Southern California (Statewide)
AAA Oklahoma (Metro Tulsa, Metro Oklahoma City, Shawnee, Bartlesville, Enid, Muskogee and Lawton)
AAA South Dakota (Sioux Falls, Rapid City, Aberdeen, Mitchell and Yankton only)
AAA Texas (Statewide)
AAA Tidewater Virginia (Greater Hampton Roads area including Virginia Beach, Norfolk, Portsmouth, Chesapeake, Suffolk, Newport News, Hampton, Poquoson, Yorktown, and Williamsburg. Program is called 'Tow-to-Go")
AAA Utah (Statewide)
New Jersey Automobile Club (Morris, Essex and Union counties only)
© Copyright IBTimes 2023. All rights reserved.