Aaron Rodgers Injury Update: Packers Coach Casts Doubts On Vikings Return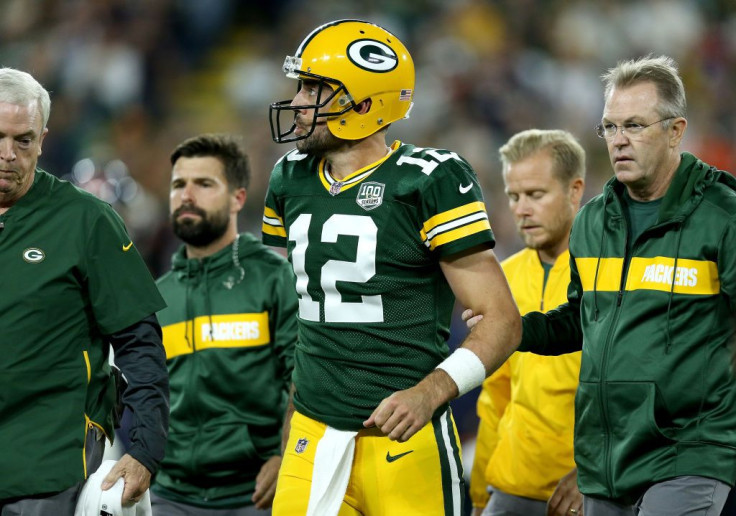 Speculation over Aaron Rodgers' injury status looks set to continue as Green Bay Packers coach Mike McCarthy casts doubts as to whether he could feature against the Minnesota Vikings this weekend.
Rodgers injured his left knee during the second quarter against the Chicago Bears on Sunday night when defensive end Roy Robertson-Harris fell on his knee while sacking him.
The 34-year-old though, would return in the second half and help deliver one of the greatest comebacks as the Packers, who were trailing 10-0 when Rodgers was injured, came back from 20-0 down to eventually win the game 24-23. Rodgers notched up three touchdown passes in the fourth quarter.
After his heroics, the attention immediately shifted to his injury. Rodgers revealed after the game that the injury was not too serious as team physician Pat McKenzie assured him further damage wouldn't have occurred if he returned to the field. He also said he would be playing Sunday against the Vikings.
However, he admitted he felt tightness as the game progressed.
"I felt like once I got back out there, when the adrenaline was going, it loosened up a little bit," Rodgers told reporters after the game. "But then it tightened up there in the fourth quarter. I was walking up and down the sideline trying to keep it loose. We'll do tests [Monday], and you'll get a better answer Wednesday when I talk."
On Monday though, McCarthy didn't reveal much about Rodgers, as his knee is seemingly still getting evaluated.
"We do have some information and no decision has been made," McCarthy said, as quoted on ESPN. "We're still collecting all the information."
McCarthy added that while Rodgers was cleared to return against the Bears, starting against the Vikings within a week was a different picture.
"Based on the injury there's a protocol of what they go through to see if the doctor will clear them to go back out," he explained. "So I'm not getting into specifics of each and every injury and the protocols of each and every one. But that process went on throughout the second quarter, I want to say, into halftime."
"Frankly, at halftime we were preparing as an offensive staff to play with DeShone [Kizer] and then shortly before we got out to the field, as we were walking to the tunnel, I had a chance to talk to Aaron and Dr. McKenzie, and he was cleared to go," he added.
A decision will be made soon, according to McCarthy, but he did reveal how the two-time MVP was currently feeling.
"I know Aaron wants to play and is always driven to play, but that's all I have for right now," McCarthy added. "He's sore. He's walking around in a pair of shorts and tennis shoes and socks, if that helps you with your story. I don't know what else to tell you."
© Copyright IBTimes 2023. All rights reserved.