Abdullah Ocalan: Is The Famed Kurdish Leader A Double Agent Working For Turkish Intelligence Against His Own Party, The PKK?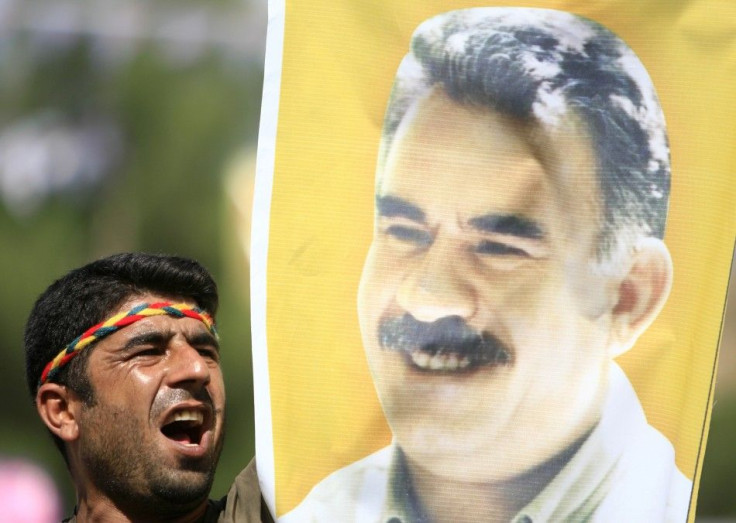 The name Abdullah Öcalan may not sound familiar to most people, but is known to everybody in Turkey. For a few months in early 1999 he even made international headlines, when the Kurdish independence leader turned up in Rome, where he provoked a diplomatic brouhaha as the guest of an uneasy Italian government -- before fleeing to Kenya and eventually being captured there by Turkish agents.
The Turks were after him for a reason: He was, at the time, the country's number one public enemy. The 64-year-old co-founder of the separatist Kurdistan Workers' Party (PKK) is widely blamed for tens of thousands of deaths, of both civilians and soldiers, arising from the Turkish state's multi-decade war against Kurdish nationalists in the southeastern part of the country.
The Kurds, a separate ethnic group related to Iranians, have been seeking for a long time to form an independent state.
Since his arrest, Öcalan has been incarcerated at the Imrali island prison in the Sea of Marmara -- up until recently he was the sole inmate in the facility. He was sentenced to death, but that was later commuted to life imprisonment after the Ankara government eliminated capital punishment as part of its bid to join the European Union (a process that is still ongoing).
Over the past 14 years, the world has changed dramatically for both Öcalan – called "Apo" ("uncle") by his legion of admirers – and the Kurds. While the PKK still wages a periodic campaign against the Turkish state from armed camps across the border in northwestern Iraq and Iran, the Kurds of Turkey – representing at least 20 percent of the population – have gained some civil and political rights, thereby compromising the PKK's radical and violent agenda.
Even Öcalan has called for an end to the violent insurgency and for a focus on a political solution to the ancient Turk-Kurd conflict.
Late last year, Turkish media reported that Prime Minister Recep Tayyip Erdogan of the ruling Justice and Development party (AKP) – a longtime adversary of the Kurds – directed his senior intelligence officials to reach out to the jailed Öcalan in order to commence some kind of peace dialogue between Ankara and the PKK.
Quite a surprising turnaround, given that in 2012 Erdogan had ordered Turkish jet fighters to bombard PKK bases in Iraq, killing scores of Kurdish guerrillas.
Murat Yetkin, a columnist for Turkey's Hürriyet Daily News, commented that talks with Öcalan would have been "unthinkable" just a few years ago.
"But now the majority of the people, Turks and Kurds, are giving silent consent to the process, hoping for an end to the violence," Yetkin wrote.
Specifically, Öcalan has been talking to Hakan Fidan, the head of Turkey's National Intelligence Organization (MİT), and his aides. In connection with these preliminary negotiations, PKK guerillas have temporarily offered to lay down their arms.
However, in the complex, serpentine world of Turkish political intrigue, not everything is as it seems; indeed, whose side is Öcalan really on?
Questions about Öcalan's true loyalties and motivations have floated for many years, even among his Kurdish brethren. Some critics have accused Öcalan of working in league with MİT.
Writing in KurdishAspect.com in 2007, a columnist named Sosun Welat explicitly accused Öcalan of serving as an agent for MİT and blamed him for perpetrating a "systematic betrayal and treason to [the] Kurdish cause."
"Öcalan played a double agent role for years," Welat wrote. "His rise and fall was well planned and controlled by [the] Turkish state. He and PKK provided cover for [the] Turkish state to ... destroy [the] Kurdish heartland, its way of life, culture, language."
Welat and other observers believe that prior to the forming of the PKK, in the mid-1950s, Turkish intelligence infiltrated Kurdish activist groups and helped establish their Communist credentials, thereby providing a legitimate excuse to oppress Kurds in the name of preventing the spread of Communism (which would, of course, please Turkey's then-new allies in Western Europe and the U.S.).
Then in the 1970s, so the theory goes, Turkish intelligence facilitated the emergence of PKK, hoping to use it as a counterforce that would weaken other Kurdish insurgents. "MİT planned to split Turkish leftist groups by creating (its own) Kurdish leftist group, PKK -- but apparently it got out of control," said Emrullah Uslu, an analyst at the Jamestown Foundation and a professor of political science and international relations at Yeditepe University in Istanbul.
According to at least one eyewitness, Öcalan's ties to MİT even go back fifty years.
Late last year, Turkish journalist Mehmet Avni Özgürel, who himself has been linked to MİT, told local media that he saw Öcalan attend meetings at a foundation operated by Turkish intelligence in the 1960s, when the future PKK leader was still a student.
Özgürel's allegations about Öcalan's unsavory arrangements with non-Kurdish organizations were painted with a fairly wide brush. He told the Aksiyon weekly magazine that besides his links to MİT, Öcalan had relationships with senior political figures in foreign countries, including the U.S., UK and Greece.
"I don't want to elaborate on this [Öcalan's relations with other countries] now because one day I want to prove it with documents that show where and with whom Öcalan met," Özgürel told the publication.
He may have good reason to keep quiet; some Turks believe that one investigative reporter lost his life probing alleged connections between Öcalan and MİT.
Özge Mumcu, the daughter of journalist Uğur Mumcu, who was killed by a car bomb in 1993, told reporters in 2010 that her father died because "he probably was investigating evidence proving that Öcalan was a MİT agent." (Mumcu's murder has never been solved.)
Mumcu was planning to meet with a retired prosecutor named Baki Tug to discuss Öcalan's ties to MİT but he never made that appointment. According to Memcu's son, Tug knew of Öcalan's MİT relationship because in 1972 Tug was asked by Turkish intelligence to release Öcalan from jail after he was arrested for participating in a pro-Kurdish, anti-government boycott. Öcalan was freed without explanation, within weeks.
About a month after Mumcu's death, another man who was investigating the same links, Gen. Eşref Bitlis, died in a mysterious plane crash.
Yeditepe University's Uslu said that Öcalan has admitted "that when he was a student at Ankara University he had contacts with MİT. But Öcalan argues that 'MİT wanted to use me but I used them instead.'"
But MİT isn't the only organization seemingly anathema to Kurdish interests that Öcalan has been linked to. Some of Öcalan's closest associates allege that he is controlled by the Ergenekon terrorist organization, also known as the "deep state" -- a secretive group comprising Turkish military officers, right-wing nationalists, and others who seek to topple the government of moderate-Islamist Prime minister Recep Tayyip Erdogan.
According to Öcalan's former right-hand-man, Hüseyin Yıldırım, "Öcalan controls the PKK and the 'deep state' controls Öcalan." As Yıldırım sees it, "Öcalan made an agreement with the 'deep state' at İmralı [prison] to save his life."
Following this line of reasoning -- which may be little more than a conspiracy theory -- the Kurdish-Turk conflict is now being directed by Ergenekon in order to foment social chaos, thereby precipitating a military coup.
Political scientist Uslu speculated that in 2004, entities related to the "deep state" may have asked the PKK to resume its violent activities, after a ceasefire, despite the fact that Kurds in Turkey had gained new rights as the government sought to enter the EU.
In order to protect himself from accusations of serving as a double agent, Öcalan has also claimed that the PKK was infiltrated by Ergenekon. But his former colleague Yildirim says that Öcalan is trying to throw up a smokescreen.
"This is in fact putting his own crimes on the shoulders of others," Yildirim told Taraf. "This is an effort to protect himself."
Meanwhile, today Kurdish PKK guerrillas remain encamped over the border in Iraq, awaiting a victorious battle against Turkish forces that seems more and more distant by the day.
Indeed, Uslu contends that MİT continues to penetrate the PKK through a new organization called Koma Civakên Kurdistan (KCK) – leaders of whom are actually MİT agents.
But it is a mystery what Turkish intelligence can gain at this point in keeping Öcalan alive and continuing to support its alleged "enemy," the PKK.
"This problem has turned into a political and sociological crisis," Uslu concluded. "I don't know what the MİT is aiming for with this, but it is no secret that MİT does not want to harm Murat Karayılan, the current acting head of the PKK."
As it apparently does not have any interest in hurting Öcalan.
Indeed, Öcalan remains safely locked away in Imrali prison with secrets that he will likely take to the grave, the same place many of his former friends and current enemies will have to leave their suspicions about him.
© Copyright IBTimes 2023. All rights reserved.