Abenomics Threatened As Consumer Spending Crashes And Inflation Jumps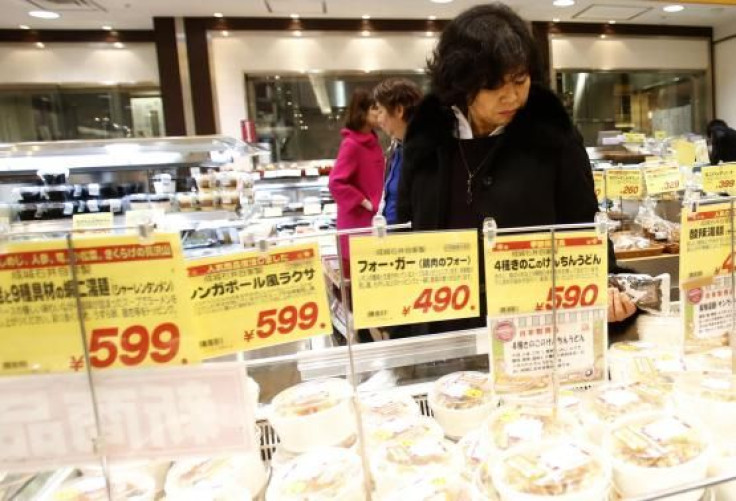 Japan's Prime Minister Shinzo Abe election promise to rescue Japanese economy plagued by decades of deflation and weak consumer demand has hit the skids.
Japan said Friday that its core consumer prices in April rose 3.2 percent to a 23-year high after a sales tax increase earlier this year, and while Japan's longed for rising inflation was seen as a positive by some, the downside showed up this week in the form of crashing household spending and sliding industrial production.
According to the Website Counterpunch.com, "Plunging retail sales and rising inflation have rocked Japan's anemic economy and cast doubt on the future of Abenomics."
By comparison, the U.S reported that its economy slowed in the first quarter for the first time in three years, contracting 0.1 percent in April after a hard winter dented consumer demand and construction.
Abe boosted Japan's retail sales tax earlier this year while the nation's economy was still struggling to recover and, as many analyst predicted that hit retail sales hard. Just how hard? The latest data showed the biggest decline among retailers of things like clothing and jewelry posted their biggest decline since 2011's earthquake and tsunami that devastated the country.
The data was amplified by the fact that consumers in the months leading up to the sales tax hike loaded up on goods to avoid it.
The falling sales and rising inflation, analysts say, has killed any hope of further Bank of Japan stimulus this year.
According to Goldman Sachs, "We get the impression the correction is larger than the government anticipated, but in line with our expectations. With domestic demand likely to fall, we see external demand leading growth in FY3/15. We highlight risk factors in the form of protracted weakness in China and other Asian economies and a decline in corporate Japan's structural export capacity."
The AP reported on Friday that the World Bank commented on the data with cautious optimism, saying, "Near-term risks to the outlook are balanced, but the sustainability of the recovery over the medium term is at risk."
The Portfolio Advisor blog reports that the International Monetary Fund expects Japan's inflation to hit the government target of 2 percent by 2017.
"Staff expects that 2 percent inflation will be achieved by 2017, later than envisaged by the BoJ as we expect a more gradual closure of the output gap and rise in inflation expectations," according to the IMF.
© Copyright IBTimes 2023. All rights reserved.
FOLLOW MORE IBT NEWS ON THE BELOW CHANNELS