Africa Watches Burundi Coup To See If Conflict Spreads, Reignites Hutu-Tutsi Ethnic Conflict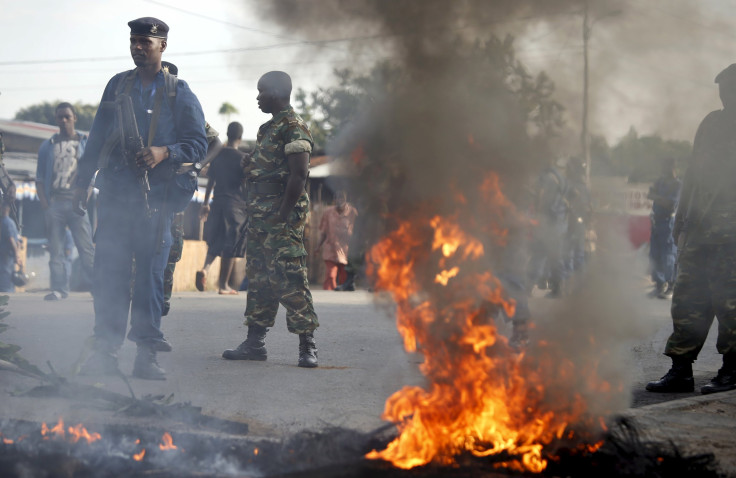 Burundi's military is attempting to oust President Pierre Nkurunziza after days of violent demonstrations against his controversial third term have left 15 dead and 200 injured while sending thousands fleeing for their lives in the East African nation.
Army Maj. Gen. Godefroid Nyiombare said in a statement cited by BBC News Wednesday that the president "has been relieved of his duties." Nyiombare himself was relieved of his duties as intelligence chief in February. Soon after the general's announcement, an aide to Nkurunziza, who is in Tanzania for an emergency summit, told Reuters the coup was a "joke."
International and local reporters say the streets in the capital of Bujumbura are chaotic:
But it's not just locals who are watching with concern. What happens in this country of just 10 million people could have a serious impact on a region emerging from years of conflict and on a continent still struggling to embrace democracy.
In successfully seeking a third term, Nkurunziza would join the club of African leaders who have stayed past their allotted time, although he claims his first term didn't count. He would also be violating the Arusha Agreement of 2000, which paved the way for democratic rule and ended a bloody civil war that left some 300,000 people dead.
Besides the stipulations for equality between the Hutu and Tutsi ethnic groups, one of the agreement's requirements is that no president exceed a two-term limit.
Burundi is the first country to reach this deadline since the regional conflicts ended. Nkurunziza is setting a dangerous precedent for other leaders across the continent, which has been in the midst of relatively positive democratic dvelopments.
"We've seen all of these pro-democracy trends in Africa," said Cara E. Jones, an expert on Burundi who is an assistant professor of political science at Mary Baldwin College in Staunton, Virginia. "But Burundi will serve as a test case for the East African Community."
While there are many leaders such as Cameroon's Paul Biya, who has kept his post for more than three decades, and Uganda's Yoweri Museveni, who has ruled 29 years, there are other African countries taking steps forward.
After making a few attempts to remain in power, Zambia's Frederick Chiluba and Malawi's Bakili Muluzi left office in 2002 and 2004, respectively, while Burkina Faso's Blaise Compaore eventually left his post last year following massive protests that sent him fleeing the country. Many were dubious about Nigeria's head of state, Goodluck Jonathan, after he postponed elections to fight Boko Haram this year. So when he stepped down gracefully after citizens voted for his electoral challenger, many hailed it as a victory for democracy.
Looking ahead, Joseph Kabila in the Democratic Republic of the Congo (DRC) is set to step down next year, and Rwanda is slated for elections in 2017.
Meanwhile, Burundi faces more than just the typical challenges posed by power-hungry politicians who are tempted to overstay their welcomes.
"The fear that everybody has is that the government in trying to stay in power might stoke ethnic conflict again," said Timothy P. Longman, director of the African Studies Center at Boston University. "Once it becomes ethnic violence, it's hard to diminish."
During the past decade, Burundi and Rwanda have both managed to avoid violence between the Hutu and Tutsi ethnic groups. One of the Arusha Agreement provisions require that institutional positions in Burundi be equally distributed between the Hutu and Tutsis. For example, Tutsis account for a little more than one-tenth of Burundi's population, but they hold 50 percent of the positions in the military, legislature and other institutions. These and similar stipulations have been essential in keeping violence at bay.
"This head of state who has helped us when we negotiated the Arusha Agreement will understand that [it] is the main document which has led Burundi into a safe situation today," Domitien Ndayizeye, Burundi's president from 2003 to 2005 and the official who oversaw the agreement, said in an interview with Radio France Internationale. "And now the violation of this Arusha Agreement and the constitution by the current president of the republic is putting Burundi in a very hard situation."
Like almost every politician in the country, Nkurunziza came to power as a rebel leader in the 1990s. But in 2005 he took office as head of the ruling party, the National Council for the Defense of Democracy-Forces for the Defense of Democracy. Despite the relative stability of recent years, things haven't been perfect.
Burundi's constitutional court officially approved the current president's eligibility for a third term -- but only after a senior judge, Sylvere Nimpagaritse, fled the country, saying he and others had received death threats. Last week, a Belgian lawyer who works in Burundi sent a scathing report to the United Nations Security Council showing evidence that Nkurunziza party's had plans to assassinate 22 opposition leaders.
Because of these factors, many fear the violence isn't going to stop soon. And if no adjustments are made, the country could descend into conflict once again. The chaos not only would add to an already dire refugee situation but also could spread to neighboring countries.
"A war in Burundi almost certainly means greater conflict in Rwanda or the DRC," Mary Baldwin College's Jones said. She explained it's likely rebel factions in the country would venture past its borders as they did during the civil war. And if the military of neighboring Rwanda were to choose to intervene, it could mobilize certain anti-Rwandan armed groups currently based in Congo that are rumored to have connections to youth militia groups in Burundi. The ensuing chaos could bring the entire region into the conflict.
If this happens, Jones said, there may be a lot of criminal groups waiting to profit and expand their activities even further.
It's difficult to predict the most likely outcome. The African Union has publicly said Burundi's presidential election shouldn't be conducted as currently planned, while Belgium and others in the European Union have cut off substantial aid because of Nkurunziza's move to stay in power.
Linda Thomas-Greenfield, assistant secretary for the Bureau of African Affairs at the U.S. State Department, will meet Wednesday with political representatives of the East African Community in Tanzania to discuss the problem and seek solutions. Meanwhile, the presidential election is still scheduled for June 26.
FOR FREE to continue reading
✔️ Unlock the full content of International Business Times UK for free
offer available for a limited time only
✔️ Easily manage your Newsletters subscriptions and save your favourite articles
✔️ No payment method required
Already have an account?
Log in
© Copyright IBTimes 2023. All rights reserved.