Burundi Elections 2015: President Pierre Nkurunziza Dismisses Coup Declared By Major General Godefroid Niyombare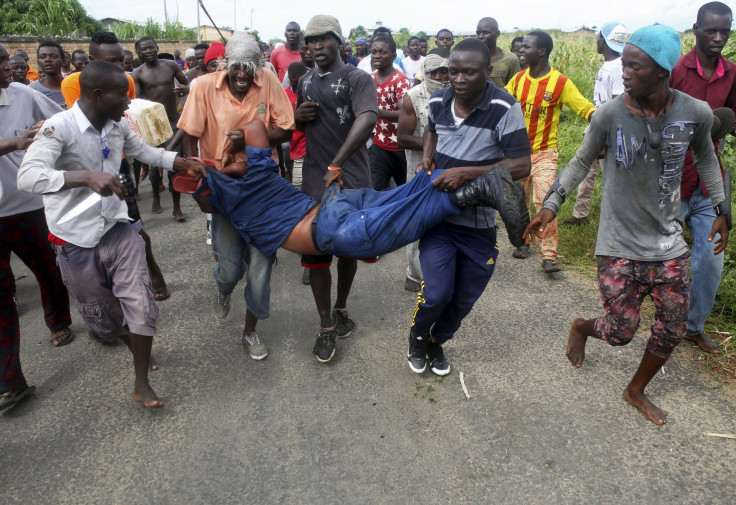 UPDATE 12 p.m. EST: Burundi's President Pierre Nkurunziza has left the regional summit meeting in Tanzania to return to Burundi, where an army general declared a coup on Wednesday. Nkurunziza, who dismissed the declaration, is expected to address the nation upon his return, BBC News said, quoting the president's spokesman.
Burundi government troops are on the hunt for Major General Godefroid Niyombare, who announced the coup over a private local radio station Wednesday. East African leaders, who met with Nkurunziza in Tanzania, condemned the coup in Burundi and called for order amid growing unrest, BBC News said.
Original post:
Unruly crowds converged at popular broadcast stations controlled by government forces in Burundi on Wednesday, after an army general declared a coup to oust President Pierre Nkurunziza, according to experts and media reports. Gunfire sounded outside Burundi's national radio station RTNB, as troops loyal to the president fired warning shots over protesters who support the coup.
Major General Godefroid Niyombare announced over a private local radio station that a coup was formed to run the country amid severe unrest over the Nkurunziza's bid for re-election, experts said. But Nkurunziza, who is currently out of the country, quickly dismissed the announcement and told Reuters the coup was "a joke." A statement posted on Facebook by the Burundian presidency Wednesday said in French the coup attempt was foiled and government forces would seize those responsible.
"The situation is very fluid and dangerous," said J. Peter Pham, director of the Africa Center at the Atlantic Council, a think tank in Washington, D.C. "If momentum goes one way or the other, units could potentially switch sides. What is loyal today may not be an hour from now."
Violent protests have boiled over in Burundi in recent weeks after the president announced his bid to stay in power for a third term, which critics said is unconstitional. The president was meeting with East African leaders and international envoys at a summit in Tanzanaia Wednesday to discuss his decision to run for re-election.
It's unclear whether Niyombare, who was fired by Nkurunziza as intelligence chief earlier this year, is moving to oust the president out of personal or national interest. Niyombare, an ex-Hutu rebel, became the first member of the ethnic group to be appointed head of Burundi's armed forces, in 2009.
"It remains to be seen what he's up to," Pham said in a telephone interview Tuesday. "Is he acting because he feels there's no other way to resolve this crisis, or is he acting out of frustrated ambition?"
A military coup could further divide Burundi, a nation formed after a civil war 10 years ago, or it could resolve the political and social unrest, experts said. Many military coups in Africa have failed to cede power to a civilian-led transitional government, but some have achieved their goals. A coup d'etat in Niger in 2010 paved the way for free and fair parliamentary and presidential elections a year later.
"Coups in Africa -- you can't paint them with the same brush," Pham said.
Nkurunziza took office in 2005 following a peace agreement that ended 12 brutal years of civil war between the Hutu and the Tutsi tribes in Burundi. Both the Burundian constitution and the peace deal state that no president may be elected for more than two terms in office. But Burundi's ruling party, the National Council for the Defense of Democracy-Forces for the Defense of Democracy, said Nkurunziza's first term does not count because the former Hutu rebel leader was appointed by Parliament rather than elected.
The Burundian government has shut down independent radio stations, phone lines and has blocked social media networks in an effort to crack down on protests. Police have used tear gas, stun grenades and live ammunition on demonstrators in the capital city of Bujumbura.
The African Union, European Union and the United States have condemned Nkurunziza's bid to stay in power and more than 20 people have died in violent clashes between protesters and police since late April. Tens of thousands of Burndians have fled into neighboring nations ahead of the elections scheduled to take place June 26, Agence France-Presse said.
FOR FREE to continue reading
✔️ Unlock the full content of International Business Times UK for free
offer available for a limited time only
✔️ Easily manage your Newsletters subscriptions and save your favourite articles
✔️ No payment method required
Already have an account?
Log in
© Copyright IBTimes 2023. All rights reserved.