African Migrants Fleeing Libya Pour Into Poverty-Stricken Niger and Chad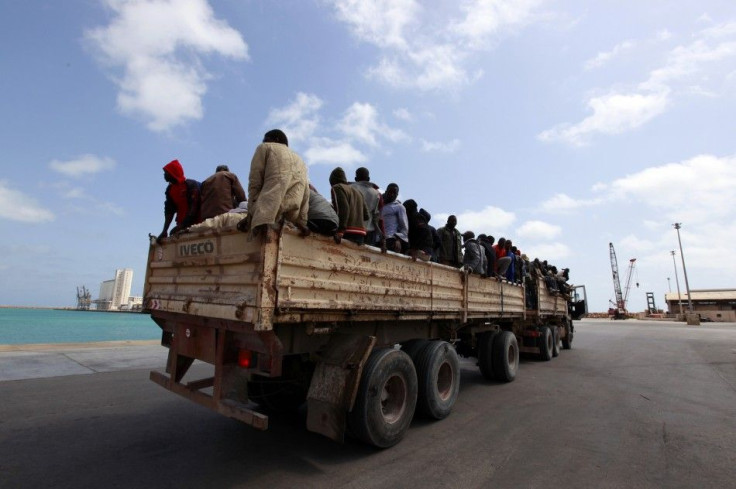 While thousands of people are seeking to escape war-torn Libya by making a hazardous voyage by boat to Europe, many thousands more are pouring southward into the poverty-stricken desert nations of Niger and Chad.
According to media reports, tens of thousands of migrants (mostly Africans) have temporarily settled in the city of Agadez, deep in the interior of Niger, making it an overnight refugee crisis centre.
For two months, truck after truck organized by the International Organization for Migration (IOM) carrying fearful migrants have arrived in Agadez, straining local resources.
BBC estimates that in the past month alone at least 65,000 migrants have fled Libya across the Sahara desert.
Abdulaziz Abdullah, a Ghanaian who fled Tripoli and arrived in Agadez after an arduous week-long journey, told BBC: The journey is between life and death. Many people do not make it to Niger because of hunger. If I showed you a [recent] photo of myself, you wouldn't recognize me. But I thank God I'm alive, though I've lost everything."
Another refugee described the dangers inherent in such a trek.
On our way, we saw a truck that caught fire, all of its occupants got burned," Ghanaian refugee, Ibrahim Harun Hafiz told BBC.
"Next, we found another truck which had had an accident in which 40 people died straight away, while many got severe injuries."
A Nigerian woman refugee told BBC: The bombing [in Libya] was too much and people were dying."
Meanwhile, the IOM and United Nations are seeking to help the under-staffed Niger authorities with the sudden influx of refugees. After tending to their medical needs, the charity officials seek ways to return the refugees to their respective native countries.
The president of Niger Mahamadou Issoufou told the BBC he thinks the total number of new refugees into his country will total about 105,000 (although this figure also included people fleeing the violence in Ivory Coast, which is hundreds of miles to the southwest of Niger).
Ironically, the city of Agadez, which is dominated by the Tuareg ethnic group, has historically had close ties with Libyan leader Moammar Gaddafi. Indeed, Gaddafi had long recruited Tuareg warriors to be his soldiers and mercenaries.
The country of Chad, directly south of Libya, has also witnessed a sudden influx of refugees fleeing the war-ravaged nation.
According to reports from Agence France Presse, thousands of Chadians have settled in the border town of Zouarke, creating yet another humanitarian crisis.
According to the Chadian government, more than 3,800 migrants including 310 women and children are in a very difficult situation in Zouarke with limited food, no water and transport to make their journey south, the IOM said in a statement.
About 25,000 Chadians have previously fled Libya, primarily ending up in the northern towns of Faya and Kalait.
With no-one to help them and without transport to take them to Faya, 600 kilometers [370 miles] southeast of Zouarke, many are famished and suffering from exposure to extreme heat and dust. Water is also a key issue with the nearest well seven kilometers away from the town. Four people are reported to have died from drinking its contaminated water, IOM added.
IOM spokesman Jean-Philippe Chauzy added: These are people who are really at the end of their tether..., who need immediate help. The situation in Zouarke could become a catastrophe.
© Copyright IBTimes 2023. All rights reserved.