After Barclays' Diamond Falls, Could Chase's Dimon Be Next?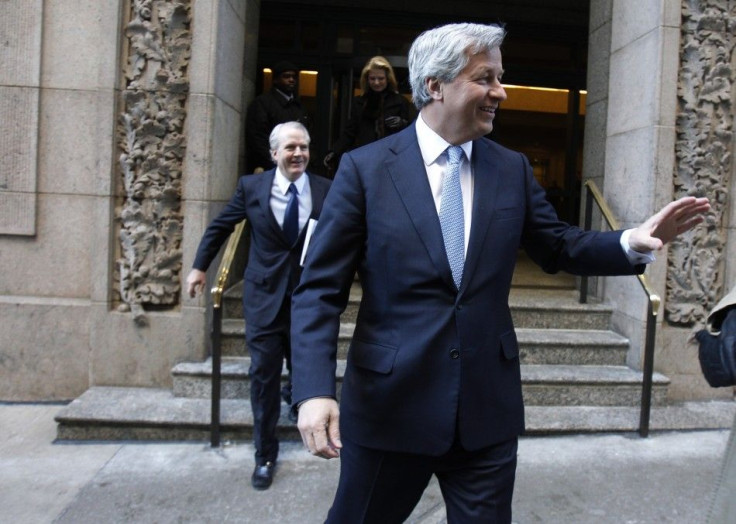 Chief executive Robert Diamond's expulsion from Barclays (NYSE: BCS) raises questions about whether JPMorgan Chase's (NYSE: JPM) CEO Jamie Dimon, 57, may be in jeopardy, investors and analysts say.
Diamond, 60, an American who had been with Britain's second-largest bank for 16 years, fell on his sword on Tuesday amid pressures from investors and politicians following the bank's manipulation of an important interest-rate benchmark -- the latest scalp tearing through a financial market that has now invited regulatory, and possibly criminal, probes and investigations.
Diamond's resignation came a day after Barclays chairman Marcus Agius quit. Unlike Diamond whose termination is immediate, Agius will remain until till a replacement chairman takes the baton. Barclays' Canadian Chief Operating Officer Jerry del Missier stepped down, too. All three executives took responsibility for the bank's problems.
Barclays' American Depositary Receipts fell a dime to $10.54 in Thursday trading. Diamond appeared before a committee of the British Parliament on Wednesday.
In New York, JP Morgan Chase is swimming in red link from unexpected losses of a reported $2 billion on a trading debacle in London.
JPMorgan's shares have dipped nearly 25 percent from their March high of $46.49, trading midday Thursday at $34.39, down $1.39, valuing the company at $131.3 billion. Earlier, shares traded as low as $34.22, a loss of 4.6 percent.
The New York-based bank, which has an asset base exceeding $2 trillion, could now be facing losses as high as $9 billion from the trading fiasco, people close to the bank told The New York Times recently.
Jason Goldberg, an analyst at Barclays Capital, isn't surprised. The expectations were that these losses would grow, he said.
However, the $2 billion trading loss bombshell led to an unexpected call with investors in which Dimon had to admit the loss for the first time after denying any problems during the bank's first-quarter call with investors.
Ina Drew, a Chase New York officer who was in charge of its investments, poorly managed trading activity in the bank's London office. The losses accumulated from the bank's bets on credit derivative positions as a part of a portfolio hedging strategy. Drew is no longer with the bank.
Last month, Dimon was ordered to appear before various committees of the U.S. Congress, where he was handled with kid gloves rather than stern comments.
Investors await JPMorgan's second-quarter earnings, scheduled to be announced on July 13. The bank's trading bets, though greedy and ill-timed, won't sink overall profits, analysts say. They expect an overall profit despite trading losses that could range as high as $6 billion, if not the rumored $9 billion.
To date, JPMorgan Chase hasn't filed any new warnings with the SEC.
Markets will be pleased if they have trading losses of less than $5 billion, said David Knutson, a Chicago-based analyst at Legal and General Investment Management, a European institutional asset management and investment firm. Markets may be disappointed if those losses are between $5 billion and $7 billion. But if it turns out that they are larger than $9 billion, it will renew the debate of whether Dimon is fit to be the leader, he added.
For now, analysts have estimated that JPMorgan's revenues will decline about 18.5 percent to $22.32 billion from last year. The bank's net income is projected to fall 35 percent to $3.48 billion or 83 cents per share, compared to the prior year. Returns on shareholders' equity are also expected to shrink 35 percent.
Dimon, whose total compensation last year was $23 million, is being criticized for enlisting lobbyists and fingering the SEC for making sure that portfolio hedging -- hedging a portfolio of business -- would slip under the radar of the Volcker Rule, which originally intended to put a stop to such activities.The rule is named after Paul Volcker, a former Federal Reserve chairman under presidents Jimmy Carter and Ronald Reagan.
Volcker, now 84, was the head of President Barack Obama's Economic Recovery Advisory Board, appointed in 2009 after the 2008 financial meltdown that saw the collapse of institutions like insurer AIG (NYSE: AIG) because of a lack of internal controls on their derivatives and other internal investments. Volcker said the problems at JPMorgan underscore the need for his advocacy to end proprieary trading, especially when banks require confidence.
JPMorgan has now been able to unwind more than half of its trading positions, according to interviews with the bank's traders and executives who requested not to be identified, because of ongoing investigations. The problem is that the last trade, which it hasn't unwound, is the costliest, a source close to the bank said.
Dimon also sailed through the bank's annual meeting in Florida. The board of directors, under presiding director Lee Raymond, 73, former CEO of ExxonMobil Corp. (NYSE: XOM), has remained silent. So far, it has made no move to separate the CEO and chairman - a best practice which corporate governance advocates recommend.
Meanwhile, some critics and investors argue that Dimon should resign from the board of the Federal Reserve Bank of New York, where he serves in an advisory capacity. Bank analysts say Dimon's seat on the board presents a potential conflict of interest. Many agree that it's not appropriate for the heads of big banks to sit on the board of a regulator.
JPMorgan is currently being investigated in the Barclays interest-rate scandal along with HSBC Holdings (LON: HSBA), Deutsche Bank (NYSE: DB), Citigroup (NYSE: C) and Royal Bank of Scotland (LON: RBS).
Over the past three months, the financial powerhouse has also been the subject of a Federal Electricity Regulatory Commission (FERC) power market probe for manipulating power markets in California and the Midwest, according to court filings. The FERC said the bank's practices may have inflated electricity prices by as much as $73 million.
JPMorgan said it was responding to all inquiries. It made no comment on ongoing probes.
© Copyright IBTimes 2023. All rights reserved.