After Egypt, protests shift to Algeria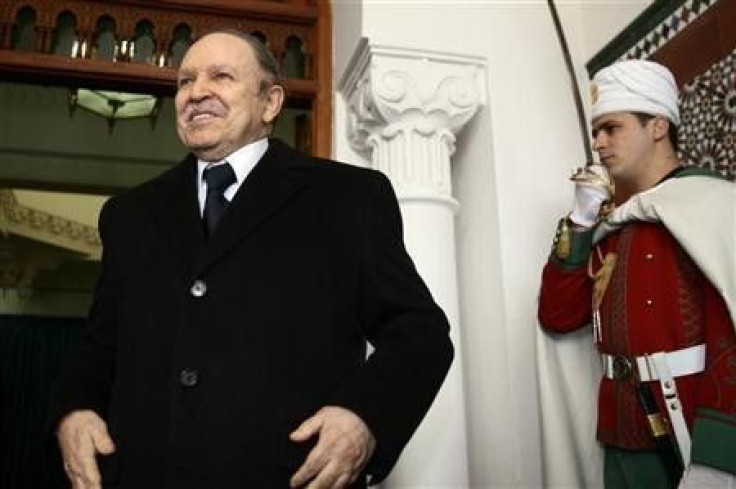 Inspired by Egypt, at least 2,000 protesters broke the barriers set up around the May First Square in the capital city of Algiers on Saturday, reports Reuters.
Slogan-shouting demonstrators, waving front pages of newspapers showing change of guard in Egypt, shouted Bouteflika out!, seeking the ouster of Algerian President Abdelaziz Bouteflika.
Nearly hundreds of human rights activists were arrested by officials on Saturday following ban on demonstrations around the Sqaure.
The call for a rally was given by the National Co-ordination for Change and Democracy (CNCD), constited three weeks ago by opposition parties and some social groups.
But Said Sadi, leader of another opposition group Rally for Culture and democracy (RCD) had earlier told the AFP news agency that the demonstrations were spontaneous and not organized. Some reports of Internet being shut down were later found not true.
The heavy presence of police was deployed earlier to counter the threat of attacks by al-Qaeda, point out some leaders. Some 40 police vans, jeeps and buses were lined up along the May First Square, say reports. Reuters reported that its reporters saw protesters were outnumbered by police. Meanwhile, a small counter-protest started up nearby, with people chanting We want peace not chaos! and Algeria is not Egypt!, said the report.
Authorities have deployed more than 30,000 troops to quell demonstrations in the capital . The main problem plaguing the country's youth is unemployment which was not addressed by the government despite vast natural gas reserves.
The country's GDP was $159 billion in 2009 with an estimated 4.1 percent growth in 2010. The unemployment rate at 10 percent and below poverty line at 23 percent, the country is still dependent on agriculture for 14 percent of labour force employment while the government employs nearly 32 percent of the workforce.
Though the country's economy was liberalized since the mid-1990s, foreign investments have been restricted recently, virtually halting the process of privatization of state-run companies. Hydrocarbons still remain the major backbone of the economy, accounting for roughly 60 percent of the country's revenues, 30 percent of GDP, and over 95 percent of export earnings, according to CIA factbook.
Algeria's economy has recorded $150 billion in foreign currency reserves and it has the eighth-largest reserves of natural gas in the world and is the fourth-largest gas exporter. Last year, Algeria embarked upon an ambitious $286-billion development program to upgrade the country's infrastructure and provide jobs.
But rampant corruption and severe housing shortage have been stifling the country's youth who may turn to Tunisian or Egyptian model to upstage the present regime.
© Copyright IBTimes 2023. All rights reserved.
FOLLOW MORE IBT NEWS ON THE BELOW CHANNELS