After ISIS Gains In Anbar, Palmyra, Syria Wants More Coordination With Iraq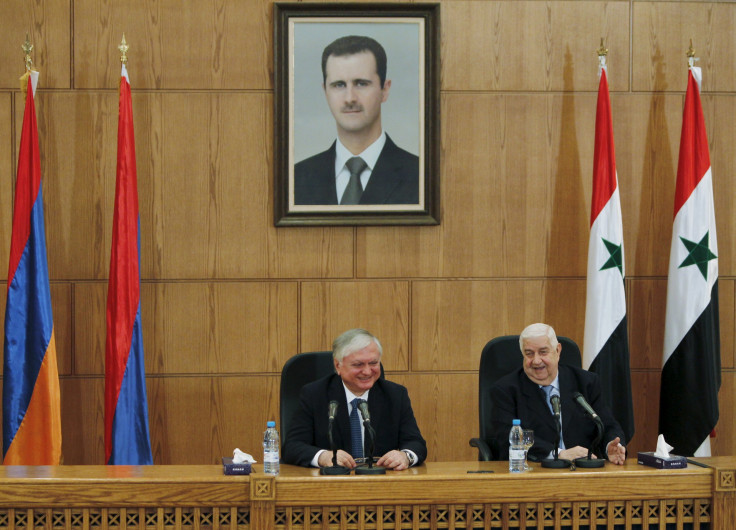 The Syrian government wants more coordination with Iraq on the fight against the Islamic State group, criticized members of the American-led coalition and said Wednesday it was not relying on the current air campaign to eradicate the militants, who continued to make significant advances in both countries.
The Sunni Muslim extremist group also known as ISIS overran the Iraq-Syria border last June and declared a so-called caliphate that spanned the two countries. Since then, both Syria and Iraq have amassed international help to fight the group, including an American-led airstrike campaign that has been targeting militants in both Iraq and Syria.
Iraq and Syria both understand that they must work together to fight ISIS, but "the coordination has not reached the threat level we are facing," Syrian Foreign Minister Walid al-Moallem said at a news conference in Damascus on Wednesday.
The two countries are indirectly coordinating through Iranian-backed Shiite fighters who are active on both sides of the border, but direct coordination between the official armies of Baghdad and Damascus "has not reached the desired levels," al-Moallem said.
The Iraqi army is getting weapons and training from the U.S., but its inability to keep ISIS at bay, as seen in the fall of Ramadi, has left a vacuum that Iraq's Shiite militias have filled. The Americans have warned the Iraqi government of the dangers of using Shiite militias, some of which are U.S.-designated terrorist groups, but Baghdad deemed their presence necessary in the face of the ISIS onslaught.
In Syria, President Bashar Assad's army has been propped up by thousands of Iran-backed forces, including Lebanese Hezbollah fighters, Afghan volunteers as well as some Iraqi Shiite militias.
"Our people are able to repel any attack and prevent any attempt to partition Syria," al-Moallem said.
The Syrian foreign minister said the American-led air campaign was essential to pushing ISIS out of Kobani, in northern Syria, where Kurdish fighters battled the militants for more than five months. But once Kobani was liberated, American air support against ISIS had "evaporated," he said, according to the Associated Press.
Airstrikes were not effective in either country, however, when ISIS militants made significant advances in western Iraq's Anbar province and overran the ancient Syrian city of Palmyra last week (there were no U.S. airstrikes on Palmyra.) On Wednesday, ISIS launched a new wave of suicide attacks on Iraqi positions in Anbar, killing at least 17 soldiers, according to the AP.
The Syrian official also accused Turkey and France, key members of the American-led coalition, of funding or supporting terrorist groups active in Syria. Both countries have denied this claim.
© Copyright IBTimes 2023. All rights reserved.
FOLLOW MORE IBT NEWS ON THE BELOW CHANNELS