After Liberation Of Kobane, Kurdish Battle With ISIS Is Not Over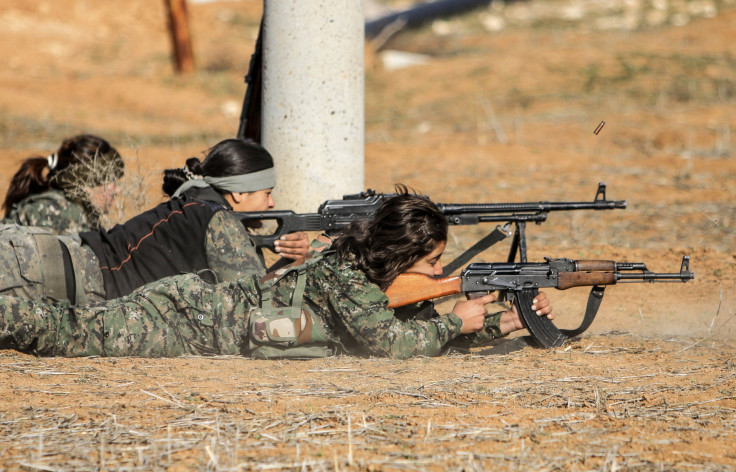 Kurdish forces in Kobani reportedly chased the Islamic State group militants from the Syrian city on Monday. This is an immediate win for the Kurds, both strategically and symbolically, but it doesn't signal a complete ISIS defeat, nor does it signal the end of the Kurdish battle against the Islamic extremist militants -- in Kobani and elsewhere.
The Islamic State fighters "are still in the Kobani area, just outside of the city," said Aymenn Jawad al-Tamimi, a Shillman-Ginsburg Fellow at the Middle East Forum. "So the fight is hardly over if the YPG [the Kurdish People's Protection Units] wants to regain the autonomous canton [province] it once had. The YPG is the immediate winner, but things still look very bleak for Kobani. The town is destroyed."
Nearly four months long, the battle for Kobani (sometimes spelled Kobane) has been a huge focal point in the anti-ISIS campaign. Around 80 percent of the U.S-led coalition airstrikes since September have been in or around Kobani. Iraqi Kurdish forces and some Free Syrian Army brigades banded together to help Syrian Kurds push back the militants. While this now appears to have been a successful campaign, ISIS is still present in Kurdish territory and isn't likely to halt its efforts to consolidate territory in northern Syria.
"What we are going to see in Kobani is Islamic State being forced back, and then a withdraw to consolidate," Jasmine Opperman, a South Africa-based analyst at the Terrorism Research and Analysis Consortium, recently told International Business Times. "This is a natural phenomenon of war: You lose some and you win some and the same applies to the IS."
ISIS fighters still control 350 towns and villages surrounding the city, where they can retreat and regroup.
"Soon the YPG will start clearing the villages," said Kurdish analyst Mutlu Civiroglu. "They are technically under ISIS control but not really."
However, Kurds are facing another threat just miles away in Hasakah, the last city in the Kurdish area of northern Syria with a significant regime presence, and a major energy and agricultural hub. In the last month, the YPG have had to battle the Syrian regime's National Defense Forces, made up of local Arab tribesmen and Iranian reinforcements.
"Kurds think that regime is trying to break out a civil war between Kurds and Arabs," Civiroglu said. "Some Arabs are with Kurds ... some Arabs are with the regime. The regime is trying to appeal to people's nationalistic feelings to rebel against the Kurds."
This month, ISIS has been quietly redeploying fighters to Hasakah, according to the Institute for the Study of War. Hasakah is just hours away from Iraq's Ninawa province, making it a strategic launching point to attack Sinjar, where ISIS killed thousands of Yazidis this summer, and engage the already thinly stretched Iraqi peshmerga (Kurdish) forces in another battle.
"The real aim of IS was to capture Hasakah and this is why it was still bringing reinforcements to its south but dispersing them under persistent coalition air attacks," a local source told al-Monitor last week. "IS had issued an ultimatum for the town to surrender by Jan. 24 or be hit with heavy weapons."
Hasakah would allow ISIS to consolidate territory in the north, opening several trade routes between Iraq's Mosul and Syria's Raqqa, the two main militant strongholds in the so-called caliphate. Supply routes are key to the militant group's success as they allow for a quick turnover of fighters, no matter how high the ISIS death toll gets.
"The question now is whether Hasakah will be a new Mosul or Kobani," according to al-Monitor -- taken by ISIS, or a battleground where it ultimately loses.
Though nearly a thousand ISIS fighters are believed to have been killed in Kobani, the militant group's kept the battle going for so long because it was able to replenish supplies and fighters quickly. Roughly 400 ISIS fighters went to Kobani in the first week of January alone, according to Mustafa Bali, a Kurdish activist who spoke to the Associated Press earlier this month.
"Also, the IS persistence for months, despite hundreds of airstrikes, points to the challenge of 'rolling back' the Islamic State. It really is a long-term effort spanning years," al-Tamimi said.
Many ISIS fighters deployed to Kobani were part of the militant group's foreign brigades. Chechens, Tunisians and Gulf State recruits are often given leading military and logistical roles, according to the Toronto Star. At one point during the monthslong siege, Omar Shishani, a capable Chechen fighter thought to be second in command on the ISIS military council, led forces in Kobani. Western foreign fighters, less trained and less valuable, are usually used in suicide missions and propaganda campaigns. And as weeks of battle turned into months, the high casualty rate deterred some fighters from wanting to go to Kobani, a U.S. official told the Guardian last month.
But even after losing that battle, militants aren't likely to give up trying to seize Kurdish areas of Syria, because consolidating their territory is key to their survival and expansion.
"ISIS sees the Kurdish Rojava [Syrian Kurdistan] as a base to expand," said Civiroglu. "They saw that in Kobani ... in Hasakah, too. That's why they're attacking. Any problem that would weaken the YPG, that would weaken the Kurdish autonomy, makes ISIS' life easier. ISIS enjoys that."
© Copyright IBTimes 2023. All rights reserved.