After Paris Attacks, World Leaders Debate Whether To Allow Refugees Or Close Borders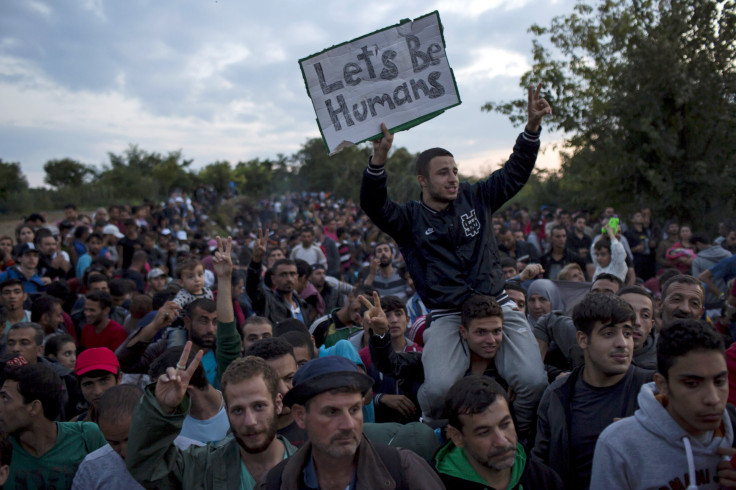 The news that one of the alleged Paris attackers came into Europe among the wave of Syrian refugees has triggered a new wave of panic among countries that had pledged to accept some of the hundreds of thousands of people fleeing civil war in Syria. While some world leaders say the attacks have changed nothing and they will continue accepting Syrian newcomers, others are planning to close their borders in the hope of preventing attacks like the one that claimed more than 100 lives in Paris on Friday.
The European Union set migrant quotas earlier this year that would distribute 120,000 asylum-seekers in Greece and Italy to 22 other countries in the union. But the newly elected Polish government, which takes power this week, said on Saturday it will reject the quota imposed by the EU of sheltering 7,000 refugees within the country's borders.
"In the wake of the tragic events in Paris, Poland doesn't see the political possibilities to implement a decision on the relocation of refugees," said Konrad Szymanski, Poland's incoming minister for European affairs.
German Chancellor Angela Merkel, who has long been criticized for her open-door policy on refugees, is facing even more pressure to close Germany's borders. At the Group of 20 summit in Antalya, Turkey, Merkel confirmed her support for refugees and said those fleeing war zones shouldn't have to bear blame for the Paris terror attacks.
The United States, too, will not pause its plan to bring in 10,000 people this year, a top aide to President Barack Obama told NBC News on Sunday. But some governors, including Alabama's Robert Bentley and Michigan's Rick Snyder, said they will oppose attempts to relocate Syrian refugees to the states through the country's refugee admissions program.
"As your governor, I will not stand complicit to a policy that places the citizens of Alabama in harm's way," Bentley said in a statement on Sunday.
Registered Syrian Refugees | FindTheData
The Australian government in September had already pledged to boost its refugee resettlement quotas from 13,000 in the 2015–16 fiscal year to 25,000, and said it will not renege on its commitment. Neither will Canada go back on its plan to relocate 25,000 refugees by the end of the year, officials from the prime minister's office confirmed on Saturday.
"[The] worst thing we could do is to alienate the Muslim community," Australian Attorney-General George Brandis said amid calls for the country to close its borders.
On Monday, Malaysia's deputy home minister said the government will be more thorough with screening refugees' backgrounds before allowing them in, but it will proceed with its plan to bring in 3,000 Syrians.
"Let's not taint all Syrian refugees in the same light," Deputy Minister of Home Affairs Nur Jazlan Mohamed said.
© Copyright IBTimes 2023. All rights reserved.