AIG Bailout Trial: Timothy Geithner Returns To Court, Blames AIG Management for Company Failures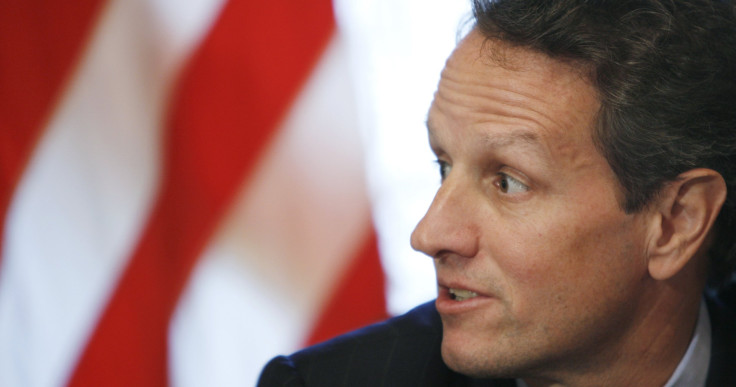 Timothy Geithner blamed American International Group Inc.'s management for the company's financial losses in 2008 as he returned to court Wednesday for the second day of testimony about the federal government's bailout of the company. The trial, which is focusing on whether the government cheated AIG shareholders by allegedly taking equity amid an $85 billion loan, has seen some of Washington's top financial leaders in recent years take the stand this week.
"The scale of AIG's financial needs, the potential losses relative to those facing other firms at the time, were a result by definition substantially of the management decisions by the company," Geithner said, according to Bloomberg. Geithner was president of the New York Federal Reserve at the time of the 2008 federal bailout of the insurance giant and later served as U.S. Treasury secretary.
Former AIG Chairman and CEO Maurice Greenberg is suing the federal government for about $40 billion in damages. He claims the government violated the Constitution's Fifth Amendment by taking control of the insurance giant without "just compensation." Geithner said during testimony Tuesday at the U.S. Court of Federal Claims in Washington that the bailout was needed to avert financial disaster after Lehman Brothers collapsed in September 2008.
The company became a symbol of controversial Wall Street practices during the financial meltdown and was criticized for paying millions of dollars in bonuses to executives after it was bailed out. AIG was on the verge of bankruptcy when it received the $85 billion loan package. In return, the government gained control of a nearly 80 percent stake in the New York-based company.
Former Treasury Secretary Henry Paulson said Monday during testimony that the AIG bailout was aimed at punishing the company over its troubling balance sheet. Former Fed Chairman Ben Bernanke is also scheduled to testify this week.
The $85 billion federal loan eventually ballooned to $182 billion in government aid, which AIG has since repaid. The company has returned to profitability, with its stock rising more than 45 percent over the past two years, according to the Associated Press.
© Copyright IBTimes 2022. All rights reserved.
FOLLOW MORE IBT NEWS ON THE BELOW CHANNELS