'Aint Clownin Around' Facebook Hoax? Schools On Alert After Twitter Threat Goes Viral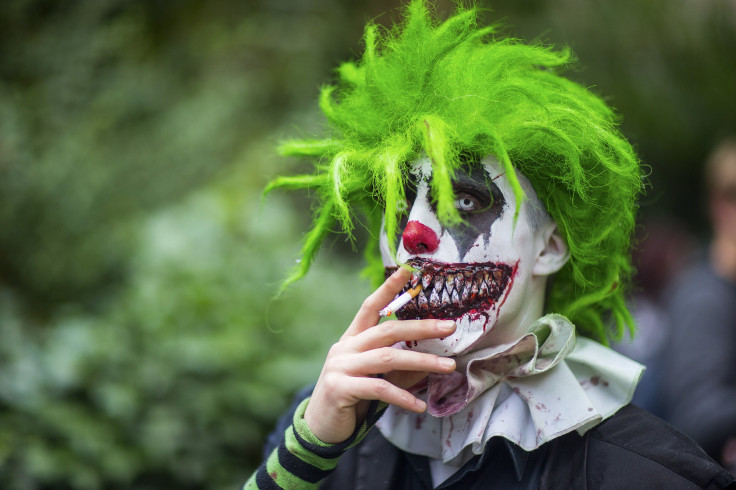 Threats originating from social media accounts associated with the current creepy clown sightings phenomenon left at least five schools in three separate states on high alert Friday, according to multiple reports. Some of the threats from a Facebook and Twitter account named "Aint Clownin Around" targeted students and teachers with abductions and death.
Parents of students in Westside High School in Houston were notified Friday morning of a threatening Facebook post from Aint Clownin Around that says, "We will be at all High schools this friday to either kidnapp [sic] students or kill teachers going to they cars ..." It was accompanied by the hashtag, #WeNotClowninAround, local news outlet Click2Houston reported.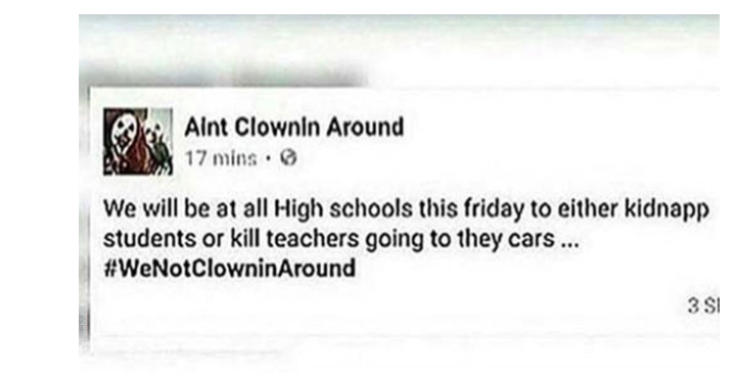 "This is Principal Stewart at Westside High School to inform you of an anonymous threat social media made against schools, including ours, which has been circulating in the region and in other states," the letter read. "We immediately notified (Houston Independent School District) Police, and officers determined the threat was not credible. However, HISD Police have assigned extra officers to patrol our campus as a precautionary measure."
The threat closed two other nearby schools, as well.
A similar threat from a Facebook account with the same name was issued to a Missouri teacher Thursday night, prompting local police to launch an investigation into the claims. However, while Washington County Sheriff Department Captain Zach Jacobsen told the Daily Journal Online "the clowns making the threat originated from St. Joseph, Missouri," the only Aint Clowning Around Facebook page he said he could find appeared to be unrelated and "basically explained that they had no involvement with this and this wasn't them."
Still, a student reported seeing a clown Friday morning "with black pants and a white shirt with face paint resembling a clown or a clown mask and no hair, standing in the park," Jacobsen said. "I'm pretty sure it a hoax just playing into this Facebook post, but at this point we can't take anything for granted."
The same threat in Florida resulted in a "campus alert" in Pasco County School District in Land O' Lakes, only that one came from a Twitter account, local news outlet WFLA reported Friday.
A search on Facebook and Twitter for accounts bearing that name came up empty.
What first seemed like a trend in clown sightings strictly in the south has since expanded to parts of the Midwest, the Mid-Atlantic region and the northeast. Many of the reports of clown sightings have indicated seeing a person dressed in a clown outfit, complete with makeup and wig, standing in the woods.
In one instance, Georgia authorities were notified of people dressed as clowns trying to lure children into a van. However, that was determined to be a false police report, resulting in the arrest of two suspects. At least 12 people have been arrested on similar charges.
Alabama, Florida, Kentucky, Maryland, New Jersey, New York, North Carolina, Pennsylvania, South Carolina and Tennessee are among the states where clown sightings have been reported.
© Copyright IBTimes 2023. All rights reserved.