Air Algerie Flight 5017 Disappeared Over Mali Area Controlled By Al Qaeda, Tuareg Rebels; Plane Is Out Of Insurgents' Reach, Officials Say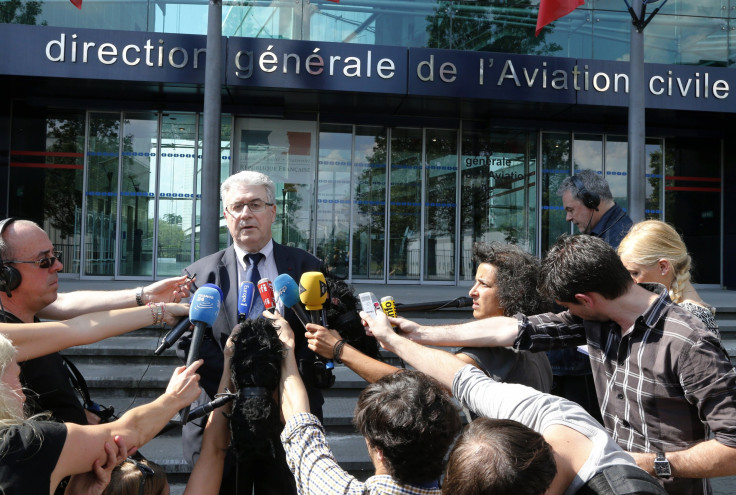 Air Algerie Flight 5017, which disappeared 50 minutes after takeoff Thursday, was flying over a disputed region of Northern Mali, where al Qaeda-linked jihadists and government forces have been fighting when its blip suddenly disappeared from radar screens.
Flight AH5017 en route to Algiers from Burkina Faso was carrying 116 people when the plane went down 40 miles from the Malian city of Gao, the airlines said on its Twitter account. The pilots reportedly asked to change paths because of storms in the area shortly before the plane, carrying a large number of French nationals, went down. An Algerian official confirmed the crash.
"The plane was not far from the Algerian frontier when the crew was asked to make a detour because of poor visibility and to prevent the risk of collision with another aircraft on the Algiers-Bamako route," a source at Air Algerie told Agence France-Presse. "Contact was lost after the change of course."
The plane, an MD-83, was carrying 110 passengers and six crew members. It belonged to a private Spanish company, Swiftair, but it appears to have been operated by Air Algerie. This is the third major aviation disaster in a week.
Flight AH5017 was flying over a disputed region of Mali, where al Qaeda-linked jihadists and government forces have been fighting. Northern Mali fell under control of ethnic Tuareg separatists and then al Qaeda-linked Islamic extremists following a military coup in 2012. A French-led intervention last year scattered the extremists, but the Tuaregs have pushed back against the authority of the Bamako-based government.
While French military action did help quell the insurgency, the intervention also spread Tuaregs throughout Northern Mali beneath the flight path of AH5017. The ethnic group also has a presence through Niger and southern Algeria. Sporadic incidents have occurred in the time since French troops arrived, with French Defense Minister, Jean-Yves Le Drian, telling reporters in March that about 40 insurgents were killed, though the work is "far from finished."
Tuareg leader, Iyad Ag Ghaly, is one of the most influential antigovernment commanders as leader of Ansar Dine, which has built its influence in the sparsely populated region just south of the Algerian border. When the group expanded it power base earlier this year, Ansar Dine leaders met with local representatives to inform them that active insurgents would seek to embed themselves within the community to shield themselves from French troops. Any members of the community unwilling to swear allegiance to Ansar Dine were told to leave, with the Guardian reporting that a number of families took that advice.
A senior French military source told media outlets Thursday that it was unlikely the separatists have the weaponry that could shoot down a plane. The official, not authorized to speak publicly, told the Associated Press on condition of anonymity that they primarily have shoulder-fired weapons -- not enough to hit a passenger plane flying at cruising altitude.
French news outlets reported that France has dispatched at least three military planes to Mali and the surrounding area as a precautionary measure.
Concern over international air travel after the crash of Malaysia Airlines flight MH17, the ongoing conflict in Israel and Wednesday's TransAsia Airways crash has yet to convince the Federal Aviation Administration to tighten the rules for U.S. airliners flying over conflict zones. Prohibitions and restrictions are in place for pilots traveling over the most intense areas of fighting, but in many cases the FAA has left it to the airlines themselves to make the judgment. The FAA extended its prohibition Wednesday against U.S. flights to Israel's Tel Aviv airport.
"Multinational military efforts in Mali remain ongoing," the FAA said in its most recent bulletin. "There is still insurgent activity in the north and west. Civil aircraft operating into, out of, within or over Mali are at risk of encountering insurgent small arms fire, rocket-propelled grenades, rocket and mortar fire, and anti-aircraft fire, to include shoulder-fired man-portable air defense systems."
U.S. airliners must fly no lower than 24,000 feet when traveling over Mali. There are also restrictions and prohibitions for commercial airliners traveling over nations nearby Mali, including Libya, Niger, Nigeria, Chad, and elsewhere in Africa.
© Copyright IBTimes 2023. All rights reserved.
FOLLOW MORE IBT NEWS ON THE BELOW CHANNELS