Air Pollution In India Reducing Lifespan Of Over 660M People By 3 Years: Study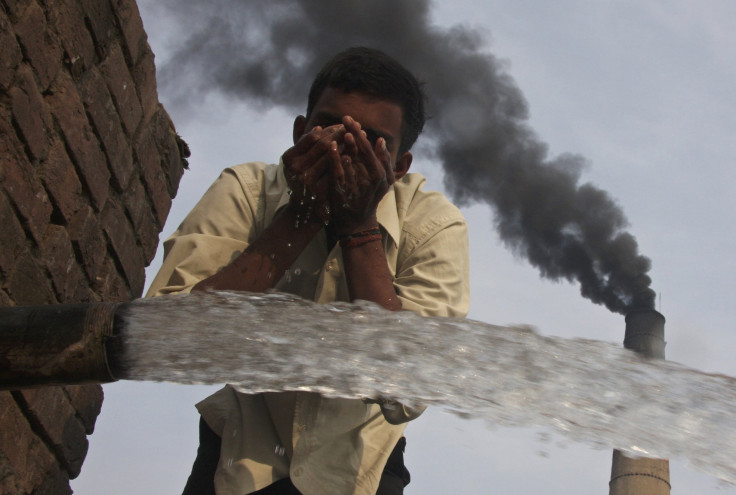 "Dangerously High" levels of air pollution in India are causing more than half of the country's 1.2 billion population to die sooner than expected, a new research paper claims.
The study, published Saturday in the Economic And Political Weekly (EPW) says that 660 million people, or over half of India's population, "live in areas that exceed the Indian National Ambient Air Quality Standard for fine particulate pollution."
The study, which was conducted by economists from the University of Chicago, Harvard and Yale, further adds that if pollution is reduced in areas where these people live, it could translate into an increase in their average life expectancy of over three years. "Reducing pollution in these areas to achieve the standard would, we estimate, increase life expectancy for these Indians by 3.2 years on average for a total of 2.1 billion life years," the study notes.
This finding is significant as India is a labor intensive economy and has been struggling to increase its life expectancy, which is a key socio-economic indicator of development. The Indian government's latest health statistics reveal that in the last decade, life expectancy has gone up by five years. While an Indian man is expected to live for 67.3 years on an average, a woman is expected to live for 69.6 years.
Analyzing data from India's Central Pollution Control Board, the EPW study found that in 2010, air quality in a staggering 77 percent of the country's urban areas was worse than the norms prescribed under its air quality standards.
"Estimates from the WHO (World Health Organization) suggest that 13 of the 20 cities in the world with the worst fine particulate air pollution are in India, including Delhi, the worst-ranked city. India has the highest rate of death caused by chronic respiratory diseases anywhere in the world," the paper says.
Particulate matter refers to small pollutants suspended in air that can have adverse effects on the cardiovascular and respiratory systems, making it extremely harmful to human health. Moreover, the study warned, the real extent of air pollution in India might be much greater that current estimates.
"The loss of more than two billion life years is a substantial price to pay for air pollution. And yet this may still be an underestimate of the costs of air pollution, because we do not account for the impact of other air pollutants, the impacts of particulates on morbidity or labour productivity, as well as preventive health or avoidance costs borne by Indian households," the paper states.
The findings of the study corroborate earlier research. In 2013, this study, published in the Indian Journal of Community Medicine, also found abnormally high levels of particulate matter in Delhi's air.
"Vehicular emissions and industrial activities were found to be associated with indoor as well as outdoor air pollution in Delhi. Studies on air pollution and mortality from Delhi found that all-natural-cause mortality and morbidity increased with increased air pollution," it noted.
In November 2014, it was reported that air pollution in India had reached such alarming levels that it was cutting crop yields by almost half. A paper published in the Proceedings of the National Academy of Sciences had found that in 2010, crop yields of wheat were 36 percent lower and rice production was a fifth of what it would have been if pollition was kept in check. As The Guardian noted, this fall in production has a significant impact on global food security as India is a major rice exporter.
The latest study comes days after the Press Trust of India, an Indian news agency, reported that the U.S. was planning to expand its air quality monitoring to some of its missions in countries like India, Vietnam and Mongolia in the coming months to help raise awareness about the dangers of pollution.
© Copyright IBTimes 2023. All rights reserved.