AirAsia Flight 8501: First Body Identified As Woman Named Hayati Lutfiah Hamid, 8 Bodies Recovered So Far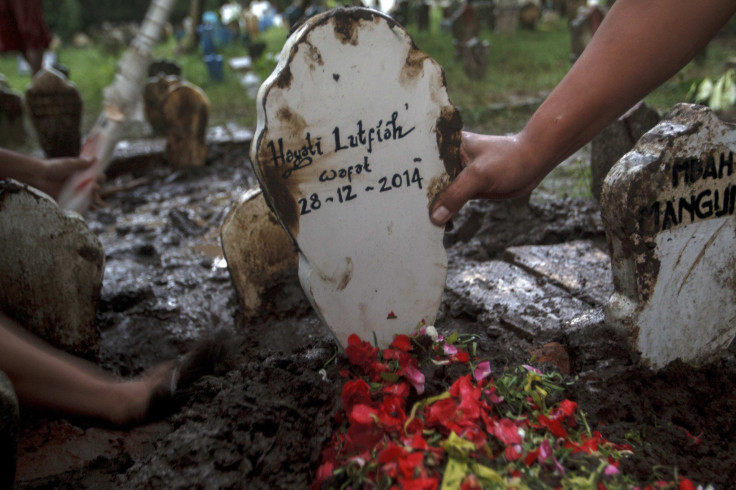 Indonesian officials in Surabaya announced on Thursday that the body of a victim of AirAsia Flight 8501 had been identified, according to media reports. This is the first identified victim of the ill-fated aircraft, which crashed in the Java Sea during a storm on Sunday.
Commander Budiyono, a senior Indonesian police official, said that the victim -- a woman named Hayati Lutfiah Hamid -- was identified through her fingerprints and scars from a previous surgery, according to a report by the Jakarta Post.
"An ID card with the name Hayati Lutfiah was also found in the clothes of the body labeled B001 when the search and rescue team found it. She was also wearing a necklace with her initial on it and a bracelet that family members confirmed belonged to Hayati," he reportedly said at a press conference in Surabaya, adding that Hayati's body had been recovered during the search operation on Wednesday.
Hayati was traveling to Singapore with her 10-year-old daughter, husband and mother-in-law, according to a report by The Star, a Malaysian news daily. While the Malay Mail, another Malaysian newspaper, said that the nationality of the identified victim had not been disclosed, The Sydney Morning Herald claimed Hayati was a 47-year-old school teacher from Surabaya.
Meanwhile, another body was retrieved from the Java Sea on Thursday and brought to the Indonesian city of Pangkalan Bun, bringing the total number of bodies recovered so far to eight, according to a report by Today, a Singaporean daily. The airplane was carrying 162 people.
"We have started taking statements and DNA samples from the immediate family members of some of the 162 people on board the aircraft," Budiyono reportedly said.
Rough seas in the region slowed down the search operations on Thursday. A brief break in the bad weather early in the day, which had increased hopes of a resumption of the search, did not last long.
"It's possible the bodies are in the fuselage," Sunarbowo Sandi, an Indonesian search and rescue official, reportedly said. "So it's a race now against time and weather."
© Copyright IBTimes 2023. All rights reserved.