Airstrikes On Al-Mazrak Refugee Camp In Houthi-Controlled Northern Yemen Kill At Least 45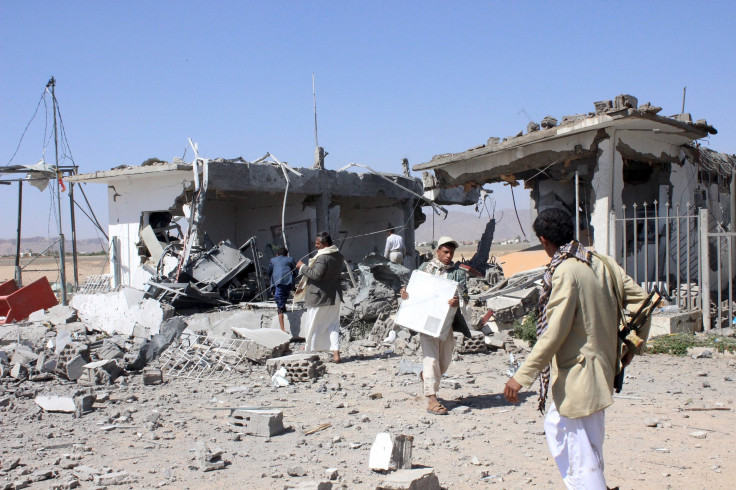 Airstrikes hit a United Nations refugee camp in northwest Yemen on Monday, killing at least 45 people. The death toll is likely to rise as dozens more are wounded, many of whom are in critical condition, according to human rights organizations.
The Houthi rebels being targeted by the Saudi Arabia-led coalition, which is bombing Houthi strongholds in Yemen, accused it of carrying out the attack. The attack was confirmed by an International Organization for Migration spokesman, by Doctors without Borders and by the U.N. High Commissioner for Refugees, but it was not immediately clear who was responsible.
"There is confirmation that the camp has been hit. ... We know there are dead and wounded," the U.N. Office for the Coordination of Humanitarian Affairs told Agence France-Presse.
Thousands of internally displaced people live in the refugee camps in al-Mazrak, a city in Hajja province. The camp cluster is located just miles from Yemen's border with Saudi Arabia. The Associated Press reported that the camp had been cleared out and was now occupied by the Houthis.
IOM spokesman Joel Millman told Reuters it was still unclear how many of the victims were civilians.
At least 750 people have been displaced in the five days since Saudi Arabia launched what it calls Operation Decisive Storm targeting the Shiite Houthi rebel group. The Saudis are leading a coalition of at least 10 countries who are either conducting or assisting with airstrikes, in support of Yemen's elected Sunni-led government.
The Houthis, widely believed to be backed by Iran, seized Yemen's capital Sanaa last year and forced Saudi-backed President Abd Rabbu Mansour Hadi to step down last month. Hadi fled the country through Saudi Arabia last week, just hours before the first airstrikes hit Houthi strongholds.
So far, the campaign has only included aerial bombardments, but coalition members have not ruled out ground and naval forces. When the operation began last week, Saudi Arabia had reportedly mobilized 150,000 troops on the border. On Monday, Pakistan said it would also send ground troops to support the anti-Houthi coalition.
At least 86 people have died since the airstrikes began five days ago and hundreds have been wounded, according to the AP. The Houthis have arrested roughly 140 foreigners in the country suspected of working with Saudi Arabia and providing the coalition with intelligence for targeting airstrikes.
© Copyright IBTimes 2023. All rights reserved.