Amid Spreading Chaos In Yemen, Iran Is Winning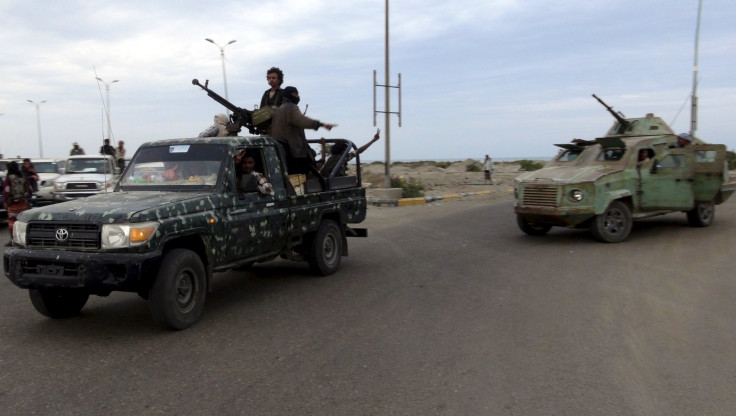 After years of Saudi Arabia pulling Yemen's strings, Iran is now ascendant in an impoverished country rife with political chaos, economic failure and the rise of extremist groups. As violence around the main port of Aden escalated on Wednesday, Iran-backed Houthi rebels advanced, amid the collapse of the U.S.-backed government -- potentially handing Iran what looked like a victory, on the doorstep of its top regional adversary, Saudi Arabia.
After seizing the capital Sanaa last year, the Houthis are poised to seize Aden, the country's de-facto southern capital where the internationally recognized President Abed Rabbo Mansour Hadi took refuge after being forced to step down. On Wednesday, the Houthis seized a base near Aden, claimed to have control over the airport and have reportedly called for Hadi's surrender. The president may have already escaped the country via boat, although reports were unconfirmed amid the chaos and the U.S. State Department said it was still trying to locate Hadi, a U.S. ally.
U.S. troops and diplomats, as well as those of other Western nations, all left Yemen in the past few days as chaos spread. The Houthis' swift advance took observers by surprise.
"It is not clear what the decision point was. There are multiple factors that could have prompted the Houthis' decision to push into Aden," said Alexis Knutsen, a Yemen analyst at the American Enterprise Institute's Critical Threats Project. "Hadi's call for Gulf intervention in Yemen may have been one of them," prompting the Houthis to advance before any of the Sunni states on the Persian Gulf could step in. The departure of the Americans may have been another reason, according to Knutsen, since "it is possible the Houthis did not want to appear to be fighting against the U.S." as well.
The Houthis, members of the Zaidi sect of Shiite Islam, may also have been acting in response to last week's attacks by suicide bombers, allegedly with ties to the Islamic State group, on two Shiite mosques, which killed at least 137 people, including a prominent Houthi cleric. ISIS thrives on sectarian conflict, and an attack on the Houthis would have been a perfect vehicle to superimpose the wider Sunni-Shiite regional confrontation on Yemen's traditional tribal rivalries.
But the Houthi advance may not remain unopposed for long.
Until Wednesday, Hadi's strongest backer, Saudi Arabia, had been reluctant to intervene, as its first priority remained protecting its own border with Yemen. But the threat to the 1,060-mile (1,700 km) frontier is turning into a serious, a three-pronged danger: the Iran-backed Houthis are getting closer; al Qaeda in the Arabian Peninsula, a branch of the terrorist group that has long wanted to infiltrate Saudi Arabia, is growing stronger, and ISIS has established a presence. The kingdom began to mobilize troops and military equipment on the Yemeni front Wednesday, according to Reuters.
Hadi's government has also historically received support from the Gulf Cooperation Council, a union of the Saudis and other Sunni monarchies on the Gulf. When the Houthis seized Sanaa last year, the GCC accused the group of receiving foreign assistance and warned that it would not "stand idly by."
The south of Yemen, which was formerly independent, is also dominated by various tribes, many of which have no intention of surrendering their territory.
"The tribes are uniting against the Houthis, because they simply don't want to see someone else come in and take resources from their land," Katherine Zimmerman, a research fellow at the American Enterprise Institute and expert on al Qaeda, recently told International Business Times. "These people don't see the Houthis as being representative of them; they're not the central government. It's like a foreigner is coming into their land."
Amid this potential international confrontation centered on Yemen, the Houthis also have an internal ally, former President Ali Abdullah Saleh, who still controls his own militias. "It doesn't seem likely the Houthis would have been able to advance as they have without the assistance of Saleh-loyal forces," Knutsen said.
Though the Houthis fought to remove Saleh during the 2011 revolution, they may now be working alongside him to remove Hadi. Saleh is still head of the General People's Congress, a nationalist political party, and the Houthis claim they are only working with him in this political context, for a unified Yemen.
"We will deal with him as the head of the GPC because he has public support," said Hussain al-Bukhaiti, a pro-Houthi translator and journalist in Sanaa with close family connections to the group. "If we want to help Yemen we have to forget what happened in the past."
In the meantime, the Houthis have reportedly met with delegations from China and Russia to bolster economic relationships. They are also considering India, Brazil and Argentina for future economic partnerships, according to al-Bukhaiti.
"Anybody is welcome who wants to build a new country and (wants) to fight al Qaeda," he said. "If we stay thinking about what happened before, we will not stop fighting, we will be fighting neighbors."
But their strongest backer has long been Iran, the region's Shiite power.
Last month, a Houthi delegation visited Tehran and signed a civilian aviation agreement that would facilitate travel between the countries. There have been several reports that Iran is actively helping them fight and has trained Yemeni fighters in Iran and Syria.
"The Houthi-Iran relationship has grown since the Houthis seized power in Sanaa in January," Knutsen said. "There are also recent reports that Iran sent weapons to the Houthis last week immediately before the Houthis started expanding southward." And, while there is "no clear evidence to confirm this," Iran appears poised to gain an important foothold in the Arabian Peninsula.
© Copyright IBTimes 2023. All rights reserved.