Airstrikes On ISIS-Aligned Darna After Triple Suicide Bombing In Benghazi, Tobruk, Bayda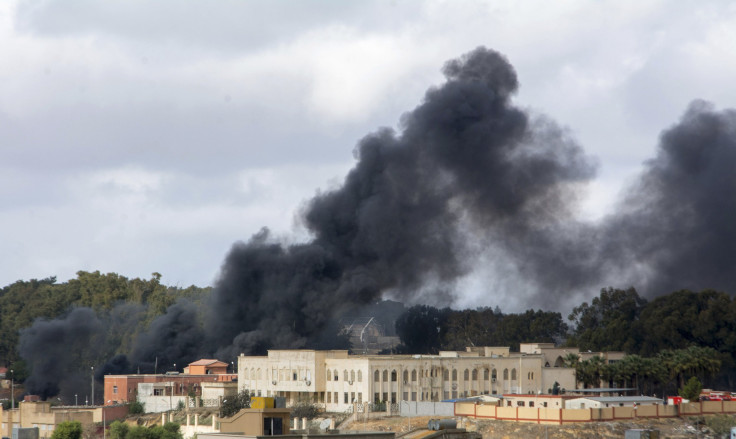 In the three years since Libyan dictator Moammar Gadhafi was killed, car bombs, airstrikes, targeted assassinations and rampant gunfire in the streets have become almost weekly occurrences. Wednesday was no different, as a series of explosions hit government positions amid reports of airstrikes on the allegedly Islamic State group-aligned city of Darna.
At least 20 people were wounded and as many as six others were reportedly killed in blasts, but the widespread nature of the bombings has made it difficult to confirm the number of casualties. Later, reports circulated that Darna was under an air attack from the Libyan army, allegedly aimed at eradicating Muslim extremist militants who have set up a stronghold in the port city, according to the Associated Press.
No one has claimed responsibility for any of Wednesday's car bombings, and the details remain murky. The first bombing (of two car bombs, according to AP) reportedly happened in Tobruk, a normally peaceful city just miles from the Egyptian border, and targeted an oil institute near a busy intersection by a hotel where members of parliament were staying, according to Reuters. Another car bomb reportedly went off close to the military airport of Labraq in Bayda, and a third reportedly exploded in Benghazi.
Libya is now deep into a civil war, and the United Nations said it was close to the "point of no return," as secular fighters aligned with former general Khalifa Hifter clash with the General National Congress, made up of mostly Islamic militants aligned with Libyan Dawn and forces from the city of Misrata. Militants seized the capital of Tripoli last month, forcing the government to move farther east and effectively cracking the country's political sphere in two. The Libyan army then aligned with Hifter's fighters in an attempt to rid the capital of the Islamist militants.
The country's political instability has also given rise to extremist ideology, and the city of Darna is home to three different jihadist groups competing for control: the Shura Council of the Youth of Islam; a branch of Ansar al-Shariah; and the more moderate Martyrs of Abuslim Brigade, according to the BBC.
International Business Times recently reported that political instability in the last week enabled the Islamic State group to establish a stronghold in Darna after weeks of pro-ISIS parades. Tuesday, the group formerly known as ISIS reportedly beheaded three young activists who refused to pledge allegiance.
© Copyright IBTimes 2023. All rights reserved.