Al Gore Planning 'Full-on Assault' on Climate Skeptics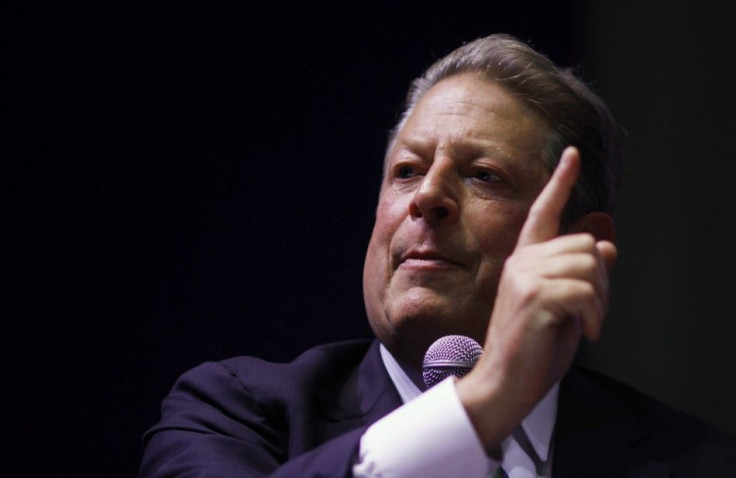 Former U.S. Vice President Al Gore will undertake a 24-hour global multimedia event to convince deniers of humans' role in climate change, the link between climate change and extreme weather events and to drive action against global warming among the public.
24 Hours of Reality will broadcast a presentation by Gore every hour for 24 hours across 24 time zones from Wednesday to Thursday, Reuters reported.
Gore also aims to spread his message through social media and has asked people to hand over control of their social networking accounts on Facebook and Twitter for the campaign for 24 hours to deliver the message.
There will be 200 new slides arguing the connection between more extreme weather and climate change, Trewin Restorick, chief executive of the event's UK partner Global Action Plan, told Reuters on Monday. There will be a full-on assault on climate skeptics, exploring where they get their funding from.
Gore's earlier attempt to garner support was through the 2006 documentary film An Inconvenient Truth, which earned $49 million at the box office worldwide, becoming the sixth-highest-grossing documentary film to date in the U.S.
Global warming skeptics were vocally critical of the film, such as MIT physicist Richard S. Lindzen, who wrote in a June 26, 2006, op-ed in the Wall Street Journal that Gore was using a biased presentation to exploit the fears of the public for his own political gain.
Some reviewers wondered whether Gore was setting himself for another presidential run. Boston Globe writer Peter Canello criticized the gauzy biographical material that seems to have been culled from old Gore campaign commercials. Phil Hall of Film Threat gave the film a negative review saying, An Inconvenient Truth is something you rarely see in movies today: a blatant intellectual fraud.
According to a Reuters report, public's climate change concern in the U.S., the world's second-biggest greenhouse gas emitter, has fallen steadily to 48 percent in 2011, from 62 percent in 2007, an opinion poll showed in August.
Gore's presentation will be available at climaterealityproject.org
© Copyright IBTimes 2023. All rights reserved.