Al-Shabab Raids Aid Agencies; Could Prolong Somalia's Deadly Famine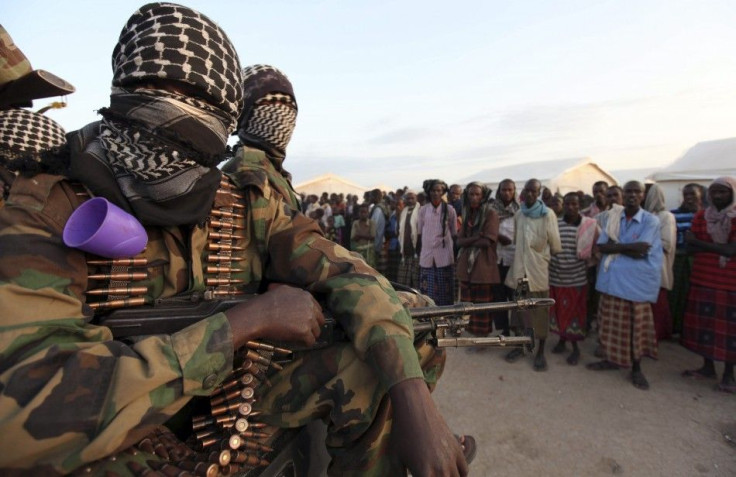 Rebel group al-Shabab raided a number of humanitarian organizations in Somalia on Monday, adding a militant exclamation point to their new ban on 16 aid agencies working in the famine-stricken country.
Among the agencies now banned by the paramilitary group are the United Nations Refugee Agency, U.N. Children's Fund and World Health Organization. Rebels reportedly walked into the UNICEF office in the city of Baidoa and claimed the building and told the staff to leave, according to the U.N.'s Office for the Coordination of Humanitarian Affairs.
Al-Shabab justified the ban by claiming that some of the aid groups, such as Norwegian Church Aid, had been trying to convert Muslim children to Christianity.
"Any organization found to be supporting or actively engaged in activities deemed detrimental to the attainment of an Islamic state or performing duties other than that which it formally proclaims will be banned immediately without prior warning, the Islamic paramilitary group said in a statement.
The closure of the humanitarian agencies in Somalia could have a detrimental effect on tens of thousands of people. The aid agencies are necessary in a country that has been ravaged by drought, famine, poverty and hunger -- more than 250,000 people face imminent starvation and millions more are in danger.
Aid groups have been credited with bringing three regions out of famine, but there are still three severely-affected areas.
I am extremely concerned by Al-Shabab's seizure of property and equipment belonging to several non-governmental organizations and U.N. agencies working to alleviate suffering in southern Somalia, Valerie Amos, U.N. under-secretary-general for humanitarian affairs, said in a statement.
I call on groups associated with Al-Shabab to withdraw immediately from humanitarian compounds seized this morning in the regions of Bakool, Bay, Lower Shabelle and Hiraan, and to desist from any further actions which would threaten humanitarian operations and the safety of humanitarian workers, she added.
Recently, there has been a strong push against al-Shabab from all sides. African Union troops, mostly from Uganda, successfully expelled al-Shabab from the capital of Mogadishu with some help from the generally ineffectual Somali government, while Kenyan troops launched an offensive against the militants from Somalia's western border.
But the raids, along with a number of other violent incursions, indicate that al-Shabab may be regaining power in a country that has struggled to maintain order and law for the past 20 years. Al-Shabab allegedly beheaded to men thought to be spying for either the Somali government or the Kenya Defense Forces over the weekend. On Monday, seven people, including babies and elderly, were injured when a hospital in Mogadishu was bombed.
These tactics are not new for the al-Qaeda-linked al-Shabab, nor is the banning of humanitarian aid. The group has been hijacking and redistributing international aid packages for years, as well as banning foreigners from helping those in need.
The full list of the agencies banned by Al-Shabab includes: Office of the United Nations High Commissioner for Refugees, World Health Organization, United Nations Children's Fund, United Nations Population Fund, United Nations Office for Project Services, Food Security and Nutrition Analysis Unit, Norwegian Refugee Council, Danish Refugee Council, Concern, Norwegian Church Aid, Cooperazione Internazionale, Swedish African Welfare Alliance, German Agency For Technical Cooperation, Action Contre la Faim, Solidarity and Saacid.
© Copyright IBTimes 2023. All rights reserved.