Algerian Army Kills Leader Of Jund al-Khilafa Group That Beheaded French Tourist Hervé Gourdel: Report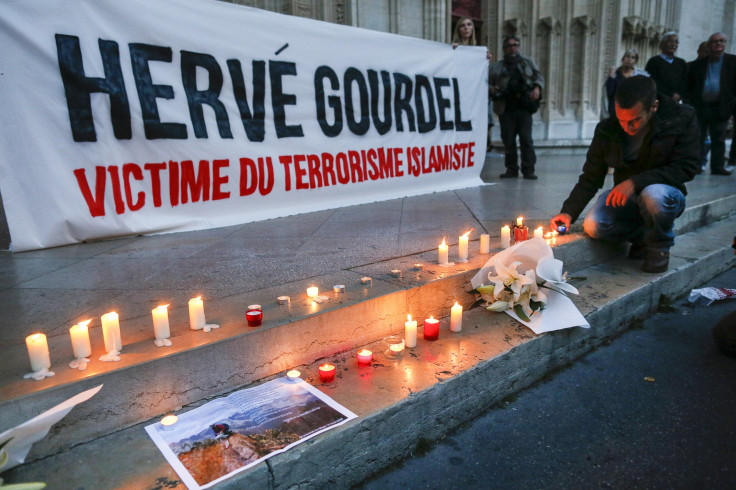 A local television network in Algeria reported Tuesday that the country's army has killed the leader of the Jund al-Khilafa group, which was responsible for beheading a French citizen in September, Agence France-Presse reported. The group, which has pledged allegiance to the Islamic State group, had beheaded Hervé Gourdel, a French tourist taken hostage by the group.
The network reported that Abdelmalek Gouri, the group's leader, was killed in Sidi Daoud, which lies about 50 miles from the country's capital, Algiers. The army, in an operation conducted in a small town in the Kabylie region, also killed two members from the Jund al-Khilafa group, AFP reported, citing the network. The army had also said on Saturday that it had killed three militants in the same town and seized several weapons, ammunition and explosives during a separate operation. The army reportedly declared that one of those killed was a "dangerous criminal" who was wanted since 1995.
On Dec. 11, Tayeb Louh, Algeria's justice minister, said that the country's army had killed two members of the group, which had previously threatened to kill Gourdel if France did not stop participating in the U.S.-led coalition of airstrikes against ISIS in Iraq.
The Jund al-Khilafa group had kidnapped Gourdel, 55, in September and later that month released a video titled "A Message with Blood to the French Government," showing Gourdel on his knees and men standing behind him with guns. Although the footage did not show the beheading, a frame showed Gourdel's severed head resting on his lap. The Algerian government announced two weeks after the video's release that it had identified the suspects behind the execution.
© Copyright IBTimes 2023. All rights reserved.