Alleged ISIS Fighters In Saudi Arabia Call For Additional Attacks On The Kingdom's Shiites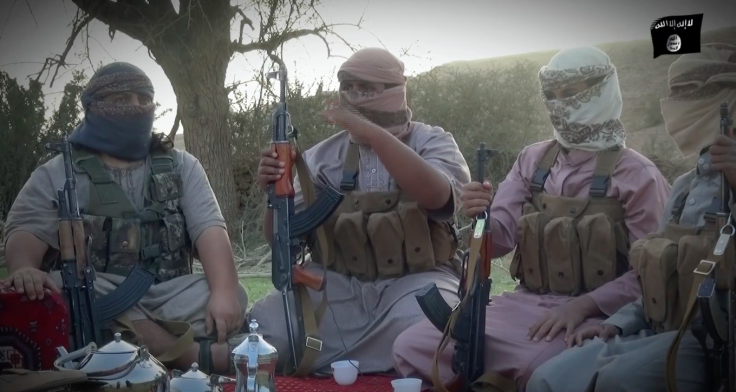 Islamic State group affiliates called for increased attacks in Saudi Arabia Saturday, specifically targeting the kingdom's Shiite population, and urged young Sunni Saudis to join the terrorist group. The call for additional attacks was issued a day after the Sunni militants claimed responsibility for a bombing outside a Shiite mosque in eastern Saudi Arabia, killing four people and wounding several others.
Several unidentified militants claiming to be members of the group also known as ISIS in Saudi Arabia appeared in the video, seated around a red blanket, their faces covered, apparently having tea.
ISIS "has ordered its soldiers everywhere to kill the enemies of religion," one militant said in the video. He referred to Shiites as "apostates" and added, "It is our duty to kill and displace them ... wherever they may be."
Saudi Arabia has long been on ISIS's territorial wishlist but the kingdom's strict crackdowns on dissenters have made it a long shot for the militant group's expansion campaign. In November, ISIS leader Abu Bakr al-Baghdadi announced the group had established a wilayat (state) in the kingdom. That said, militants are likely part of sleeper cells already inside Saudi Arabia, which have pledged allegiance to the group, rather than an insurgency of fighters from Iraq and Syria.
ISIS claimed its first attack in Saudi Arabia last November when it released a video purporting to show militants shooting Danish national Thomas Hoepner in Riyadh, the kingdom's capital. One of ISIS's Iraqi media outlets disseminated the video nearly a month after the attack took place.
"ISIS's predecessor, al-Qaeda in Iraq, had cells recruiting foreign fighters in Saudi Arabia, which ISIS may have used to establish attack cells," the Institute for the Study of War reported recently.
ISIS has claimed several attacks in the kingdom since November. The group's expansion strategy has become increasingly focused on Saudi Arabia since the kingdom launched an air campaign against Yemen's Shiite Houthi rebels in March. ISIS has now formed two states in the kingdom, each with its own media house to disseminate propaganda and organize attacks.
"ISIS's strategy to compromise Saudi Arabia has already entailed a complex combination of attacks designed to compromise the kingdom's regional balance of power against Iran, its integrity as a state, its religious legitimacy and its western alliances," ISW said.
The first official attack ISIS claimed through its new media outlets was a bombing at a Shiite mosque in Saudi Arabia last week. A Saudi national carried out the bombing during Friday prayers, killing 21 people.
"Saudi Arabia accounts for the second largest number of foreign fighters -- and the most suicide bombers," according to a report from the Soufan Group. "The group is most likely sending a message that it is capable of turning these fighters against their home country.
© Copyright IBTimes 2023. All rights reserved.